Creating art since the age of 14, the Californian born street artist Above is a true representative of drivenness and great talent. As most of the boys his age, he started writing tags on freight trains in 1995 and after moving to Paris when he was 19, Above found himself in a completely new and exciting environment that inspired him to work even more. He is famous for his multi-layer, full color social and political stencils, spinning wooden arrow-shaped kinetic art installations, and large text-based painted murals that usually have a strong message or awareness about social, political or international current events. In Paris he found his trademark – the arrow icon pointing "above". Soon, the city became covered with the simply personalized sign and Above decided to take his art around the world. He self-financed annual tours, exploring new places and used a different medium or style for every piece he created.  During the past 16 years, Above has painted artworks in the streets of over 100 cities in more than 60 different countries around the world, and now he'll be exhibiting his famous work of art at the Inner State Gallery in Detroit.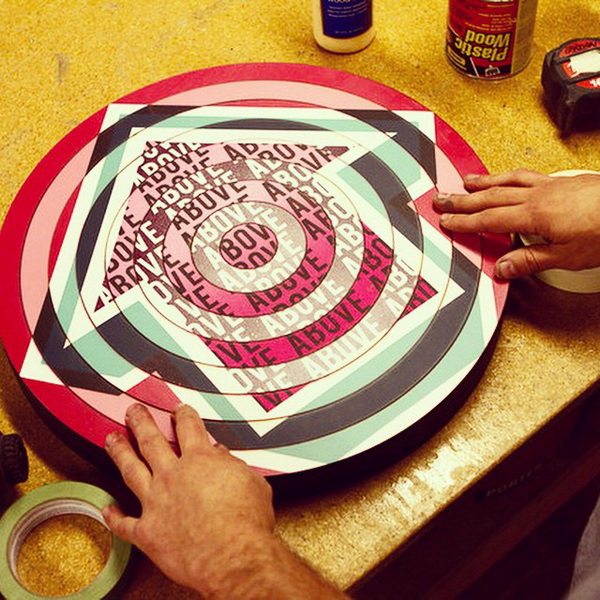 Respected by the Peers
Throughout the years, Above made a lot of friends from the urban art scene and one of them, his American colleague, artist Shepard Fairey, is particularly fond of his work. He stated: "I first encountered ABOVE's art on the streets of Paris in early 2003. His large-scale trademark arrows were painted on roll down gates, trucks and storefronts with impressive coverage throughout the city. ABOVE is extraordinarily driven. To paraphrase Radiohead, "ambition can make you look pretty ugly," but in ABOVE's case, his ambition makes the streets look very engaging. I am very impressed by ABOVE's diligence, but after I got to know him and his artwork more, I began to realize that his output is not evidence of selfish ego, but of a lust for life, a utopian life, where his generosity, and curiosity, and his pursuit of creativity and social-consciousness have led him around the world making more friends than enemies."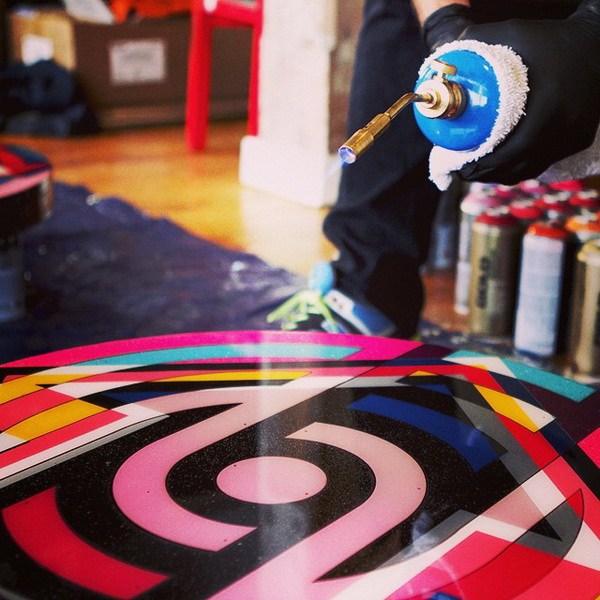 Remix
Above's latest exhibition entitled "Remix" features the artist's entirely new body of work, created over the two month period spent at Inner State Gallery's expansive studio in Detroit. The exhibition introduces a brand new body of work highlighting Above's iconic arrow that has appeared prominently in a massive public art campaign. Attacking the exhibition like a DJ produces a live set, Above has meticulously dissected and reassembled his latest collection of arrow and targets by creating multiple color palettes and weaving them together to create new seamless works. "Similar to how a DJ takes a sample of a Motown song and remixes it with a hip hop beat to create a new feeling and sound, my intention for Remix is to take the straight structure of the arrow and remix it with curvaceous wood cuts and contrasting color combinations, all while maintaining the uniformed integrity of the line," Above said while working in at the Inner State Gallery studio space in Detroit's Eastern Market. "My process for these works puts an emphasis on interchanging methodically cut wood in an organized, curved composition while keeping the iconic arrow structure at the forefront."
Remix will open for the public on Friday, November 21th at 7pm and will be on view until December 26th, 2014 at the Inner State Gallery, Detroit.
If you want to know more about Above and his work, sign up for My Widewalls today!