A perplexing art form that evades definition and artistic classification, abstract art has a remarkable ability to inspire our curiosity about the reaches of our imagination and the potential for us to create something completely unique in the world.
Abstract art has been around for well over 100 years, and it has held its own against changing art movements, maintaining a self-renewing, vital tradition of creativity. At David Pluskwa Gallery, four contemporary painters join forces to share their own personal visions of abstraction.
In an exhibition titled Today's Abstract, the gallery will bring together JonOne, Tanc, Tilt and Katrin Fridriks. Gathered for the first time in one single exhibition, this quartet will reveal their inner life, projections and mysterious secrets.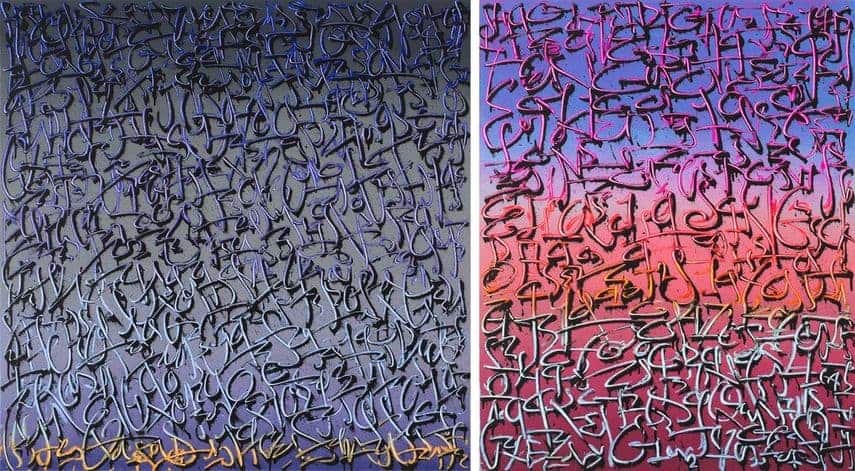 The Practice of JonOne and Tanc
Starting on the New York graffiti scene, JonOne has developed an almost symbiotic relationship to colors.
Recognized for his raw and explosive works, his gestures are following an impulse, at the same time exploring the relationship between the power and balance of a man fighting against his wild creative ego. In his canvases, he embodies both present and future desires.
The practice of Tanc revolves around word abstraction and the creation of rhythmic patterns. He explores the possibilities of the line, striving towards the synthesis of his name, of tags, of individuals, of music, of life.
Seeking spontaneity in his working process, he aims to create a perfect balance between consciousness and unconsciousness.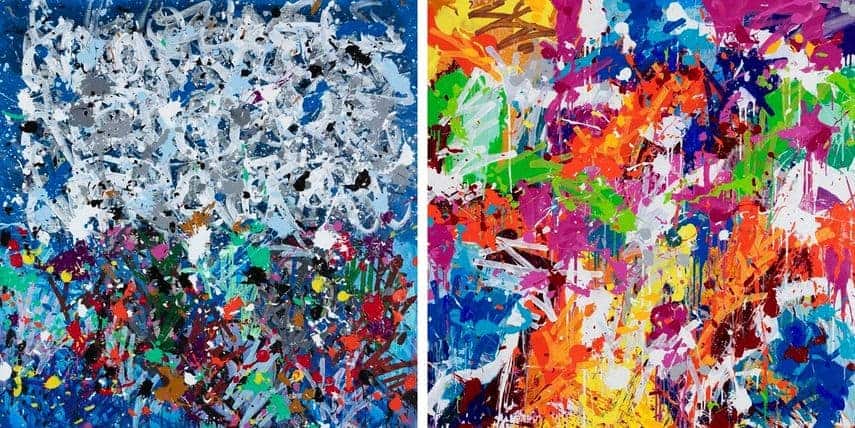 The Practice of Tilt and Katrin Fridriks
An artist from Toulouse, Tilt is s self-proclaimed graffiti-fetishist. His practice demonstrates that basic graffiti can be as strong as complicated 3D lettering, wildstyles and characters.
He collects fragments of vandalized and broken down walls and uses them in his work, at the same time advocating for a thoughtful return to destruction, disintegration and erasure of traces and marks.
On the other hand, the work of the Icelandic artist Katrin Fridriks is akin to a new abstract expressionism and close to the action painting movement. Not limited to the abstract rendering of her paintings on the canvas, she creates rich and colorful works that are vibrant, dynamic and extremely balanced.
Ceaseless in her exploration of new art forms, Fridriks invests boundless energy that turns into colors and structures, always playing with density to transform her canvases into inhabited worlds.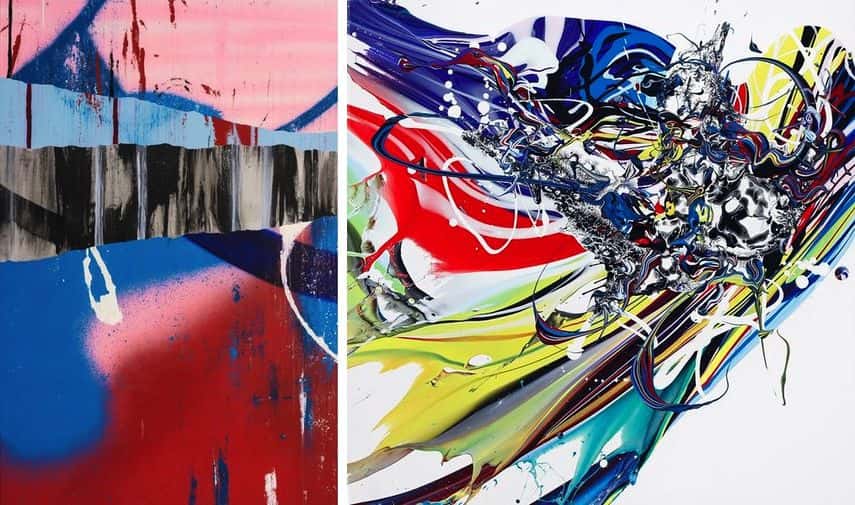 Abstract Art at David Pluskwa Art Contemporain
Exactly one century after the emergence of abstract art, these four artists will fine-tune the sensitive strings of their creative alter egos. They will start a personal dialogue in order to tap into the "invisible reality" described by the masters of the last century.
The exhibition Today's Abstract will be on view at David Pluskwa Art Contemporain in Paris from November 17th until December 23rd, 2017.
Featured images: JonOne - Walking Through The City, 2017 (detail); Katrin Fridriks - Silver Mothernature Awakening, 2017. All images courtesy of David Pluskwa.