The heavy hand of modernization and an evergrowing number of artists distancing from a traditional understanding of sculpture, gave birth to abstract sculpture. Auguste Rodin, without a rigorous desire to rebel against the tradition, was, in fact, the father of modern sculpture. Trying to find room for his monumental pieces within the approaching modern 19th-century, Rodin took away the hard outline of traditional 3D production. Following closely behind and due to some of the most influential and important avant-garde movements and their innovations in 2D productions, a fresh understanding of the objects functionality was introduced. Such research helped to build a fresh kind of a relationship between the object and the space, not to mention the original aesthetic language. The introduction and application of the everyday resources broke away from the usual ideas of modeling and traditional materials such as clay, plaster, marble, or bronze. The three-dimensional objects began to move, to dance, to shine and to question its very nature and the very nature of art production.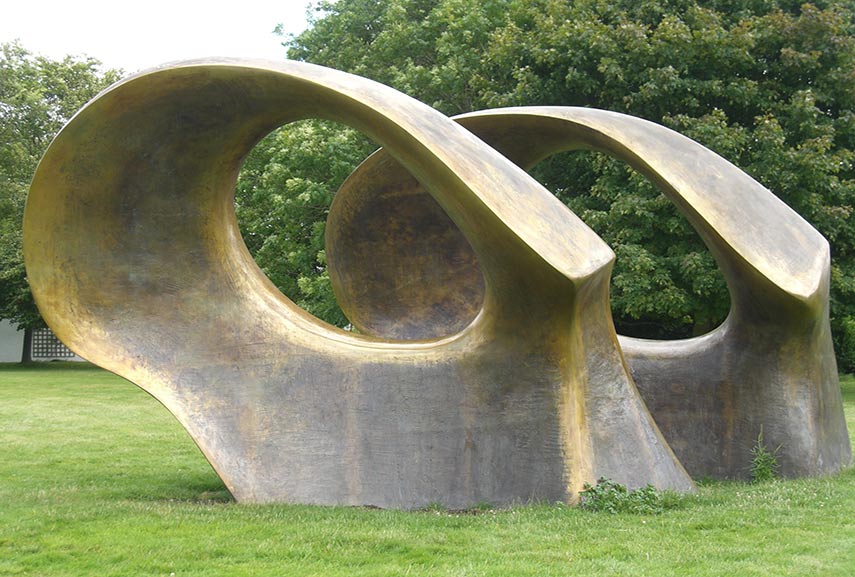 The Beginning of Abstract Sculpture
The abstract sculptures took some time to breakthrough. It needed to break free from centuries-old figurative and narrative traditions that celebrated the idealized human form in portraiture busts and statues. It was in fact with the birth of Cubism that three-dimensional productions started to celebrate an original format and vocation. Seen as another arena for experimentation and moving away from the traditional understanding of modeling, Picasso's cubist sculptures showcased that these fresh objects also allowed the play with geometrical shapes, flattening of its surfaces, and fragmentation. Sculpture no longer needed to represent, but it was free to just BE and stand as a symbol of an original kind of art. On one side it wished to connect itself to the spiritual, philosophical, and ritualistic emblems of distant African, Oceanic, and Asian cultures. The other side reflected the confrontation to the post-war period and the harshness of each day. For sure it was from the necessity that Picasso reached for whatever was surrounding him in the Paris studio during the war and started to assemble his non-representative, sometimes highly suggestive objects. This was a fresh kind of looking and creating the sculpture that quickly caught on. Similarly to the collage works by Picasso and Georges Braque, the original idea of what a sculpture can look like and be was free to use whatever material it deemed necessary.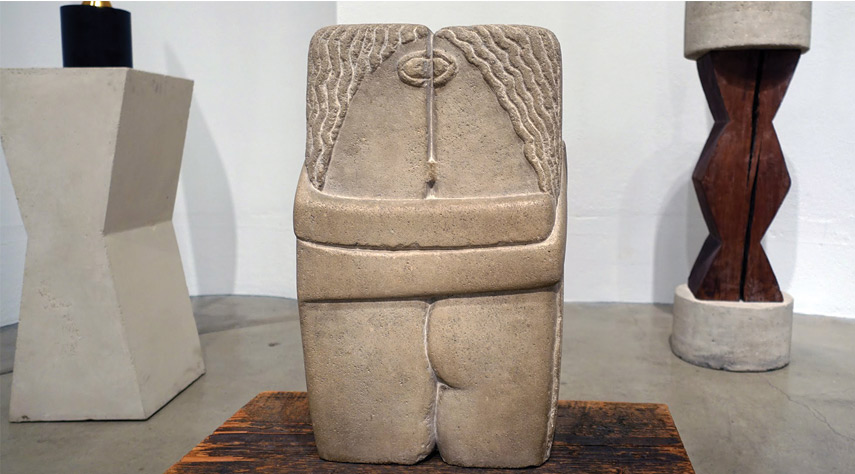 The Important Influences Shaping the Abstraction
The idea that sculptures could be made as assemblage objects and that authors no longer needed to rely on the traditional use of wood or marble, Italian Futurism, Dada, Neo-Dada, Surrealism, Abstract Expressionism, and Minimalism adopted and each of the mentioned movements brought another important feature to the globalized term abstract sculpture. The Cubism movement allowed for a fresh look on the materials, while the Italian Futurism introduced another role for the art, that of a vehicle to celebrate movement, dynamics, and technology. It is from this point of view that Kinetic Sculpture was born, and with it brought a completely original outlook on the notion of the mass and its disappearance through the subtle effects of light and movement. Impressed by this idea was none other than Marcel Duchamp, father of one of the greatest revolutionary movements Dada, that soon adopted the use of mechanical movement in his production, but not before he added a twist of his own to the understanding of sculpture, by introducing his concept of the readymades. The every day literally stepped in and with it later brought movements such as Junk Art and Recycled Art and terms such as combines that were used to describe the mix between sculpture and painting and the production of Robert Rauschenberg.
'What is real is not the external form but the essence of things. Starting from this truth it is impossible for anyone to express anything essentially real by imitating its exterior surface.' Constantin Brancusi
But, as with any art form the need for the soul creeps in and asks for an idea of life within the cold materials. Playing with materials was one side of the coin, and the other side was a softer side, which focused on trying to understand how sculpture could be put to use, not as a vehicle of reproduction of the world but rather a tool of expression for different realities of life. The cited quote of the famous Constantin Brancusi perfectly describes the form of abstract sculpture that truly transformed the space/object relationship and broke away from the old canons. Promoting greater research into shapes, techniques, and proportions, alongside his production is the production of the famous sculptor Henry Moore. Both promoted the idea of direct carving, surreal natural shapes, and celebration of raw materials which helped sculpture to branch out and form the two parallel streams of its existence.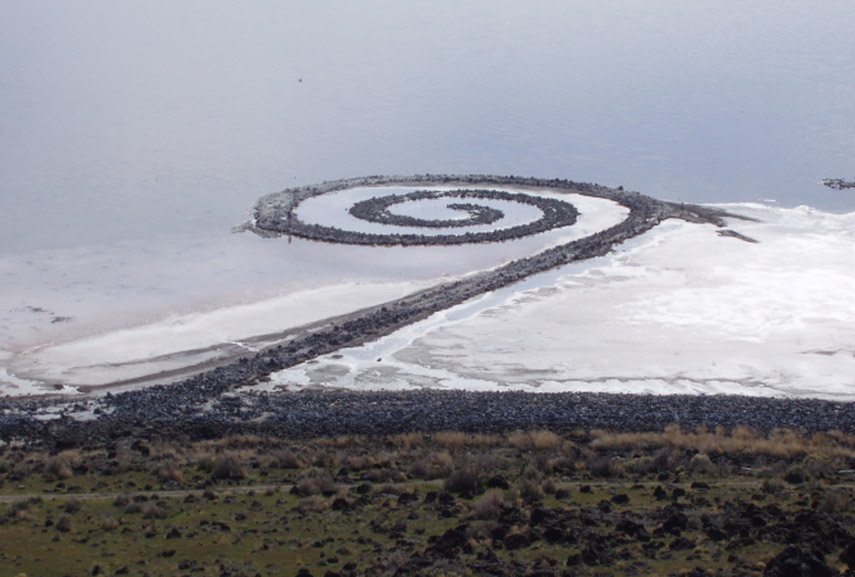 Famous Abstract Sculpture Artists
Innovative sculptors of the twentieth century explored all the possibilities of three-dimensional abstraction. With innovative concepts of form, content materials and techniques, analytical handling of the environment and different visions and approaches to what art is, abstract sculpture authors from our list have blown a breath of fresh air into the soul of the 20th-century sculpture completely changed the course of modern art.
Jean Arp
As a pioneer of abstract art, the practice of Jean Arp was associated with Dada and Surrealism. Best-known for his biomorphic sculptures made out of plaster, stone, and bronze, he also expressed himself in paintings, drawings, collages and poems. Characterized by wavy lines, he often referred to his sculptures as the organic abstraction. Although non-representational, his work was firmly rooted in nature. Representing plants or human figures, his most abstract compositions suggest organic elements. Embracing chance and spontaneity as integral components of his artistic practice, he minimized the intervention of the conscious mind. He is regarded as one of the most versatile sculptors of the beginning of the 20th century. His biomorphic shapes inspired by nature hugely influenced generations of authors working with abstraction.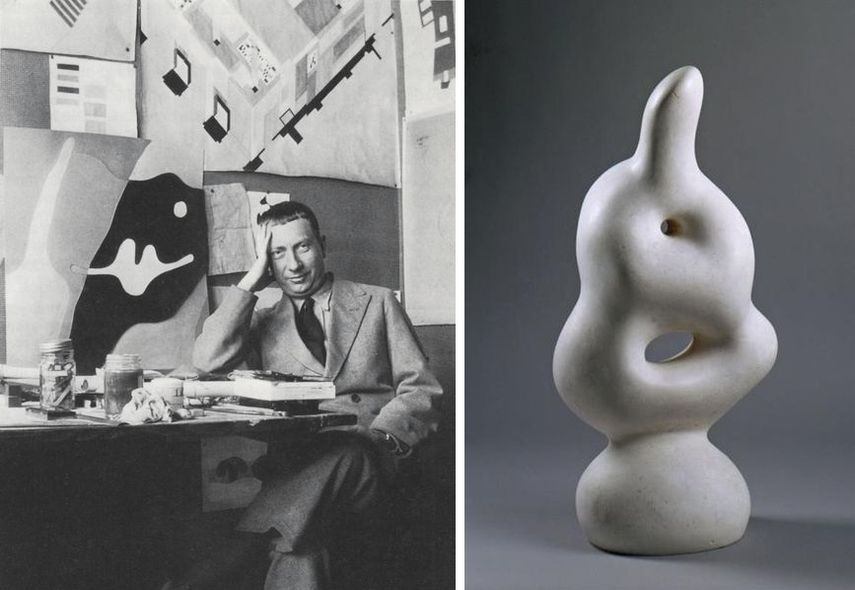 Louise Nevelson
Best known for her room-sized wood sculptures, the production of Louise Nevelson was associated with various movements such as Abstract Expressionism, Cubism, and Surrealism. Using discarded wooden objects gathered from urban debris piles, her monumental assemblages involved a process influenced by the concept of the readymades. Purposefully selected for their evocative potential to call to mind the forms of the city, nature and the celestial bodies, these wooden objects were subsequently carefully arranged to create original narratives. Mostly monochromatic and black, with occasional departures into white and gold, these pieces reflected her personal story of dislocation and self-invention. During her later period, she also explored industrial materials such as plexiglass, aluminum, and steel. Working in a male-dominated environment, her innovative pieces inspired many generations of installation and feminist authors.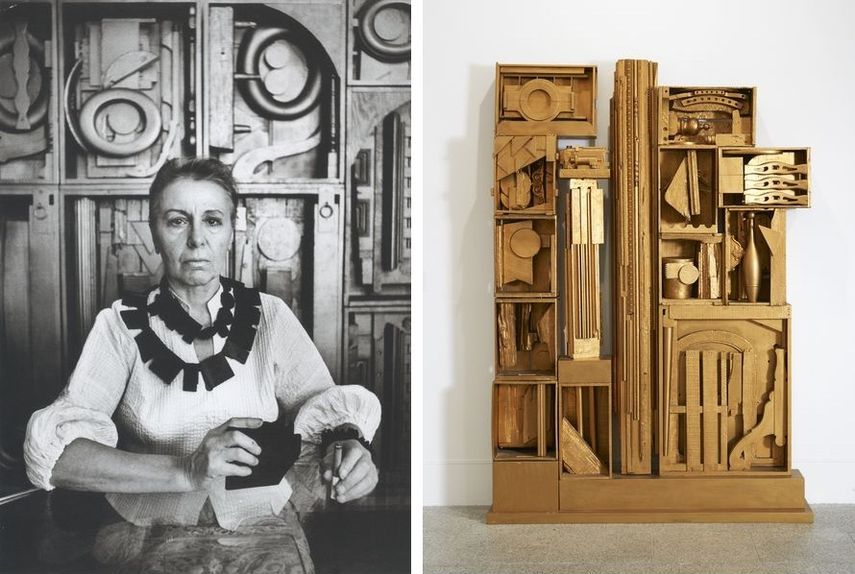 Barbara Hepworth
Distinguishing herself as a world-recognized sculptor in a period where female authors were rare, Barbara Hepworth was a pioneer of abstract sculpture. Best known for her biomorphic creations carved out of stone, she was inspired by her childhood fascination with organic systems and textures. With a complex and multi-faceted sculptural vocabulary and ideas, she combined a wide range of physical materials showing an unprecedented sensitivity to their qualities. Investigation the absence in sculpture as much as the presence, she reflected the relationship between volume and space. Her abstract works were often created with hollow interior spaces that disrupt smooth surface textures. Over the course of her career, she moved from sculpting biomorphic forms to pure abstraction. Combining clean lines of modernist aesthetics with more complicated textures, her work was described as sensuous and tactile.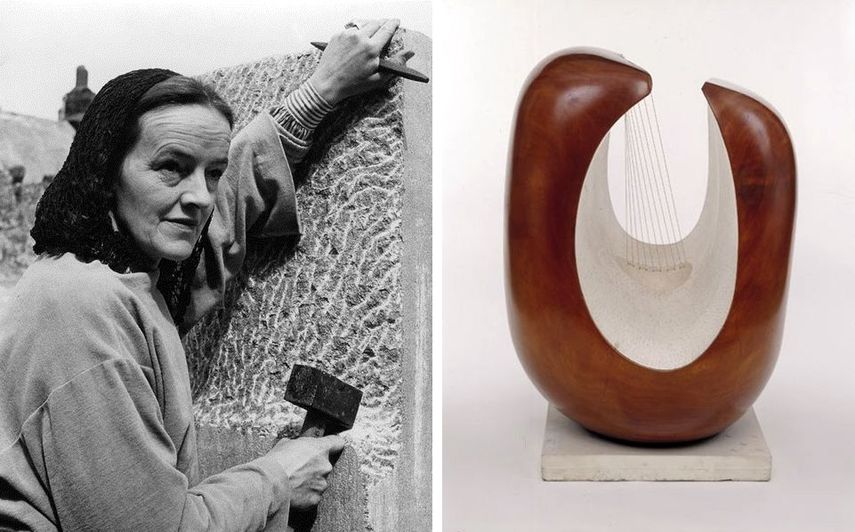 Constantin Brancusi
A seminal sculptor of the twentieth century, Constantin Brâncusi blended modernity and timelessness with his sculptures that exemplify ideal and archetypical representations of their subject matter. With simple and reduced forms and sleek appearance, his visionary sculptures aimed to reveal hidden truths. He wrote that the artist 'should know how to dig out the being that is within matter'. Pioneering the technique of direct carving, he paid close attention to his mediums. Mainly working with marble, stone, bronze, wood and metal, he polished his finished pieces for days to create a look 'as though they proceeded out from the mass into some perfect and complete existence.' Always insisting on representational nature of his subject, Brancusi's work was largely influenced by myths, folklore, and "primitive" cultures.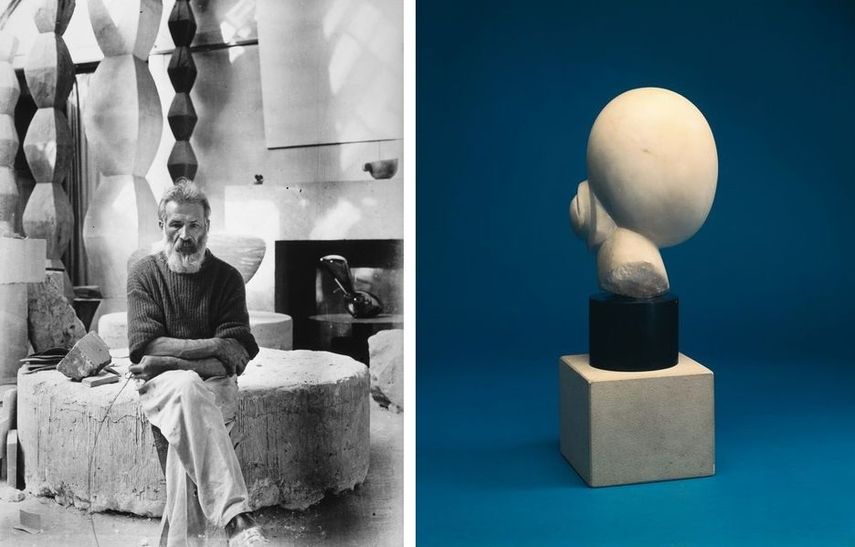 Henry Moore
Often regarded as the father of modern British sculpture, Henry Moore was best known for his semi-abstract monumental bronze sculptures located all around the world as public works of art. Inspired by leading modernists such as Picasso, Arp, Brancusi and Giacometti, his style was also influenced by Classical, Pre-Columbian and African Art and Surrealism. His recurring motifs were the mother and child and the reclining figure. Being fascinated with landscape and nature, he drew analogies between the human body and the landscape through the use of abstract forms. Using the technique of direct carving, he mainly focused on materials such as stone and wood. As he once stated, it is important that a sculptor 'gets the solid shape, as it were, inside his head… he identifies himself with its center of gravity.'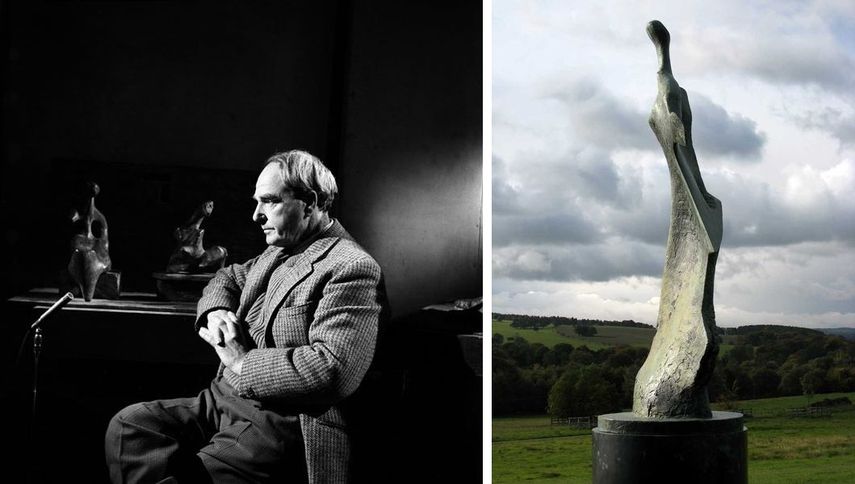 Anthony Caro
A key figure in contemporary sculpture for half a century, Anthony Caro explored all the possibilities of three-dimensional abstraction. Using a variety of materials from wood to rope, he created monumental pieces that were architectural in both form and scale. Though some of his work adheres to a rigid, rational geometry, his characteristic sculptures suggest lyrical movement, apparent weightlessness, improvisation, and chance. Breaking new ground with abstract works in metal, his sculptures were displayed without plinths, directly on the floor. The omission of the pedestal was a radical shift at the time, changing the dynamics between art and the viewer. Caro's constant reinvention of the language of abstract sculpture distinguished him as an innovative artist who consistently defied convention. He was described as Britain's finest sculptor since Henry Moore.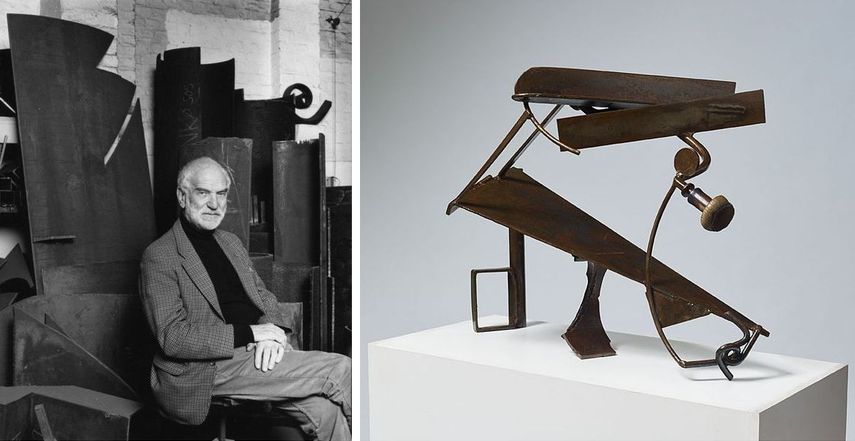 Naum Gabo
The Constructive Russian artist Naum Gabo was a pioneer of Kinetic Art. Publishing the Realist Manifesto of Constructivism, Gabo and his brother Antoine Pevsner, advocated that art had a value and function independent of the state and that geometric principles should be the basis for sculpture. Using transparent materials to define volumes of empty space, he broke solids into interlocking planes, lines, and geometric shapes. As space and time were his basic elements, he wrote that 'space and time are the only forms on which life is built, and hence art must be constructed'. He mostly used glass, metal, and plastic to create his abstract and architectural pieces. His transformative approach to sculpture and a visual language coincided with society and humanity.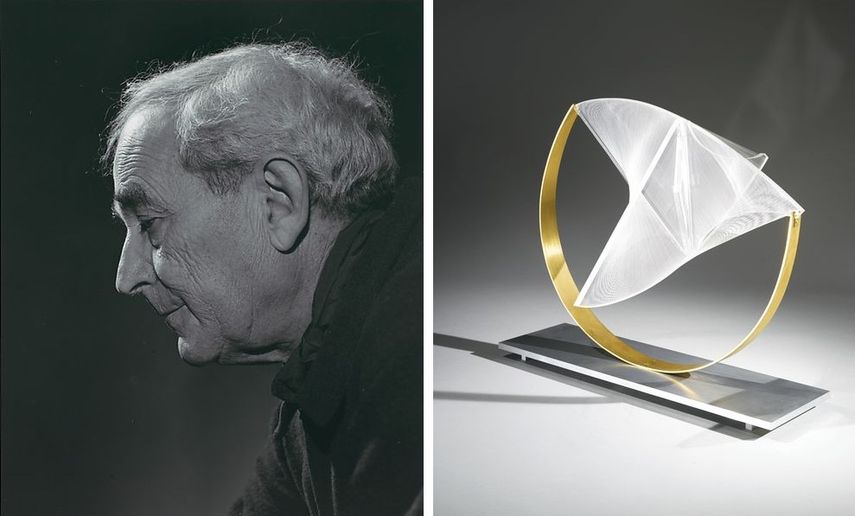 Alexander Calder
A father of mobiles, Alexander Calder completely changed the course of modern art. His kinetic sculptures were made out of flat metal pieces connected by a wire that moved delicately in the air. Named "mobiles" by his friend Marcel Duchamp, his pieces were initially powered by small motors. Later relying only on slight air currents, mobiles were randomly arranged and rearranged in space by chance. Embodying the notion of the movement, mobiles also invited the viewer to interact with them. He also created static pieces that he described as "stables" - sculptures that reintroduced color to outdoor works and championed tools and materials of the modern age.
Sol LeWitt
Having a leading role in both Minimalism and Conceptual art, Sol LeWitt is known for his geometrical sculptures, but also wall drawings, structures, painting and conceptual pieces. Establishing an original radical aesthetics of the 1960s, he believed that the idea or concept are the most important aspect of the work. Placing a great emphasis on concepts and systems and reducing art production to its essentials, he used simplified shapes applied to his own formulae resembling mathematical equations. Often providing an assistant or a group of assistants with vague direction for producing the work of art he previously conceived, he believed the end result should not be completely controlled by the artist challenging fundamental beliefs about art. His emphasis was mostly on the process and materials, rather than creating a specific narrative with his work.
Louise Bourgeois
French-born American sculptor, painter, and printmaker, Louise Bourgeois was the founder of confessional art. Initially associated with Surrealism, she often integrated fantastic elements into her art. After focusing on biomorphic forms, she started creating sculpture influenced largely by traumatic psychological events from her childhood, especially her father's infidelity. Revolving around themes of unconscious, sexuality and the body, her pieces were often brooding and sexually explicit in their subject matter. Her sculptural vocabulary was highly personal and symbolized the feminine psyche, beauty, and psychological pain. Her work adopted objects such as spirals, spiders, cages or medical tools. Her exploration of femininity and masculinity has influenced many authors since the 1970s, especially feminist-inspired body and installation artists.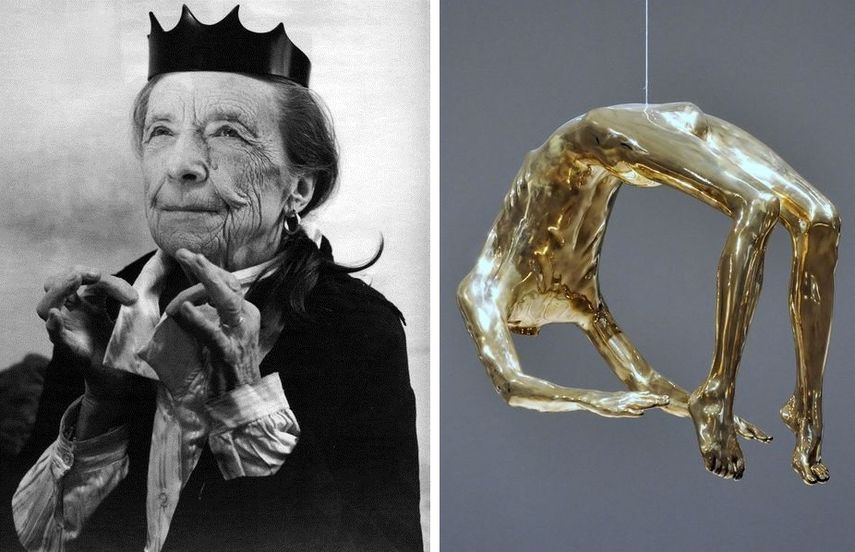 The Re-Shaped Space
The research into different tools, formats, methods of production, and embrace of a new concept for the produced work of art shaped both paintings and sculpture. The impact of the early 20th-century authors and their rebellious and revolutionary ideas, after the World War II, continued to be reshaped allowing the sculpture to take an array of different forms. The purist Minimalism embraced the use of industrial materials and joined with the above-mentioned ideas there was no end to what can be sculpture and more importantly where it could be made. Famous sculptors such as Richard Serra, Robert Smithson, Christo and Jeanne Claude, and presently the legendary Anish Kapoor, gave to us a new concept of site-specific, environmental art, land art, that completely changed our perceptions of where the space of production is and what is sculpture. Similarly, the dominance of installation art occurred, charging forward and challenging all of the publics' senses. The research into the notion of the ephemeral and into the ideas of the fusion of various art disciplines, along with the research into a new understanding of the surrounding stand at the core of sculptural production today. The rise of technology has only opened up new dimensions and yet again new ideas of resources artists can use to challenge the notion what is an artwork. The present time, which allows for the constant questioning and critical reflection, is a rich ground for abstraction and for figuration art at the same time. Anything goes and as such often art seems to go quite far and sculpture, with its side that even enters the robotic world, has fully paid respect to the humble beginnings of assemblage art.
Editors' Tip: Sculpture: From Antiquity to the Present Day
If you are in love with sculpture then this book is one of the best recommendations out there. Taking produced and created artworks out of the context of museum objects, it provides not only the history of the various concepts but offers an insight into various approaches made by the famous sculptors for reaching such goals. At the same time, it is a comprehensive guide to the various trends and understanding of the three-dimensional role within art's history. The knowledge about abstract sculpture is here explained by allowing the reader a clear path of how one got there.
All images used for illustrative purposes only. Featured image: Damian Ortega - Controller of the Universe. Image via www.crossconnectmag.com; Henry Moore - Reclining Figure. Image via wikimedia.org; Anish Kapoor - Installation view. Image via wallpaper.com; Antony Gromley - Matrix II. Image via wallpaper.com; Antony Gromley - Artwork. Image via guardian.com