Three contemporary masters of abstraction are currently on view at Pace Gallery in London, in an exhibition which explores their mutual connection on a personal and professional level. In celebration of color, form and material, masterpieces by John Hoyland, Anthony Caro and Kenneth Noland find themselves in the same room, revealing the subtle and sometimes substantial thread of similarity between them. A friendship which spread across the Atlantic in both directions delivered many important shifts in the careers of these three artists, and the visitors can now observe them all at the same time. This will also be Kenneth Noland's first show in the UK since the artist's death in 2010.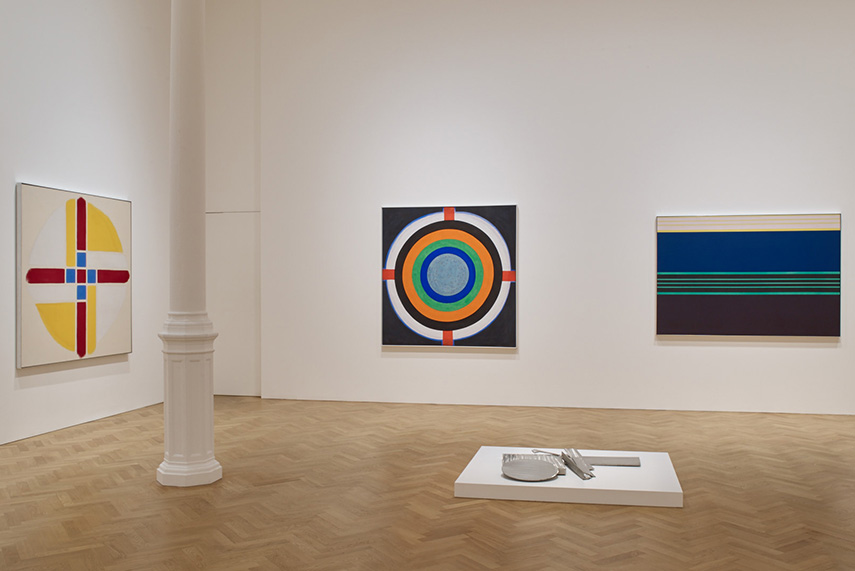 John Hoyland, Anthony Caro, Kenneth Noland
Working at the peak of the Abstract art movement during the late 1950s and through 1960s, John Hoyland, Anthony Caro and Kenneth Noland emerged in the wake of the first generation of the New York School. The story of the three started with the historic 1963 exhibition at the Whitechapel Gallery, where Anthony Caro, as one of the leading British abstract painters, had shown his works. Coming from the studio of the great Henry Moore, he created non-figurative sculptures made of welded steel and aluminium, exploring form and color in their purest representations. Anthony Caro's artistry got a new direction during his time in the United States. There, he encountered Kenneth Noland, a great connoisseur of color-field painting and the explorer of color as a serialized form and the strongest expressionistic tool. His visions turned Anthony Caro away from a figurative style the artist had developed at the time, bringing him closer toward the abstraction which used geometric shapes.
A Story of Friendship and Influence
On his own terms, John Hoyland also had an extensive knowledge of color and its possibilities. With Kenneth Noland, he shared the love of the new medium of acrylic, which allowed them both to incorporate materiality, opacity and translucency of their paint. A Brit himself, John Hoyland often traveled to the United States as well, and it was in 1964 that the true friendship of the trio had begun. In years that followed, they continued to be "present" in each other's works often, maintaining their relationships on both sides of the ocean. In 1969, Anthony Caro and John Hoyland also represented Great Britain together, at the Sao Paulo Bienal.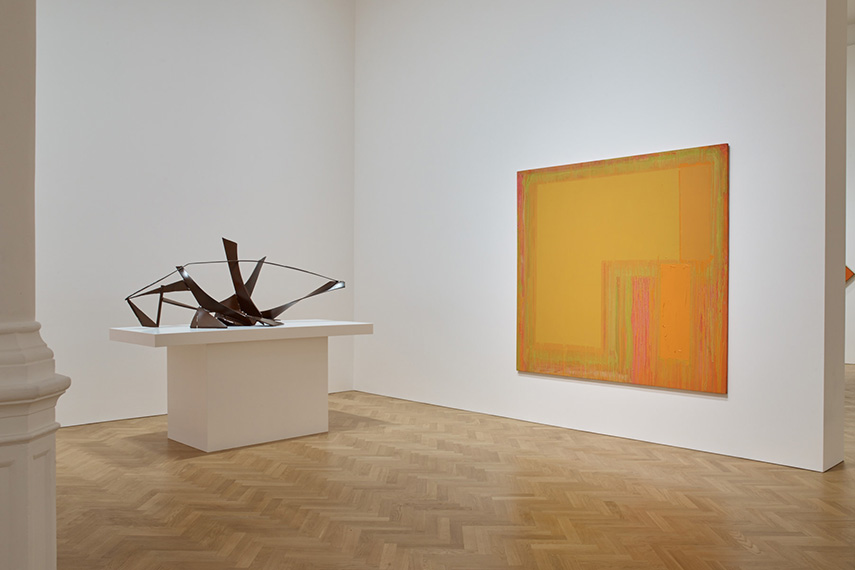 Abstraction at Pace London
The John Hoyland, Anthony Caro, Kenneth Noland exhibition opened on November 20th 2015 on the ground floor of Pace Gallery in London, UK. Among the 1960s and 1970s masterpieces, there is also a selection of Anthony Caro's Table sculptures, to demonstrate the artist's understanding of steel in both its painted and raw forms. The show will stay on view until January 16th, 2016.
All images courtesy of Pace London.