The work of the Los Angeles-based artist Adam Beris is characterized by the unusual technique he employs. Abandoning traditional modes of application, he applies pigment directly from a tube to a surface, re-interpreting his chosen medium in a playful way. The artist himself describes the process as a simplified version of the painting and a bastardization of the material.
His latest body of work will soon be on view at Fabien Castanier Gallery in his first solo show in Los Angeles. Titled Soft Bananas, the exhibition will feature paintings that are sculptural in nature, exploring a variety of contemporary art themes.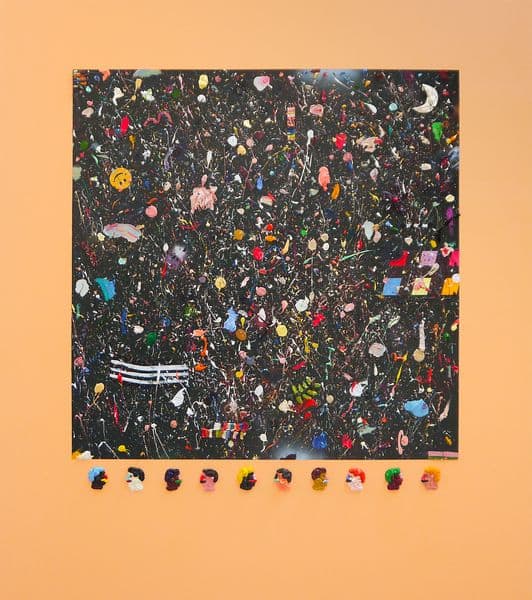 The Practice of Adam Beris
Born in Milwaukee in 1987, Adam Beris graduated from the Painting and Creative Writing department of the Kansas City Art Institute. Living and working in Los Angeles for the last five years, he is a founding member of one of the most unique artist-run programs in the city today, BBQLA.
Starting as a regular gathering of friends artists in their backyard, the project has evolved over time to become one of the trademarks of the downtown L.A. art scene, nourishing a sense of community.
With a practice spanning painting, sculpture, and mixed media, Beris creates studies on varying subject matter, including short fictions, scenes and observations from every day, parables and mythologies. His technique derives from a formal training in the field, but the inspiration for his paintings and subjects comes from life itself.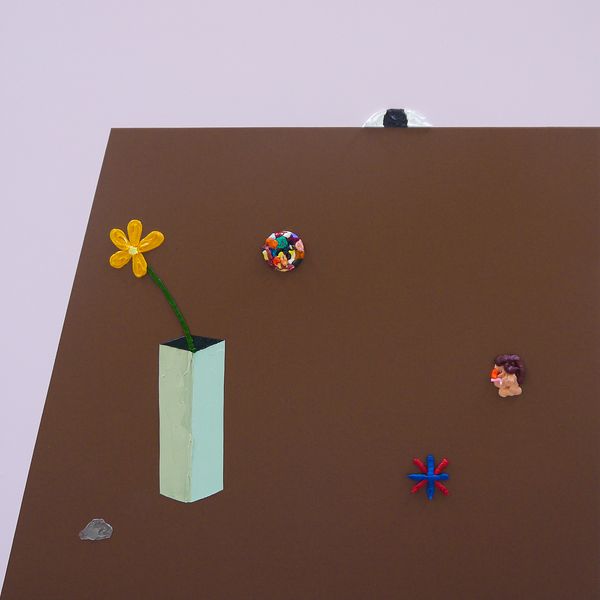 The Bastardization of the Material
Squeezing paint directly from the tube, Adam Beris creates series of symbols that interact as isolated archetypes across his canvases. Employing a playful degradation of the material, he constructs visages that emphasize their substance.
With paint dollops forming tangible object on the canvas, such as faces, objects, symbols and landscapes, he creates works that reflect its theme in the tactile essence of the substance. Confronting the medium's ingredients, canvas and specifically oil paint, the artist aims to challenge the viewer's perspective on the painting itself.
Whether referencing specific histories or displaying a seemingly codified language of icons, he tackles themes of communication and the subjective nature of language and symbology, as well as contemporary identity in our current historical moment.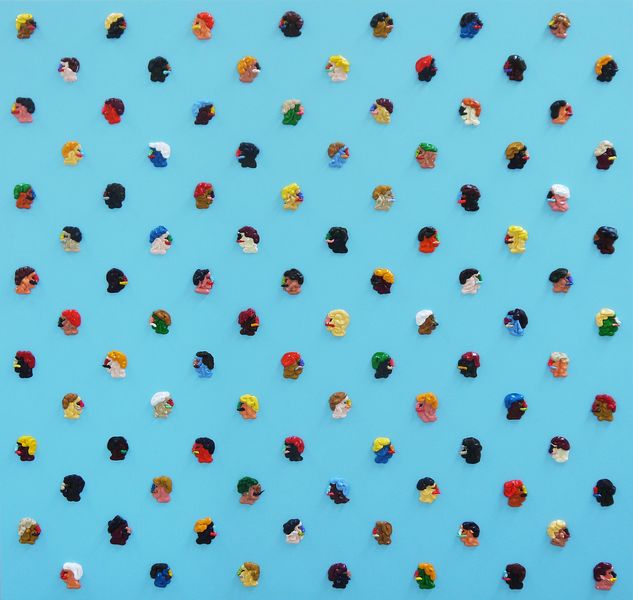 Adam Beris Art Exhibition at Fabien Castanier Gallery
Using clever titles for his works, Adam Beris plays further into the tongue-in-cheek communication he has with viewers. While politics often seeps into his work, he maintains that there is still an element of stupidity to it all.
The exhibition Soft Bananas will be on view at Fabien Castanier Gallery in Culver City, Los Angeles from November 4th until January 20, 2018. The opening reception will be held on Saturday, November 4th, from 6 to 9 p.m.
Featured image: Adam Beris - Melting Pot (detail). All images courtesy Fabien Castanier Gallery.