Two days ago we wrote about upcoming exhibition with Kevin Peterson as narrator in his collection titled Remnants. As title says, Kevin's illustrating bits and pieces of his inner world, juxtaposing innocence of children and silent violence of urban surroundings. Following his deep and urban sentiment, a fellow artist will exhibit his own work simultaneously. Narratives of these two are different but as visions they can be perceived as complementary to each other. San Francisco based artist Adam Caldwell is the author of these narratives. You've may read about him in articles about SCOPE New York 2014 art fair and POW! WOW! Street Art Festival Hawaii 2014 where he was participating artist. In the upcoming days, as said, he will present to the public his new body of work. Titled Persona ,in Project Room in Thinkspace Gallery.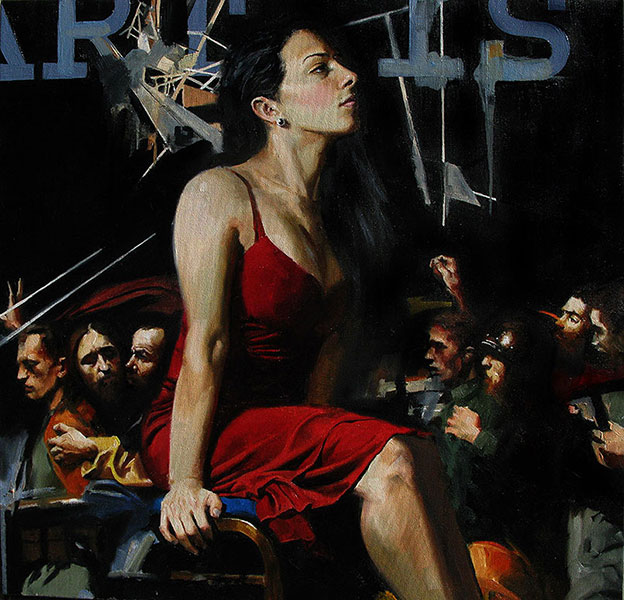 Adam Caldwell's Persona
With impressive technique and in possession of a range of styles, Adam's vigorously constructs his story by combining and juxtaposing disparate elements in order to create eye-provoking visual themes. One of his prime interests are art historical precedents, philosophy, and contemporary culture. These spheres inspire him to create intelligent, historically ambiguous works that explore social-related topics such as political conflict, gender and identity-based questions. His style contains hyperrealistic but also expressionist elements, and his surfaces are saturated and compressed, highlighting large amounts of contrast. Adam is very observant in his engagement when illustrating portraits, with his meticulous eye for details. All of his works emit a dark atmosphere, rendering omnious and ambiguous portraits that seep intensity, and at times, emotive discomfort. Shaken by the idea of multitude of personalities hidden in the individual, Caldwell portrays our own faces, that come to life in troubling or generally difficult situations.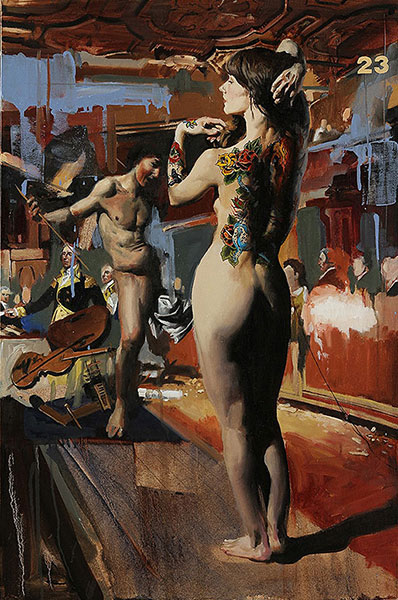 Adam's Bio
After numerous turmoils in his life, as he worked on different jobs, in 1990's Adam decided to enlist in an art school. In 1994. he received scholarship for California College of Art and four years as a student, he began working as a Teachers Assistant and taught several substitute classes on his own. He received a BFA in illustration and fine art in 1998. After many years of experimenting various forms of drawing, collage, and multi-media work, he realized he needed a change of course, thus slowly beginning to paint in oils. As he moved to another studio with his colleague, he was frequently visited by people from the art world. Adam's growth as an artist accelerated and he soon started exhibiting and selling his work. Today, his studio is in the Mission district in San Francisco. He shows at White Walls Gallery in SF, at Thinkspace in LA, and at Rook and Raven Gallery in London. He also sells prints and original work through the online galleries 5Pieces and 1XRun.
As previously announced, exhibition will take place in Thinkspace Gallery and will run from December 13. until January 4.
If you enjoyed reading post about Caldwell "Persona" exhibition and you wish to stay tuned, there is lot more of this to come so sign up for My Widewalls today!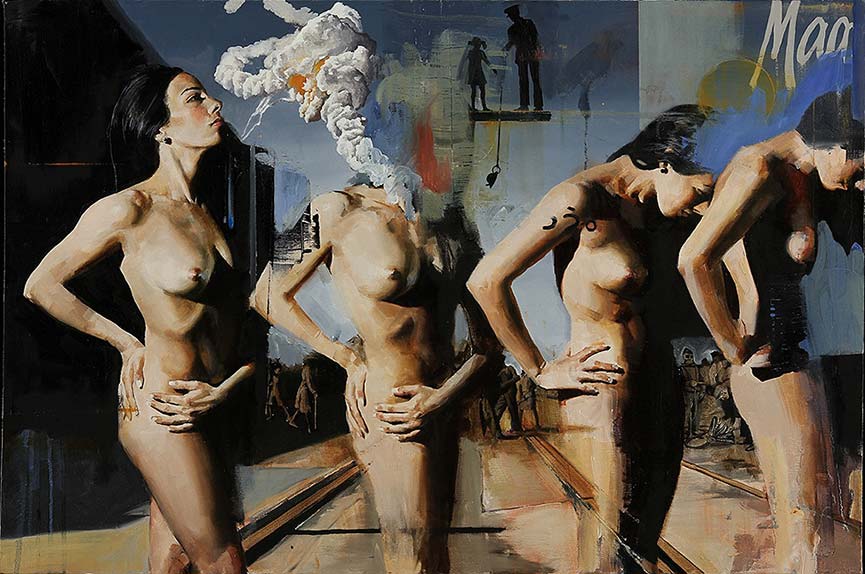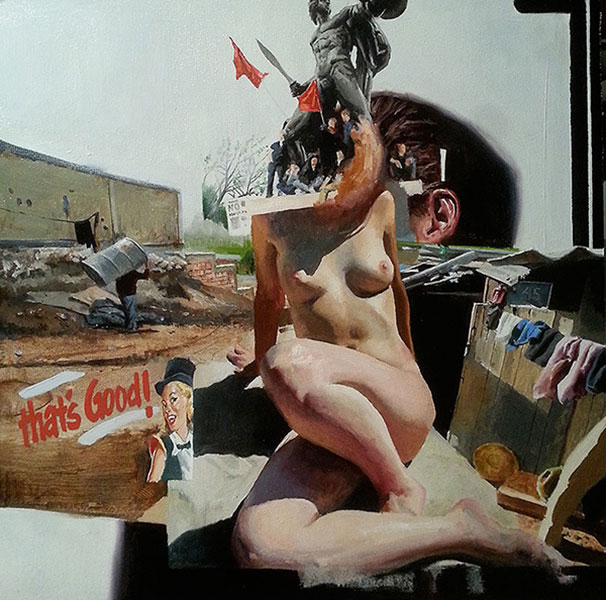 Disclaimer: Images of Caldwell's work featuring in this article are just for illustration purposes only, and may or may not be part of the upcoming exhibition.