A South African-born and Perth-based artist, Adam Craemer channels his influences from the Graffiti culture of Cape Town and Western art styles into a unique mixture of Urban, Street and Abstract art. Combining various methods that gloriously clash in his works, such as painting, spray painting, screen printing, paper shredding, ink, marker pens and epoxy resin, he creates extremely detailed compositions that simply dazzle the audience. The viewers can always experience his work afresh, since he marks pieces in such a way that allows them to see new marks and new complex lines every time they look at it.
Adam's paintings are at once sharp, realistic portraits and dynamic experiments in color, rhythm and texture. After shifting the model's face onto the canvas, he adds unsubtle touches of abstraction, covering the portrayed faces with swarms of colors, lines and stains. Throughout this process, he is always in complete control over his seemingly chaotic compositions. Always developing new techniques and approaches, the experimentation is a vital part of Craemer's practice, always remaining fresh and innovative.
We had a chat with Adam Craemer to find out more about his work. In an exclusive Widewalls interview, Adam talks about his beginnings, his unique style, working process, subjects, the Perth art scene, and much more. Scroll down and enjoy!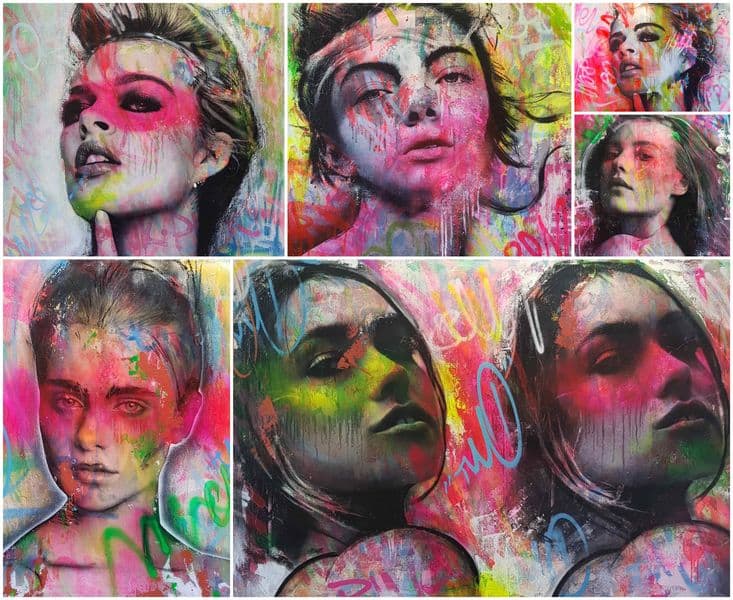 A Unique Brand of Urban Pop
Widewalls: You were born in South Africa where you have gained a significant graffiti background. Could you tell us something about the street art and graffiti scene of South Africa and your involvement in it?
Adam Creamer: I was into graffiti from a young age back in my native South Africa in the early 90s. Back then, the graffiti culture was a lot more urban and kind of dangerous in certain areas, so there weren't many middle-class white kids getting into it. But then, as my interest in art evolved, I noticed there were a few more kids doing all kinds of legal and illegal painting all over the place.  I got into it with a few of my friends and some of the guys got really good. I wouldn't say I was one of them though as I couldn't really afford to buy as much paint as the other kids to practice.
I did one or two legal walls in between the shadier nighttime shenanigans, but I reckon I was pretty low-key compared to other guys I knew. Like I said, in some areas, especially at night, being a young white kid driving around in your buddy's beat up car looking for a bit of action was a little dangerous unless you had a few more hard-core mates with you.
Eventually, the law caught us one night painting trains in a yard, and that was pretty much me finished with illegal stuff.  But I was still into the scene, so spent a fair bit of time hanging out around people who were still painting - mostly with those who were "legal day painting" - and checking out competitions that were happening from time to time.  I was a bit young to be involved in the social or political side of graffiti during that time and probably wouldn't have understood a lot of it given my age.
I think a lot of my style and influence came from living in London and seeing the European art styles. Also, I really enjoy and have a fair bit of US graffiti art style in some of my drawing and sketch work. My use of stencil art is more a result of my living abroad, rather than in South Africa. South Africa for me, was my introduction into the world of art and graffiti - Europe and the US were my education.
Widewalls: Your work blends portraiture, urban and abstract art. How would you best describe your style?
AC: I would describe my current form of portraiture to be Urban-Pop. I like the bright and bold colors of pop art, and obviously, I have a graffiti element going on in all my works. Merging them together and trying to fit in a portrait or nude, makes creating a piece interesting to me.
Widewalls: Your pieces are rather complex and dynamic and are characterized by a variety of marks and textures. Could you describe your working process?
AC: My process starts with finding an image or working with a client image. I'll then decide on colour and medium/texture types to use for the piece, depending on the look and size of the image chosen. As I am constantly trying to use new techniques in my pieces, I'll choose something new to slot into the work at some point during the process.
I build the base layers upon the substrate and then carve them back either by stripping paint, sanding plaster, or overpainting.  I may repeat this phrase several times to reach the desired effect. I'll then incorporate the subject, and depending on how little or how much I want her to stand out, I'll repeat the previous process either once or several more times.  This helps me merge the subject into the background.  I may or may not tape bits here and there, and then use some aerosols to help the subject pop.
Most of my mark making is spontaneous and decided by mood, music or client brief, but at the end of each session, I'll photograph the piece to look at later with fresh eyes. I'll then potentially rework the piece once I have reviewed the image, or alternatively, I'll begin sealing up the piece with varnish or resin if I'm already happy with the result. The final seal of varnish or resin depends on the look of the piece, and what kind of finish I am wanting to achieve.

Always Evolving
Widewalls: Could you tell us something about your interest in the female form? How do you choose your subjects?
AC: The subjects I choose are based off a few factors. I love the female form, so anything that accentuates that, or shows off an interesting angle, would gain my interest in painting it. I also like my subjects to be either fierce, stoic or lovely, depending on the work style of that piece. I think mostly I love searching for and then experimenting with interesting angles as well as traditional poses.
Widewalls: You are continuously discovering and developing new techniques in your work. How has your work evolved over time?
AC: If you look into my past pieces you can quite easily see that my work has evolved from a more two-dimensional graphic/pop style, through to my newer, more texture based urban/grime approach. This is 100% down to experimenting with new techniques and, using some unconventional ones in different ways to achieve my desired effects. I don't have the luxury of a super large studio space, so discovering/using techniques that can be executed in a smaller space with a fast turnaround or dry time, are great for me. I think my earlier work was more like what you see a lot nowadays in the urban/street market. That was one driving force for me to look into some new ways of doing things. Don't get me wrong, I still like my earlier works, but to evolve and grow is one of the main purposes of being an artist.
Widewalls: Who were your influences and who are the artists whose work you admire today?
AC: I have many artists I admire from when I was in school through to now. I'm not sure I have a set style when it comes to influences, as my style has abstract/urban/traditional elements in it.
But if I have to make a list of artists, it would go a bit like this: Warhol, Basquiat, Pollock, Murakami, Rauschenberg, Caravaggio, Rembrandt, Vermeer, Picasso, Leger, Richter, Kandinsky, Bauer, Ernst, Duchamp, Albers, Hush, David Bromely, Ryan, Hewett, Tony Gum, Schalk van der Merwe, Eric Lacombe, Florian Eymann, Cope, Seen, Dolk, Shepard Fairey, Andrew Salgado, Dain, Stikki Peaches, Johnny Romeo.
Just check out my Instagram account and you'll see I follow some serious talent.  I haven't scratched the surface of what is available to view and enjoy.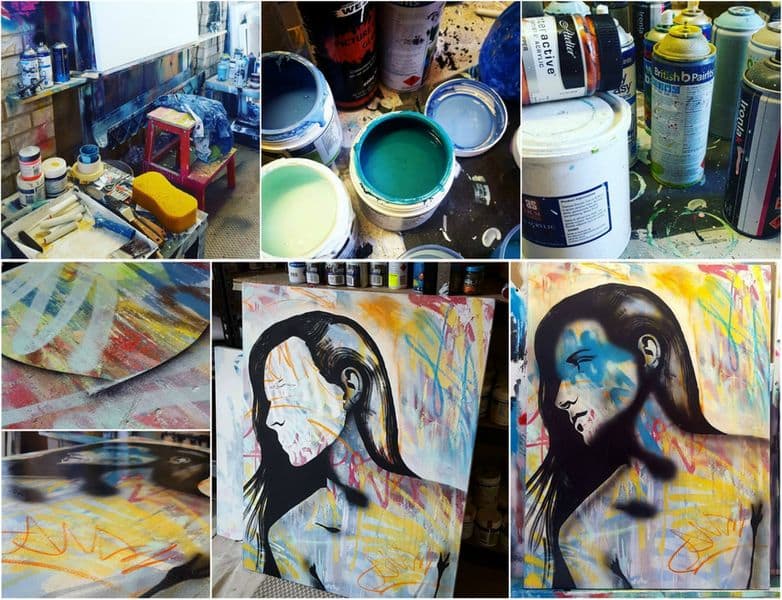 Future Plans and Projects
Widewalls: You currently live in Perth, Australia. How would you describe the art scene there?
AC: The street art in Perth is dope. There are tons of walls in and around Perth that have had top local and international artists showing their skills. Having lived in London and seen a lot of the street art there, I can confidently say that Perth can hold its head up high in that scene.
Having said that, Perth can be quite slow and tough for my style of work as, in my opinion, it is a little more traditional style-wise here at most of the gallery spaces. Unless you're a well-known artist or have overseas exhibition history, some of the outlets will not be overly interested in you. While I understand this is the nature of the art world beast - where you need to put in the time and achieve some recognition before you are "picked up" - I do find the east coast (Sydney, Melbourne, Brisbane) and overseas spaces are way more excited to work with me. Perhaps they are a little more progressive, who knows? This does not mean there aren't people or organizations here that aren't interested in my style of work. I have been to some very interesting non-traditional and "out there" shows around Perth. So I know there are other people like me with let's say, slightly unconventional thinking and/or art interests, and I have managed to meet a few artists from regions around Western Australia with similar taste.
There do seem to be a lot of artists that tend to move across to the east coast in search of more from the industry. Perhaps there is more open and out-of-the-box thinking from some of the established players/spaces giving unknown artists some airtime and helping them to push the progressive side of the scene a bit more. I know that if I were given a chance at any of the spaces, I would work my butt off to make good on my opportunity. And of the other artists I have met here, 100% of them would be eager to do the same. Successful shows help everyone.
Widewalls: For the end, could you reveal some of your future plans and projects?
AC: I have some plans in place for early next year to get back into the studio and get started on a new series of portraits. I'm not going to divulge much more than that at present, but the wheels are in motion and I have contacted several models regarding the series. I'm hoping it'll be a small leap forward in style, as I'll be incorporating a new technique and going a little more abstract with the subject, while still maintaining some graffiti depth to the base.
I'll also be trying to actively look into some more partnerships with a few more galleries in various parts of the world, while keeping my current representation team at Addicted Art Gallery in Singapore happy with fresh new work.
I am excited to try new things to set up future partnerships up with at least one space in places like London, France, NYC, LA, the east coast of Australia and, South Africa.  My plan is to try and keep it somewhat exclusive with each space in each location, while maintaining my own online presence through my website.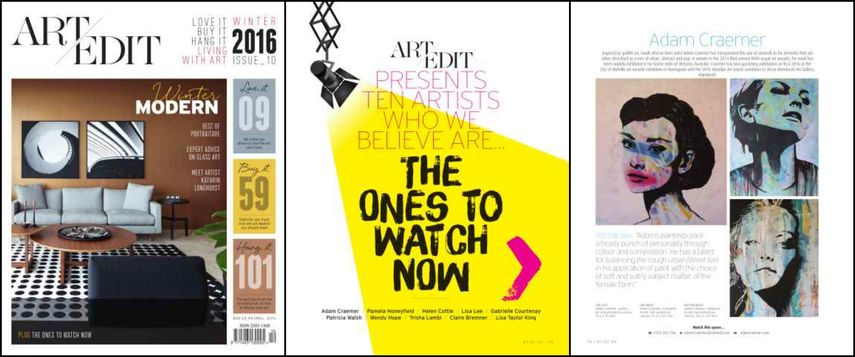 Featured image: Adam Creamer. All images courtesy Addicted Art Gallery.