James Baldwin once said:
We used to think of history as the realm of the settled as an inalterable past, as a nightmare. That was the legacy bequeathed us by the past century's catastrophes. But while we can never redeem what has been lost, versions of the past are forever being reconstructed in our fabrication of the present.
Although stated in 1972, today's volatile moment of American interstate relation reminds us, that the past doing evermore so repeatedly embedded in our present sphere. Baldwin comments on interrelations between past and present realities, as a continuum of cultural and historical notions which constitute the very materiality of our social fabric and are ever persistent.
Adam Pendleton is an artist, whose unwinnable and complex layered practice is exceptionally occupied with Baldwin's declarative statement. With a career spanning nearly two decades, including paintings, videos, essays, collages, and performances, he has situated the intersections of race, belonging, cultural politics, and art history as varying constructions that are re-articulated and imposed in the very centre of our Contemporary.
Not merely to inquire how and what if, but to push the very logic which constitutes their historical and social functions.
My first encounter with Pendleton was his large Black Lives banner at the Venice Biennale's Belgian pavilion in 2015. Its context was stupendous and appeared almost to "devour" the pavilion's space by forcing the centrality of its race relations. This without a doubt intended to procreate a statement. More recently, my attention has been directed to the disruptive continuity of his work whilst reading his publication ​Black Dada Reader​ (2017). Followingly, I had the opportunity to engage in a brief yet thoughtful exchange with Pendleton about his artistry and the contextualization of Black Dada.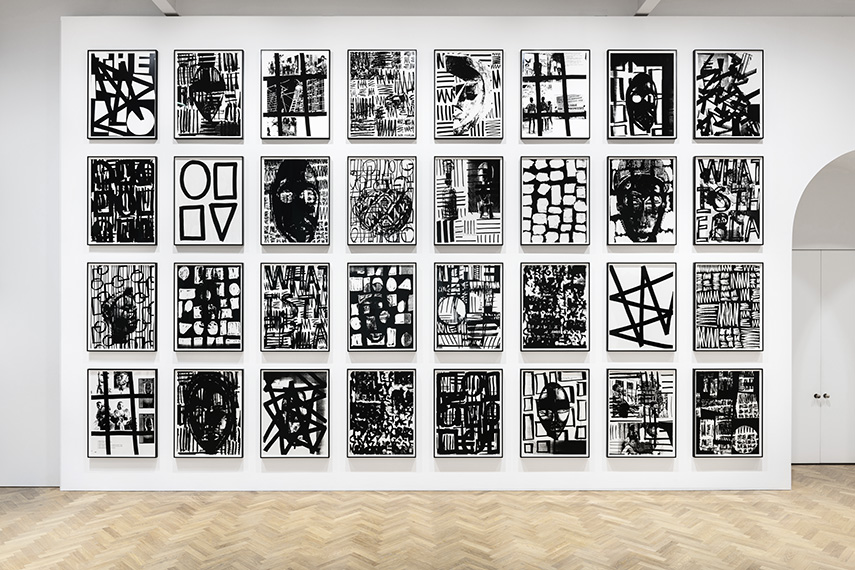 Adam Pendleton's Black Dada and Our Ideas
"Black Dada, is an artistic sequence of variations which intersect, yet does not conform to one's preconceived definitions and therefore is articulated into newer or non-restrictive meanings," Pendleton articulates. Drawing inspiration from the American beat poet Amiri Baraka's controversial political rhetoric ​Black Dada Nihilimus​ (1964), he developed a practice framework titled Black Dada in 2008. It's a manifestation that he refers to as a theoretical amalgamation, intersecting Harlem's Avant-garde art movements, and Conceptualist references from the 1960s to 1970s - remarking during our conversation. "Black Dada is a way to talk about the future while talking about the past. It is our present moment." 
In the reflection of the nows continuity, Pendleton reminds: "what can I as an artist, do which would critically reshift that which matters and affects me personally?"
With an expanded socio-political idea theoretically and conceptually embedded into his work, one observes and is reminded, that his art isn't merely existing along this idea, but is the very foundation and function through which his practice and the various discourses moreover dialogues sustained are comprehended. In this sense, the theoretical framework of Black Dada furthermore is an ontological conceptualisation of Blackness.
As a spectator, one won't necessarily observe this when reading the ​Black Dada Reader​. Instead, I recently understood the conception, in physical proximity Pace gallery's exhibition titled Our Ideas at Pace Gallery in London. Upon entering the space, one's attention is immediately overwhelmed by the evident dialogue between space and art. Gazing longingly and simultaneously whilst being tempted to touch the artworks silk printed glossing and tantalising surface, they appear to cut sharply through the architectural frame of the exhibition room.
It is particularly notable in the titled works Our Ideas #2, in which visually too much seems to be going on at once, yet the black-white colour scale rigidity ads to strength the space's dynamic tension between idea and materiality. Navigating from the entrance towards the galleries left then right side, the varying decolonisation movements photographic archives from recently deceased curator Okwui Enwezor's The Short Century​ at Villa Stück in Munich (2002) that are appropriated, transfigures an entire space into literal graphic emblems.
In further transfiguration, incomplete sentences from various texts are spray painted, drawn or printed on the photographic surfaces to continuously remove and distort the original context. In deconstruction, the intrinsic function of isolation and disruption, all be it separately or together, drifts towards a critique of the image's relation to the spoken furthermore written word.
These functions are continuously reiterated and although they often appear incomprehensible, the abstraction nevertheless stays true to Dadaism's dynamic tension between idea and materiality. Sculptural and Formalist critic Michael Fried denotes this as "presentness", meaning an art object's ability to negate the viewer's attention into nothing but an illusionary space. Reading the work of immediate readability means one's attention instead is focused on the external connection between the artworks and their environment. Thus their "movement" to one's awareness becomes significantly more apparent and transfixing.
There's an interesting dialogue at play between the theoretical framework, Black Dada and the actual art. Pendleton certainly comes from a critique of presentation that not only centres but laterality and contiguity subjectivise race as historical, political and cultural constructs that are continuously articulated through the objects, theories and works he appropriates.
Yet subtly and interestingly, when asked, he reminds that the familiarity appears to be extended further than its origins, not as fixed entities but fragmentations of different histories which all somehow bear a resemblance and constitute the very materiality of the Black body both as a colour and concept: "I feel as though our consciousness is the result of appropriation. We are appropriated. We are and culture is the result of that which has become networked throughout our history into the realms of culture."
To observe Pendleton's work, one is required, if not almost forced, to comply with a sense of unknowingness and instead observe meaning constituted in themes through the materials used refusing to be categorised. The imagery dialogue alludes to history as a constituted limitation between past and present read at a micro-level to slowly detect familiarity of narratives.
My work moreover Black Dada operates on notions of abstraction, but such abstraction is an active mode of representation which is a liberation of its own.
In further articulation, ​Black Dada​ as an abstraction is therefore understood as the literal and metaphorical process through which epistemological relations are interrogated. Although differing, it reminds of Andrea Fraser's institutional critique framework, in which there's a readable attempt to not only dematerialise the material art object but also the very language which constitutes its existence, as well as the historical hierarchies it upholds. Within the space, there's no written statement, name or size to isolate individual works. Instead, they appear as a single artistic corpus. Thus upon observance and in the absence of any written information, one's readability is contingent upon imagining moreover determining the incomplete abstraction's socio-political function, role, and importantly extension to space and identity.
Said incompletion is purposely an opening signifier that intends to move in several directions. The result is a body of works in which, radical juxtapositions appearing incomplete circulate to confuse moreover disrupt institutional logic, yet correlate periods of time, art and politics where the past continues to reconstruct itself in the present. Thus as a viewer one's attention furthermore appreciation is immediately constrained to grappling grounds in the absence of any prior knowledge of the appropriated content.
Therefore, the conceptual framework of Black Dada is unfathomable without material reference. But accounting for Pendleton's general practice, his reluctance to define more than necessary is intentional, to evoke viewers to carefully consider meaning in not only the reappropriated imagery or text, but moreover the intersections between space, artworks and oneself. Observing his work, and in extension, Black Dada requires a constant state of physical including intellectual wandering.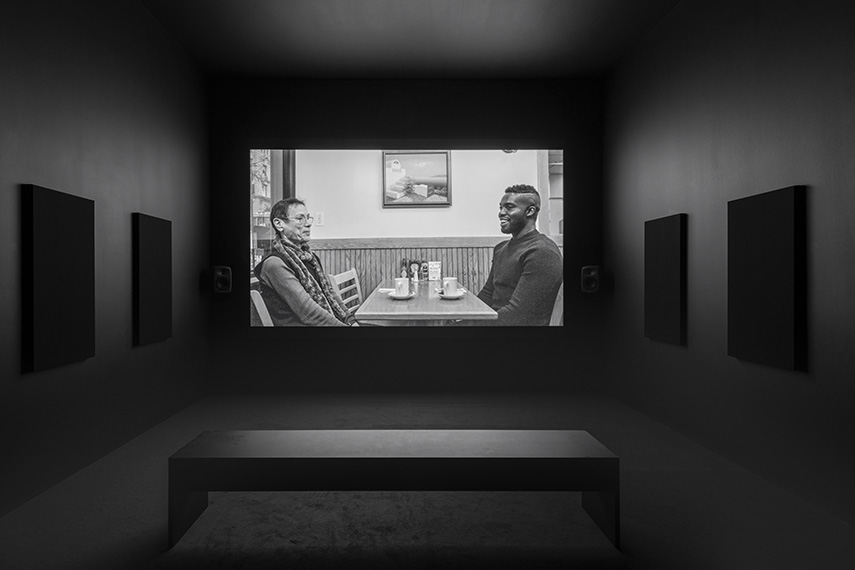 In Conversation with Language
This is why uncompleted and disrupted speech furthermore texts bear such an important function to Pendleton's artistry. The written language's fragmentation appears to refute familiarities. Whether referring to the ​Our Ideas​ exhibition, or the attempt to understand Black Dada further, the disconcerting feeling that's evoked doing both, asks of one to navigate the frustration of a consistent knowing to surmise, reminding that history and personal experience are often defined by contradictions, gaps and overlaps, and he responds: "My work has remained quite consistent and identifiable, particularly with interest in language. Both how it functions in a literary and theoretical sense. In theoretical I mean, how language shapes spaces and creates discourses moreover functions through which certain bodies are excluded. So a consistent aspect of my work has always been the dichotomy through which the body is situated in the ephemeral frame of language and space. And importantly how that configures one's identity and existence outside of the institution's sustained historical narratives."
​Bourdieu refers to this process as "cultural allodoxia" - a misinformed recognition which distorts the gap between acknowledgement and knowledge. In his ability to emerge mediums moreover disciplines into one, Pendleton's essayistic practice draws us towards a larger, and in the truest sense experimental narrative.
Perhaps forcefully our socio-political desires and the fleeting emotions which we're ruled by are historised and set forth. This historisation seeks to interrogate both past and present representation. And whether one gloss through the ​Black Dada Reader (2017) or roam from a particular ​Our Ideas​ exhibition space to another, the multitudes of works seem almost pervasive and overwhelming. And such multitudes of abstraction appear almost as if Pendleton is attempting to insert himself, or even direct the audience to question the personal sense of belonging to the institutional space.
It reminds that the reappropriation of old imagery is a mark of a continuum. By maintaining an almost consistent format which only varies in texture and positioning, one's unable to view the objects without also being mindful of the physical moreover temporal relationship to its situating within the gallery. In other words, it's a continuing dialogue which marks and puts issues into perspective, because their very existence is continued into a frame that's in constant exchange to one another. As a spectator, one is posed to observe how visual relations inform aesthetical relations that exist at the moment. In response, one might ask, in the frame of discursive visibility in which position does the Black body and its historical narrative fit in? And does the unpinnable definition shifts conception of Blackness, furthermore the ways through which blackness is materialised?
Although as a viewer one is often left with an unsettling sense of unreadable symbolism, one is inevitably also forced to see the institutional space as a site of social antagonism. Perhaps, the conceptual framework of Black Dada presents a rather profound revision of history moreover language, to inquire an epistemological narrative and the intrinsic socio-political layers that in turn forcefully ask, "what do you actually see?"
Written by Awa Konate.
Featured image: Installation view of "Adam Pendleton: shot him in the face" at the Baltic Centre for Contemporary Art (2017). © Adam Pendleton, courtesy the Artist.