Art has always been intrinsically linked to expression, passion and sensuality. The eroticism has been one of the recurring themes in art and life with all the imagery that revolves around seduction, carnal pleasure and its rituals. Even today, the subject continues to captivate and talk to the artists and it will soon be celebrated at the Adda & Taxie Gallery. After the success of the first edition of O in Barcelona, the gallery re-significates that first show and presents an enriched second edition in Paris. This time, the gallery will bring together fifteen international artists from different artists fields, including illustration, Urban Art, photography, and Pop Surrealism, to present their vision on this ever-relevant theme. Through drawings, inks, prints, installations, collages and brushes, they will pay tribute to seduction, to the body, to carnal pleasures and the fifth senses. Participating artists are Alphachanneling, Apollonia Saintclair, Bom.K, Chamo San, Jesús Benítez, Diana Kunst, Enric Sant, Jessy Deshais, Juan Francisco Casas, Mr Djub, Madame, Mark Bodé, Miss Van, Scotie, and Tito Merello.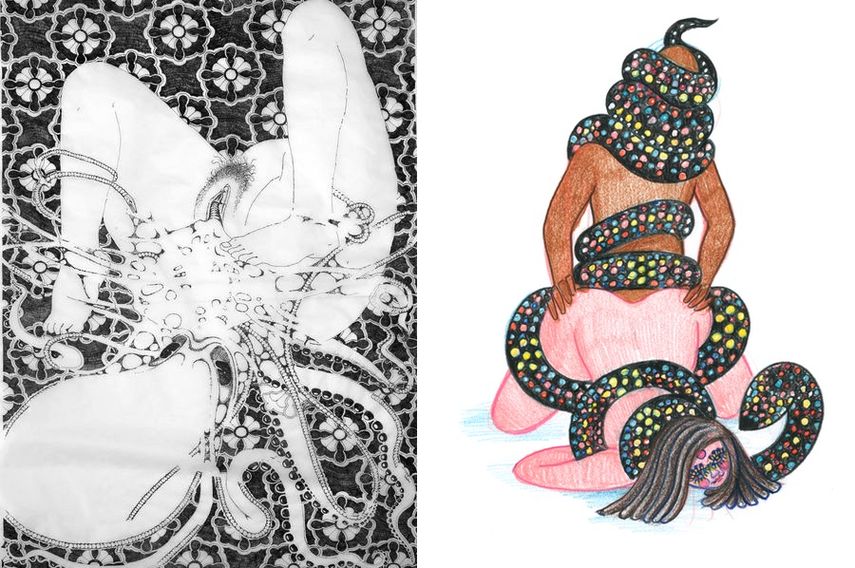 Alphachanneling, Apollonia Saintclair, Bom.K, Chamo San, and Jesús Benítez
While Alphachanneling creates erotic artwork as a testament to the metaphysical plane of sexuality, exploring the more unseen facets of sex rather than the physical, works by Apollonia Saintclair show powerful women in the center of wicked sceneries while leaving room for wide interpretations. The imagery of Bom.K displays fascinating mastery of spray can technique through his detailed, finely structured distorted figures, while Chamo San's illustrations showcase an impressive attention to details. Working under the name DHEAR, Jesús Benítez mixes illustration, painting and graffiti to represent animal and plant organisms without losing its essence of fantasy.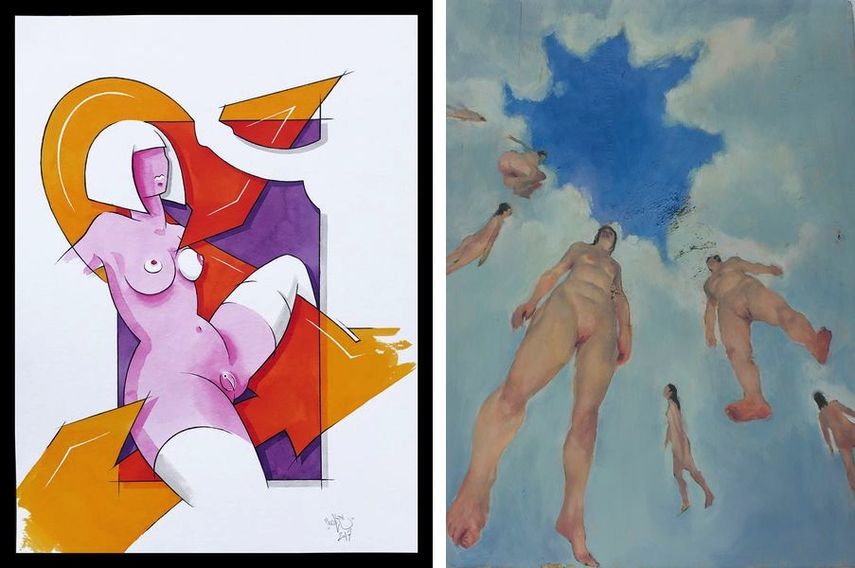 Diana Kunst, Enric Sant, Jessy Deshais, Juan Francisco Casas, and Mr Djub
In the work of Diana Kunst there is a seam of sexuality running throughout but it's rarely a straightforward kind, followed by slightly dark, slightly twisted overtones at play. While haunting murals drawings of Enric Sant poignantly conveys the ugly truth that underlies human condition, Jessy Deshais is a formidable observer of the contemporary world, tirelessly exploring her own demons as those who agitate the world. Juan Francisco Casas uses a simple ballpoint pen to create hyperrealistic erotic drawings, Mr Djub combines imagery sourced from art history and popular culture.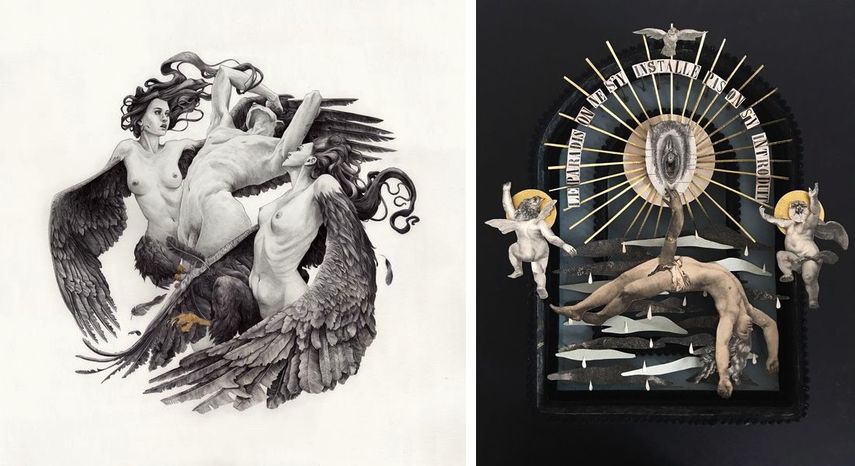 Madame, Mark Bodé, Miss Van, Scotie, and Tito Merello
While Madame creates collages made of clippings from old newspapers and magazines, Mark Bodé is a cartoonist responsible for some of the best comics made during the late 20th century. Miss Van is known for her sensual and seductive female characters, while Scotie's work is inspired by her graffiti and street art background, combining drips, flops and tags with details of lace and garte. Lastly, the artist Tito Merello creates beautiful portraits using iPad Procreate and Corel Painter.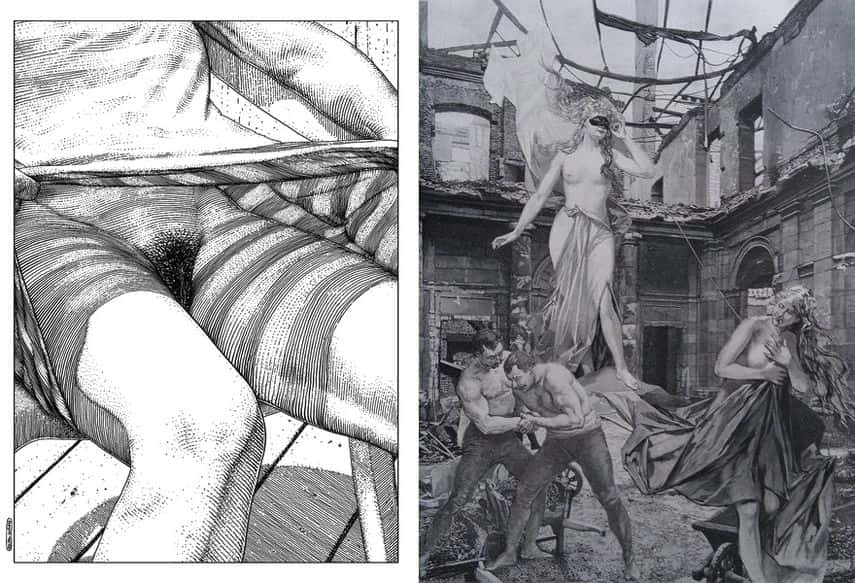 Erotic Group Show at Adda & Taxie Gallery
Each artist delivers us with their own dimension and perception of eroticism. Their reflections go from the romantic to the humorous, the feverish or the surreal, moving us to a dimension experienced by all who live with one foot in fantasy and secrecy and the other in the stark reality. The exhibition O will be on view at Adda & Taxie Gallery in Paris from September 16th until October 28th, 2017. The opening reception will be held on Saturday, September 16th at 6 p.m.
Featured image: Juan Francisco Casas - Double roman bed; Diana Kust; Apollonia Saintclair - Les ailes du désir (The swain in disguise); Tito Merello - Fawnya; Juan Francisco Casas - The art historian affair Nº12; Mark Bodé - #19; Madame - Romance; Chamo San - Medusa; Left: Jesús Benítez - O / Right: Miss Van; Enric Sant - Aproximaciones eroticas. All images courtesy of Adda and Taxie Gallery.