The world is indeed changing every day and the Europe has not seen so many new people in a long time, as it has in the previous years and months especially. Numerous immigrants flocking to developed countries are constantly used as an excuse for social and political destabilization, resulting in the increased tensions and consequently - number of troubled or even homeless people. These are the burning topics of our modern society and the key themes of the work of Adgang Forbudt, an artistic duo from Denmark, whose vibrant canvases cleverly cloak their essential gloom.
Adgang Forbudt consists of Ida Jas and Jesper Hintze, two people who have met by accident through a mutual friend and as the time went by, the decided to start working together. And so, the "Restricted Area" entity was born in 2012, which is the literal translation of their Danish name.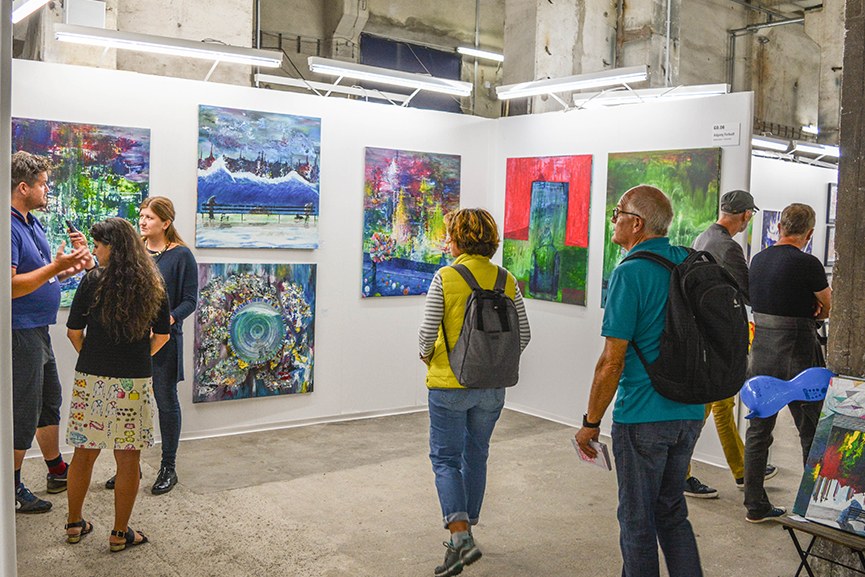 We All Live in a Place Full of Restrictions
Speaking to Ida and Jesper, one can come to a conclusion that we all live in some sort of a restricted area. The developed countries appear to be welcoming, while the people are still repressed in some way. Suffering and the constant fear of the "other" don't go away, while the life goes on with its sad and happy moments. The happy moments are the ones that create a balance in the work of Adgang Forbudt, as the cheerful, colorful, childlike elements brighten up the bleak narrative, alluding to the duality of living. In the talk we had at the Berliner Liste, we talked about the duo's first appearance at this art fair, their technique and their ideas.
Listen to our conversation on Widewalls Soundcloud and subscribe to listen to our art talks.
All images (C) Widewalls