A French street artist from Nantes, Ador is best known for his large-scale murals featuring imaginative humanoid characters. Getting immersed in drawing at a very early age, he over time shifted his focus to bringing his passion on the street scene. Using his playful and wonderful imagination, he carefully blends passion, beauty, ugliness and life, always linking it to his surroundings.
The artist's latest solo show will soon be on view at Happy Gallery in Paris. Titled Jaune et Joli, the exhibition provides an opportunity for the audience to see his latest body of work but also invites them to enter his cynical and humorous universe making the gallery an emanation of Ador's vision. The exhibition will bring together works that tell stories rich in imagery with multiple characters. Playing the French word Jolie, a silly way to say "beautiful" in French, he presents unclear objects, ordinary facetious protuberances.
We had a chat with Ador to find out more about the show and his practice in general. In an exclusive Widewalls interview, the artist talks about the concept of the show, the works on view, his interesting characters, storytelling and much more.
His show Jaune et Joli is on view at Happy Gallery in Paris from March 12 to 28, 2020.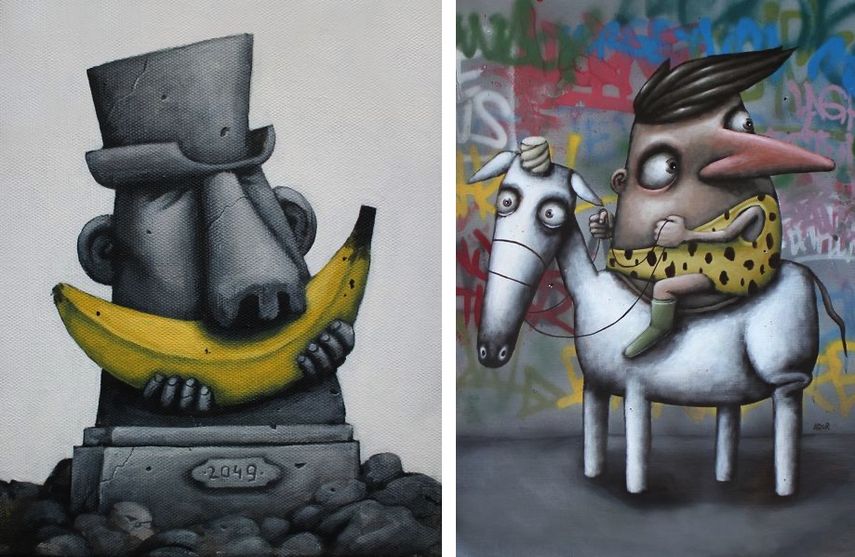 Jaune et Jolie at Happy Gallery
Widewalls: Your solo show "Jaune et Joli" will soon be on view at Happy Gallery. Tell us more about the concept of the show.
Ador: It is the first time I will be doing a solo show with Happy Gallery, happy to have this experience.
Ever since I have been painting, I had a period with special characters or subjects. I have been painting with new subjects - Jaune et Joli is the opportunity to show that stuff.
I hope people can see different stories in my work, and a show is like many stories in one moment. Happy Gallery gives me possibilities to show something complete with 3D, canvases, painted walls.
Widewalls: How did the title of the show come to be?
A: I recently used many different subjects with yellow color like cheese, banana, bee, panther, crown... It was a good occasion to paint a yellow smurf. Jeune et Joli was also the name of a dumb magazine. In my work, I love to use childish vocabulary to treat adult stuff.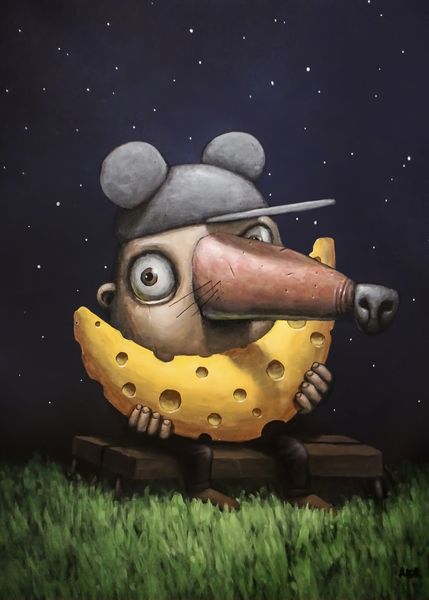 Storytelling Through an Interesting Cast of Characters
Widewalls: Storytelling is an important part of your practice. What kind of stories interest you the most?
A: I really enjoy imagining stories starting with common situations and to make something happen with my tribe. I used to laugh alone, and what I love the most is when people invent a story I didn't think of at all. And it happens that people make different stories with one image.
If I had more words I would talk more. I think the more words we have, the more we can think. I try to use my elements like words and combine them into sentences. And it happens that I don't have the correct words to describe my researches.
Widewalls: You have developed a cynical and humorous vocabulary accompanied by an interesting cast of characters. How do you conceive these characters?
A: The more I draw, the more I live, the more I meet all different things of this mad world, the more I can feed my sketchbook. I add members to the tribe when I can. I create a new character from different combinations or, for example, if I meet a guy in the metro with ears too low.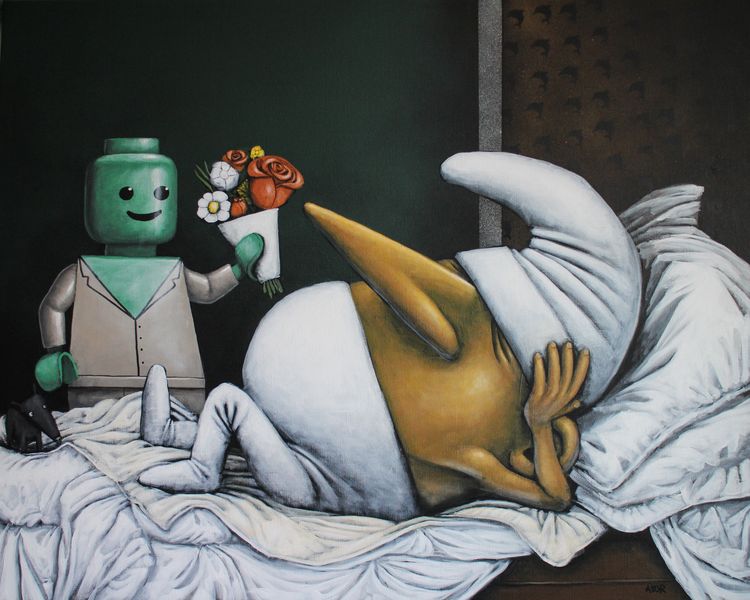 Past and Future Projects
Widewalls: Could you tell us something about your working process?
A: I don't really have something special to say, or maybe that each situation I see can be an image that can tell something more than what we see.
Widewalls: You have been painting all around the world. What are some of your favorite projects (and why)?
A: Each new project is nice, and it's really special to talk about an image with a bad vocabulary.
There was a very funny project in China for example. And even if I'm French, I'm used to meeting French people who don't talk the same language as me. Painting and telling stories in a public space is the best occasion to create and exchange with all the neighbors.
Widewalls: What's next for you?
A: As the yellow color is the main element of this show, I plan to make something pink for the next one.
Featured image: Ador Mural. All images courtesy Happy Gallery.