Influenced by the purity of Folk art, Adrian Landon Brooks art exhibition Golden Age at the Stephanie Chefas Projects presents an original series of paintings which deal with universal themes of love, loss, and redemption. Placed within unique worlds, his latest images transcend the every day, exuding a spiritual, universal aura of peace and harmony, while the title itself refers to a time from Greek mythology when a man was commonly noble and good. Continuing with his exploration of stunning iconography that hails from both the mystic and folk tradition, Brooks' artworks offer fragmented tales that immerse its viewers.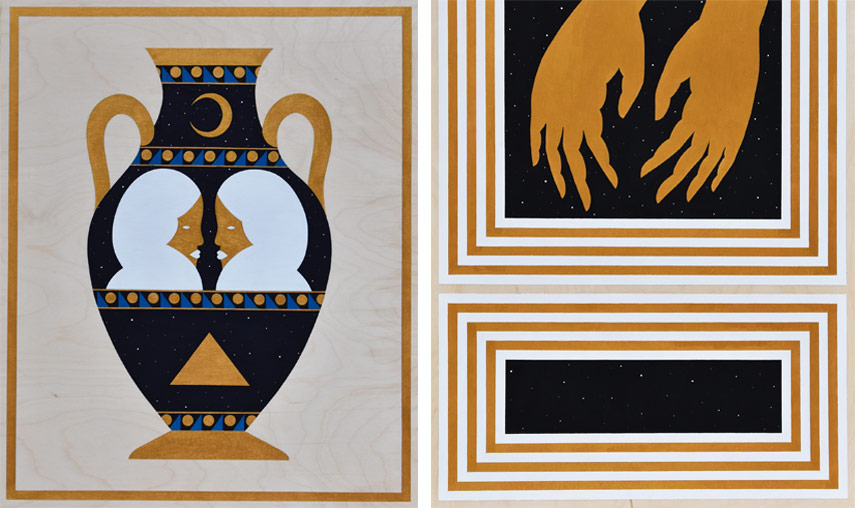 Adrian Landon Brooks' Art
Adrian Landon Brooks is famous for his stylized illustrations and paintings, which verge on the edge of minimalist art. Interested in found materials, such as wood, metal, and old photographs as repurposed canvases, the artist creates images which hold an underlying sense of history. In Brooks' own words his latest body of work is "… an expansion of my recent aesthetic and keeps with the themes of magical folklore and mysticism. Each work offers my interpretation of a time when peace and harmony prevailed. The figures in my paintings share this sense of spiritual abundance and purpose. Wormholes, starscapes and statuesque heads create scenes that are meant to capture sacred traditions and ceremonies that transcend any one culture".

The Contrast od Wood and Color
The contrast between the bare wood and the painted imagery creates a surreal environment and an atmosphere of detachment. As such, the painted figures, the floating hands of worship, or cosmic structures are completely separate from our world. The artist's use of both color and wood is immediately identifiable and brimming with his own visual language, which is defined as a form of sacred art. Often referring to his art as a tool and a force which helps him to achieve the sense of "freedom and redemption from everything that ails me", the force of his drawings, paintings, and illustrations is undeniable.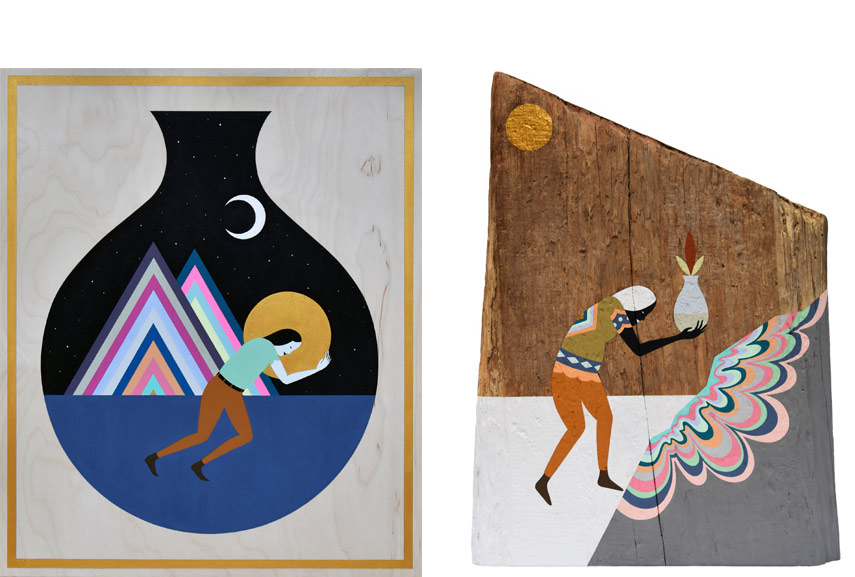 Adrian Landon Brooks Art Exhibition at Stephanie Chefas Projects
Highlighting a diverse blend of contemporary authors from around the world, Stephanie Chefas Projects this time around is proud to present Adrian Landon Brooks art exhibition Golden Age. Known for his paintings and illustrations which incorporate materials such as wood, metal, and old photographs as his canvas, Brooks' images in addition to a number of gallery works, have been included in museum exhibitions at The Contemporary Austin and Fort Wayne Museum of Art (FWMOA). This time, the public in Portland, Oregon has the privilege to feast their eyes upon sacred and magical artworks, which transcend us to different worlds, and to the times when love, redemption, harmony, and peace prevailed. The opening reception for the show Golden Age will be held at Stephanie Chefas Projects on Friday, March 3rd, from 7-10pm. Stephanie Chefas Projects is located in Portland, Oregon at 305 SE 3rd Avenue on the second floor of the Urban Row building. The exhibition will be on view through March 31st, 2017 and is free and open to the public.
All images courtesy of Stephanie Chefas Projects. Featured image in slider: Adrian Landon Broks - Midas. detail; Left: Adrian Landon Brooks - Cosmic Hierarchy / Right: Adrian Landon Brooks - Heir to the throne