When someone says The Last Supper, our minds naturally go to Leonardo Da Vinci and his famous masterwork. But what about the 6.4 meter long, 86.6 kilogram heavy painting made by Plautilla Nelli?
It comes as no surprise that her name is generally unknown, as are those of other female artists of her time, and beyond. In particular, the marvelous city of Florence, Italy is home to a number of "invisible" artworks made by women, hidden in storages of charges and museums, desperate for attention. Thankfully, that attention has now been coming from Advancing Women Artists, an organization dedicated to research, restoration and exhibition of paintings and sculptures by the unrecognized and the neglected. By shedding light on their indisputably important artistic production, AWA sets up the basis for their legacy long overdue as well. They are looking the fill in the gaps of the history of art by providing information and care that lacked so far, and to introduce the world to artworks well worth our time that we were unaware of for centuries.
And so, after a remarkable process of restoration, Plautilla Nelli's Last Supper is finally ready to see the light of day again, thanks to Advancing Women Artists. On the occasion of the painting's unveiling in Florence on October 17, 2019 at Basilica of Santa Novella in Florence, we talk to Advancing Women Artists Director Linda Falcone, about how this work of art was discovered, why Plautilla Nelli is an important figure not only historically, but also for the AWA itself, and what you can do to help women's contributions to art finally go from backstage into the spotlight.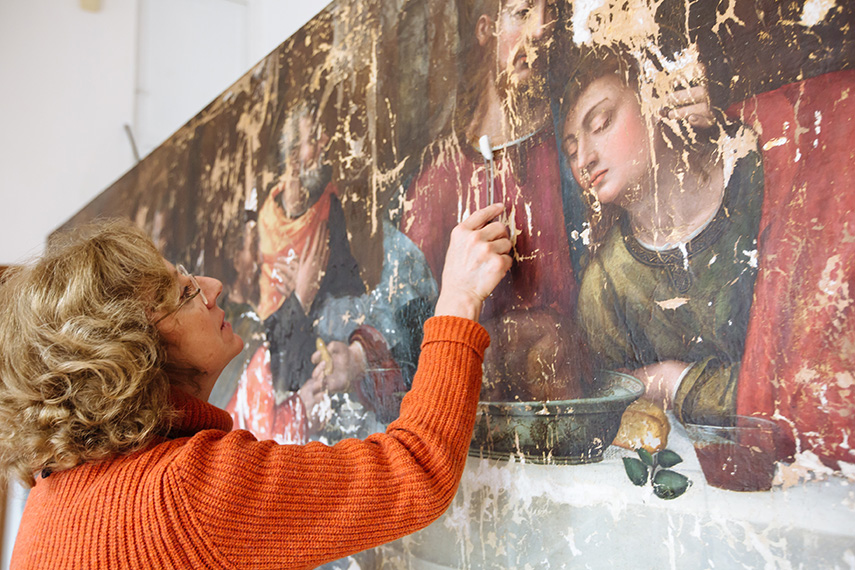 Restoring Plautilla Nelli's Last Supper in Florence
Widewalls: Let's begin with the unveiling of "The Last Supper", one by Plautilla Nelli. What can you tell us about this painting?
Linda Falcone: Firstly, it's the largest painting by an early woman artist is in the world and the only Last Supper by a woman, from the Renaissance and beyond. It is also a very exciting painting because the restoration has brought out evidence that it was completed by multiple hands— this is proof that Nelli had a workshop of nun artists that helped her create her masterwork.
In an era where women could not paint professionally, these women's earnings from their workshop made their convent self-sufficient. It is also interesting that Nelli signed her painting. The Old Masters almost never signed, and the fact that Nelli wanted to claim ownership to this artwork is significant. Under her signature, she adds the words 'Orate Pro Pictora', 'pray for the paintress'. I've always felt that is a plea to modern-day art lover and all of us at AWA, who 'pray' that Nelli's works will be restored and revealed to the world.
Widewalls: Why was the work out of sight for more than four centuries?
LF: Thanks to the restoration, we've had researchers follow the painting's life cycle, including all the times it was moved throughout history. The Last Supper was created for Nelli's cloistered convent which was destroyed in the 1800s due to Napoleon's reforms. Afterward, it was in the old refectory of Santa Maria Novella and then kept in storage for many years. When we accessed the painting, it was hanging in the modern-day refectory where the friars today have their meals. Now, it will be hung back in the museum, across for Alessandro Allori's Last Supper... and the two paintings can dialog.
Widewalls: It was also Nelli who inspired the founding of the Advancing Women Artists Foundation. When and where did you first hear of her? What happened then?
LF: In 2005, AWA's founder discovered a book at an antiques fair in Florence about 'the first woman artist of Florence' and she went to the Museum of San Marco to have a look at Plautilla Nelli's Lamentation with Saints, which moved her deeply. She noticed the painting looked like it needed cleaning and would ultimately ask the museum director if she could fund that operation. When the painting was taken off the wall, technicians discovered it was crawling with woodworm, and so Jane decided to sponsor the painting's restoration. She became fascinated with the conservation process and realized that discovering art by women was strongly linked to the restoration of their works because it can help fill the gaps when it comes to information about these artist's technique and even personality.
When Jane saw Nelli's San Marco painting, she began to wonder how many other forgotten women artists there were in Florence that were virtually unknown to the public... and that question started her quest. By 2009, she had founded Advancing Women Artists to research, restore and exhibition hidden art treasures by history's forgotten half.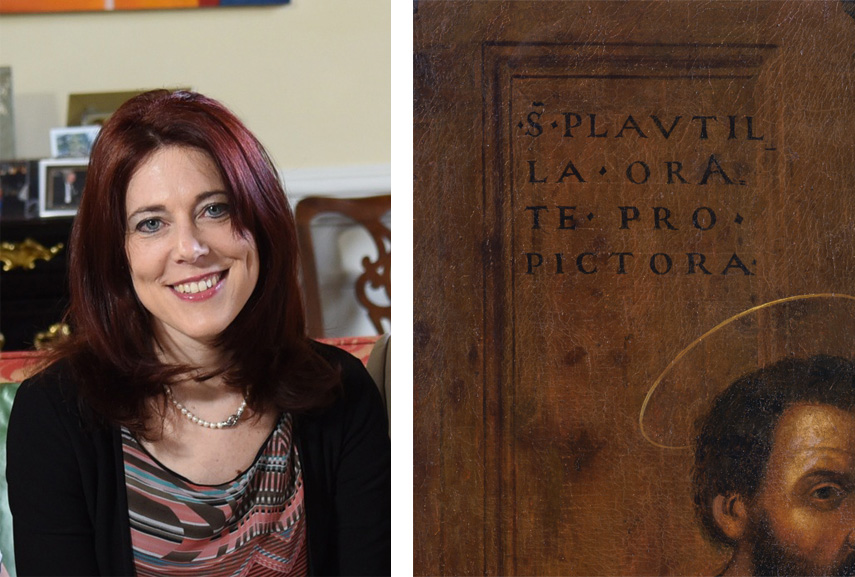 Advancing Women Artists
Widewalls: Who are the people making the AWA team? How did they come together?
LF: AWA began as a grassroots organization, headed by Jane Fortune and her partner Robert Hesse. When Jane was diagnosed with cancer for the first time in 2008, she asked me to finish her book Invisible Women, that she was in the process of writing. She asked me to go into the museum attics and cellars and check the accuracy of her findings. Together, as Jane regained her health, we started working to see which of the artworks discovered needed restoration. It grew from there.
We are a small staff and have a tight-knit group of volunteers that have joined the quest. Our crowdfunding project for Nelli's Last Supper in 2017 was fundamental. At that point, Jane was battling her second bout of cancer and we really wanted her to see that her legacy was already being embraced by the public. 417 people from 19 countries participated in the FirstLast program and it opened the doors for immediate growth. People from all over the world, especially women, support AWA through its International Advisory Council or as research volunteers.
Widewalls: Do you have a personal favorite story when it comes to a specific artist, or artwork, during research or restoration so far? Or a highlight you'd like to mention?
LF: I was very interested in the restoration of Violante Sires' painting at the church of Santa Maria Maddalena dei Pazzi. She was a woman from the 18th century who believed that she should be given an aristocratic title by virtue of her artistic talent. When conservators removed the painting from the wall, they discovered that it had been damaged in the 1966 flood, but no one had realized it. Although the painting was not covered by the 400,000 tons of mud and water that invaded the city when the Arno River flooded, the humidity that had seeped in the church walls caused so much mold growth on the back of the painting, that the mold had eaten away at the painting from the backside. It was amazing to see that 50 years after the fact, it is still possible to uncover flood victims. Violante was a truly unknown artist and history had never been written by her perspective, so it was interesting to reflect upon the fact that these women were often famous and well-connected in their lifetime, but history has forgotten them.
Widewalls: AWA has been around for years, but it seems to be even more relevant in the era of #MeToo. What are your thoughts on this?
LF: There is more awareness now about women's issues in general, compared to a decade ago. In 2007, when I first began working with Jane, the idea of delivering the works of unknown female artists to the museum spotlight was revolutionary. Today, several top museums have begun this process. In this sense, more and more people are beginning to wonder about the creativity of women through the ages, and as awareness becomes more prevalent, art lovers will begin to demand to see their works currently in storage. That is the goal.
Widewalls: How can one help the restoration of works?
LF: The best way to become involved is through the Art Angel program, which we developed in response to many people who wish to become involved and form a community of art lovers in support of restoration. There are various levels of giving, that ranges from 100 to 10,000 dollars, and the type of 'wings' changes depending on the gift (bronze, silver, gold, ruby, emerald, sapphire, etc.).
Art Angels have access to in-town invitations and can visit a gallery on the website just for them. We also work with them for purposes of advocacy, through a program called 'AWA Around the World'. This year, for Women's Day we hold multiple screenings worldwide, in places like Washington DC., Malta, Hong Kong, England and more.
Widewalls: What's next for AWA?
LF: Our unveiling in mid-October of Nelli's Last Supper! It has been in the restoration studio since 2015 and, after 4 long years, we are looking forward to it returning to the Santa Maria Novella Museum. The worldwide public has been waiting for this day for a long time!
In fall, we will be launching our next restoration... but until then, Mum's the word...
Plautilla Nelli's Last Supper, restored
Featured image: The Last Supper by Plautilla Nelli during restoration by Rosella Lari Restorer.