A century ago, the airplane and high-altitude photography dramatically changed the way landscapes were seen and understood. In its rich and varied history, aerial photography has been used for everything from geographic exploration to secret spy missions, giving people a realistic vantage of the world few had seen before. Beginning with early images taken from hot-air balloons, it was the military reconnaissance that was instrumental in catalyzing innovation in the field. Soon establishing itself as an essential tool, it contributed greatly to the advancement of geographic and archeological scholarship. Inevitably, the creative potential of aerial photography attracted artists as well. They have recognized that the aerial view radically challenged conventional modes of seeing and experiencing space, revealing forms and patterns impossible to see from the ground and offering a new perspective on familiar objects. While digital technology has changed the landscape of photography, new technologies and resulting innovation in remote sensing have enabled the mass democratization of access to this bird-like view.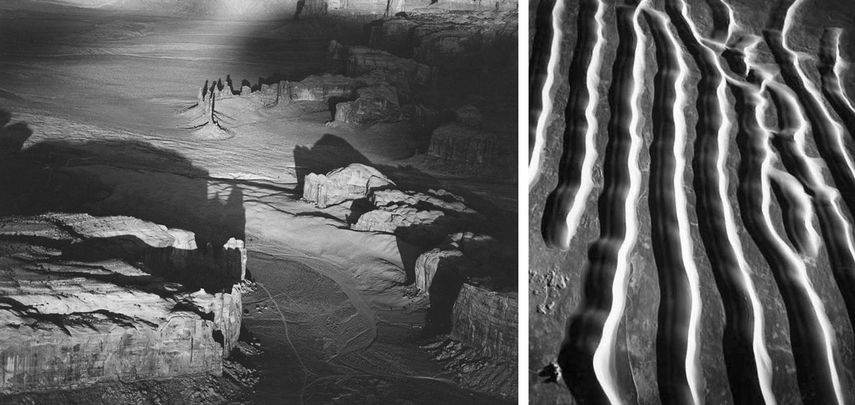 The Short History of Aerial Photography
The first known aerial photograph was taken in 1858 by French photographer and balloonist Gaspar Felix Tournachon, known as Nadar. After patenting the idea of using aerial photographs in mapmaking and surveying, he managed to successfully produce an aerial photograph three years after, capturing the French village of Petit-Becetre from a tethered hot-air balloon. However, his photographs did not survive, and the earliest existing aerial photograph is Boston, as the Eagle and the Wild Goose See It created by James Wallace in 1860.
As photographic technology advanced, early pioneers started using kites, rockets and even pigeons to carry their cameras to the sky. The English meteorologist E.D. Archibald pioneered kite aerial photography in 1882, using an explosive charge on a timer to take photographs from the air. A few years later, Arthur Batut suspended his still rather large camera from a single kite, setting an automatically timed exposure with a slow burning fuse. The first use of motion picture camera mounted to a heavier-than-air aircraft took place in 1909 over Rome in a short silent film by Wilbur Wright titled Wilbur Wright un seine Flugmaschine.
During the World War I, aerial photography soon replaced sketching and drawing by the aerial observers. Reconnaissance aircrafts on both sides were being equipped with cameras to record each other's lines and resources in order to keep up to date with the enemy movements, contributing to many innovations in the field. With aerial cameras dramatically increasing in size and focal power towards the end of the war, Sherman M. Fairchild has developed a camera with the shutter located inside the lens, significantly improving the quality of the images and setting the aerial camera system standard for the next 50 years.
After the war, the aerial camera began to be used commercially, when Sherman Fairchild took a series of overlapping photographs to make an aerial map of Manhattan Island. Aerofilm Ltd, the first commercial aerial photography company in the UK, carried out vertical photography for survey and mapping purposes, eventually pioneering the science of photogrammetry - the mapping from aerial photographs. A few years later, Fairchild started his own firm Fairchild Aircraft to develop and build a specialized aircraft for high altitude aerial survey missions. His first commissioned mission was an aerial survey of New Mexico to study soil erosion.[1]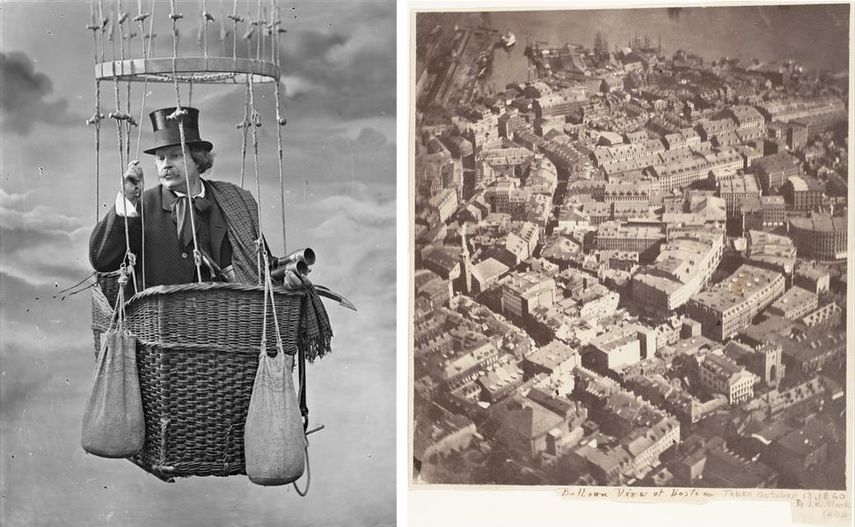 Aerial Photography and Art
Ever since its inception, aerial photography has contributed greatly to our knowledge of the world around us, finding its application in archaeology, geology, geography and wider landscape, environmental, rural and urban studies.[2] Recognizing its creative potential, a variety of artists incorporated aerial imagery into their work, setting the scene for a century of elevated viewing. Flattening the image, aerial photography reveals pattern at varying scales on the earth's surface. Once aerial photographers started deliberately seeking out, framing and creating patterns, rather than creating work that simply serves documentary purposes, they have broadened the field of aerial photography to aerial art. These photographers sought in their aerial photography to transcend journalistic or documentary goals in order to capture their own version of what Henri Cartier-Bresson called "the decisive moment". Expanding our understanding of patterns and their meaning, photographers recognized that the medium offered far greater creative opportunities than the picturesque conventions of representing natural and human landscapes, developing an interest in abstract patterns or in documenting human interactions with the natural world.[3]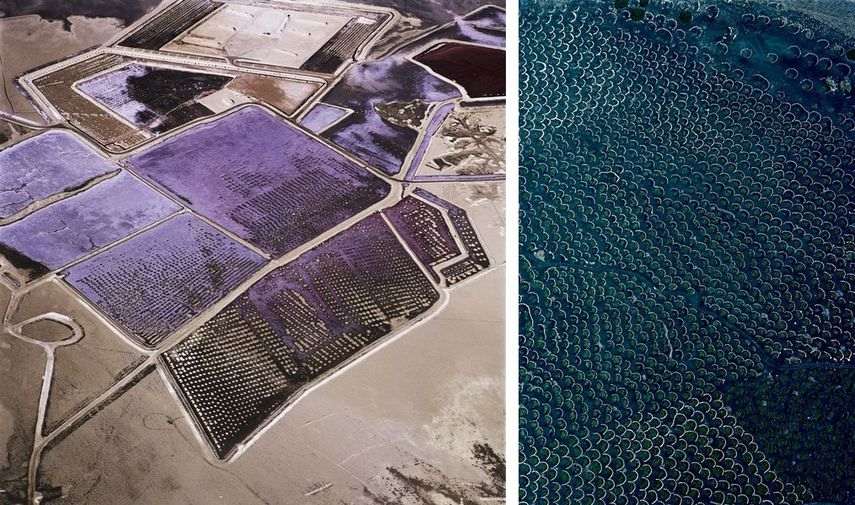 The Land and Environment in Aerial Photographic Art
Referred to as the Ansel Adams of the air, William Garnett has produced tightly framed photos devoid of people that revealed the abstract forms created by wind and water, farming and urban development. Another pioneering aerial photographer, Georg Gerster created stunning work characterized by the abstraction of the pattern and attention to highly excerpted detail. Using photography to explore new territories and convey information about our planet, art director for the Swissair airline Emil Schulthess was focused on observation of nature and explorations of other cultures and living conditions. Creating less abstract work, he often treated a photograph as a piece of conceptual art, drawing on it by hand and linking it to the history of science, exploration, and timekeeping. Developing a style characterized by bold contrasts and inspired by Neo-Realist movies, the Italian photographer Mario Giacomelli used to pay farmers to create precise marks on the ground with their tractors. Acting directly on the landscape to photograph it, he became a precursor of later Land Art practices. Combining photography with her passion for flying, Marilyn Bridges aimed to preserve what she refers to as "the messages of humankind". Seeking to maintain a balance between intimacy and distance, she flew at an altitude of only 300–500 feet usually at twilight, when shadows would give her subjects stronger definition.
Another artist who manifested a striking shift into aerial work is Emmet Gowin who worked above mines, industrial facilities, corporate agricultural fields and military sites around the world, illustrating environmental devastation. Seeking out images of the large-scale human destruction of nature, he managed to capture the supreme ugliness of urban sprawl. Another photographer who captured areas of environmental degradation, David Meisel sought to frame the startling toxic colors of evaporation ponds and bacterial blooms as abstractions, focusing more on the composition than polemics. In 1967, Ed Ruscha created seminal work over Los Angeles, taking vertical portraits of empty downtown parking lots. Compiling them into a typology Thirty-Four Parking Lots, he laid the foundation for the New Topographics, a countermovement to the Ansel Adams school of landscape photography. On the other hand, the contemporary artist David Deutsch is more concerned with the questions of privacy in the urban environment. His famous Nightsun series was taken from a helicopter at night using powerful police searchlight to illuminate the ground, parodying police search tactics. Among the contemporary artists who have achieved the broadest reach with the camera in flight is Michael Light, focusing most on the environment and how contemporary American culture relates to it.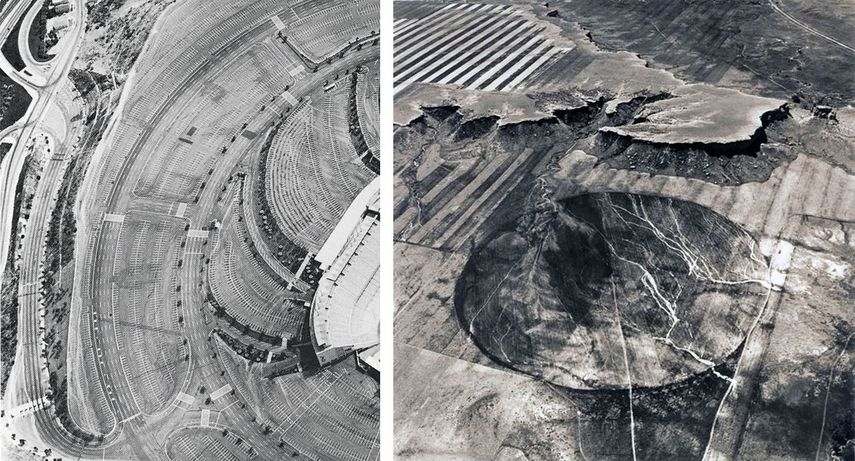 Remote Sensing and Art
Possibilities given by the new remote sensing technologies such as satellites and GIS elevated aerial photography to another level. While some artists were fascinated by its capacities to reveal aspects of the earth's surface and the human occupation of it, others were strongly critical of the potential for surveillance, often used by the state. The American artist Laura Kurgan first has used French spot satellite images taken over Bosnia in the 1990s to reveal the location of mass graves through the evidence of disturbed ground. Her work explores things ranging from digital mapping technologies to the ethics and politics of mapping, and the art, science, and visualization of data. On the other hand, artists Florian Boer and Christine Dijkstra have used the technology to invert urban spaces by filling the former space with forest and the latter with roads and houses. The artist Ingrid Burrington uses satellite view pictures of politically and technologically significant sites such as data centers, air bases, space stations and downlinks to show the instability and shifting realities of these views. Using the aerial perspective and referring to its history, she questions the idea of all-seeing omniscience.[4]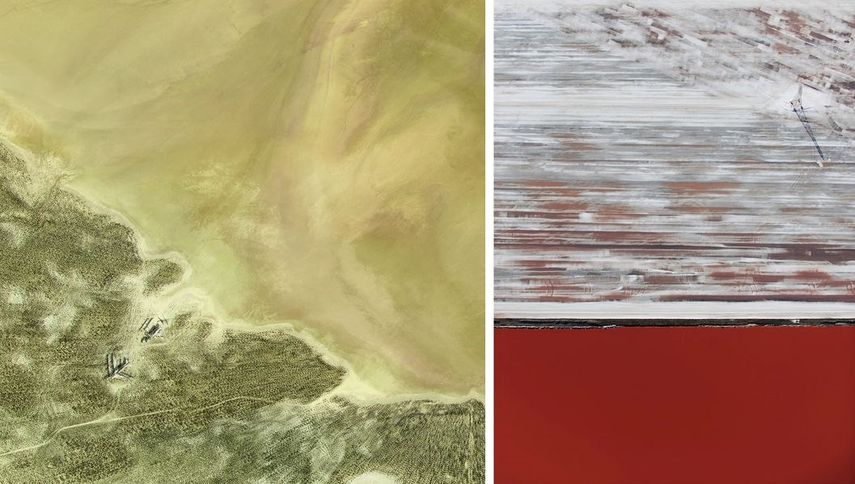 The Drone Photography
Combining microcomputing and satellite technologies, the unmanned aerial vehicle, or drone, has become the foreboding symbol of our time. A set of multiple eyes capable of staying up for hours, communicating back home and taking instruction via satellite, the drone phenomenon has attracted a variety of contemporary artists. While some have embraced the technology to take aerial photography to another level, artists are more often focused on the themes of secrecy, political opacity and restriction of information, varying in approach.[5]
The Belgian photographer Tomas van Houtryve captured the ominous, threatening aspect of drone surveillance with chilling black-and-white images of public places across the US that warn for the potential abuse of the technology and the changing nature of personal privacy, surveillance, and contemporary warfare. An American artist, geographer and author whose work tackles mass surveillance and data collection, Trevor Paglen has created a series of photos of drones ominously hovering in an otherwise tranquil sky, aiming to help develop a visual and cultural vocabulary around surveillance. Becoming fascinated by drones as early as 2003, he started thinking "about the colonization and transformation of the sky as an aesthetic thing, but also a political thing". Letting Google Earth satellite images stand in for drone photography in his Dronestagram project, James Bridle shares aerial images of other people's lives, presenting an uncomfortable contemporary reality. Seeing the drone as a natural extension of the internet, he aims to expose not just the technology and its pervasiveness, but also those who are at several stages removed, who are back-seat driving.
Becoming more sophisticated, cheaper and more accessible, drones, along with satellites, have moved from warfare technology towards a constant state of Orwellian nervousness. In this growing debate regarding surveillance and privacy issues in the midst of ever-advancing technology, the role of the artists seems seminal. Contemporary aerial artists continue to use photography to create images of extraordinary reach and power, deepening our understanding of the world beyond its surface appearance and the way we relate to it.
Editors' Tip: Photography and Flight by Denis Cosgrove and William L. Fox
Used for everything from geographic evaluation to secret spy missions, aerial photography has a rich and storied history, ably recounted here in Photography and Flight. Aerial photography is marked by its dependency on technological developments in both photography and aerospace, and the authors chart the history of this photography as it tracked the evolution of these technologies. They examine pivotal historical moments in which aerial photography began to establish itself as essential tool. The book also explores the advancement of geographic scholarship through aerial photography, ranging from military excursions into Antarctica to the images of the curvature of the earth taken during the Apollo space missions. While digital technology and remote sensing have changed the landscape of photography, they have not diminished the significance of aerial photography in providing images of the earth.
References:
Anonymous. The History of Aerial Photography. PAPA International [March 17, 2017]
Dyce, M. (2014) How aerial photography altered the way we perceive environmental change. Elsevier.
Cosgrove, D, Fox. W., Photography and Flight, Reaktion Books, 2010
Cosgrove, D, Fox. W. Ibid
Davies-Crook, S. (2015) Art in the Drone Age. Dazed and Confused.
Featured images: © Georg Gerster. Cropland in Aragon, Spain 2008 From the series The Staff of Life Inkjet Print Edition, via fineartinvestfund.com; The Montes Occidentales, Granada, Spain, 2012 © Emmet Gowin; Courtesy Pace, MacGill Gallery, New York; Margaret Bourke-White - Aerial View of Single Family Houses, Muncie, via 1stdibs.com; Daniel Beltrá - Oil Spill 8, via catherineedelmangallery. com; Bernhard Lang - Aerials_BH0050, via artistics.com. All images used for illustrative purposes only.