In the last couple of years, we saw a number of great exhibitions of Iranian contemporary artists. In recent months, we enjoyed the exhibition of Reza Derakshani, one of the most recognized Iranian artists, at Sophia Contemporary in London; the exhibition of Shirazeh Houshiary at Lisson Gallery in London, and so on. Many of Iranian artists are living and working abroad; however there are still many of them who are based in Iran. One of these great Iranian artists is Afarin Sajedi who is about to have an exhibition at Rome-based Dorothy Circus Gallery. After her successful collaborations with Dorothy Circus Gallery in the group show God is Her Deejay and the special event Printemps Parisien, the Iranian artist Afarin Sajedi returns to Rome for her first official solo show at this great gallery. The show is titled Illusion.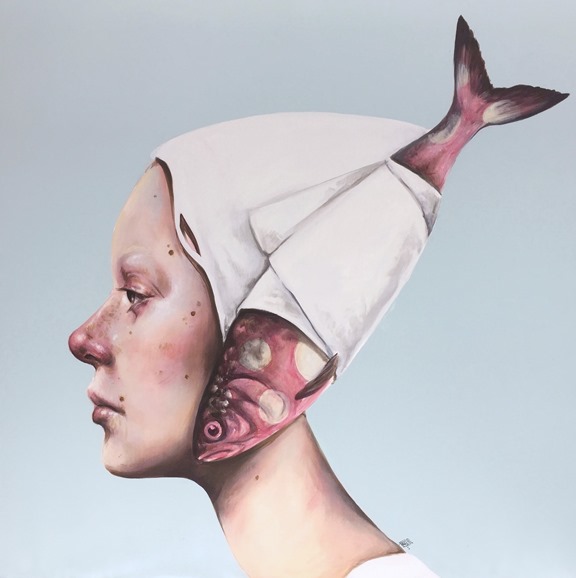 Rising Star of Iranian Art Scene – Afarin Sajedi
Afarin Sajedi was born in 1979 in Shiraz, Iran. She went to Teheran to study at the Azad University, where she got her degree in Art and Graphic Design. Sajedi's creativity, technique and powerful trait ensured her a prominent position in the world of Iranian art. She has several motifs she enjoys portraying; however, whether she is depicting following her Japanese inspiration, her clowns, or her theatrical characters, she mostly portrays women. Afarin Sajedi's stunning paintings are characterized by a central figure on a plainly colored background, which is often cut by living elements and objects that cross a mystic scenario. In her brand new series, exhibited exclusively at Scope New York for the first time, Sajedi deals with the theme of illusions – which also stands as the title of the collection – and of water. Just like in her previous works, the women painted with acrylic brushes on huge size canvases seem to be submerged in a deep sea of quietness and comfortable silence.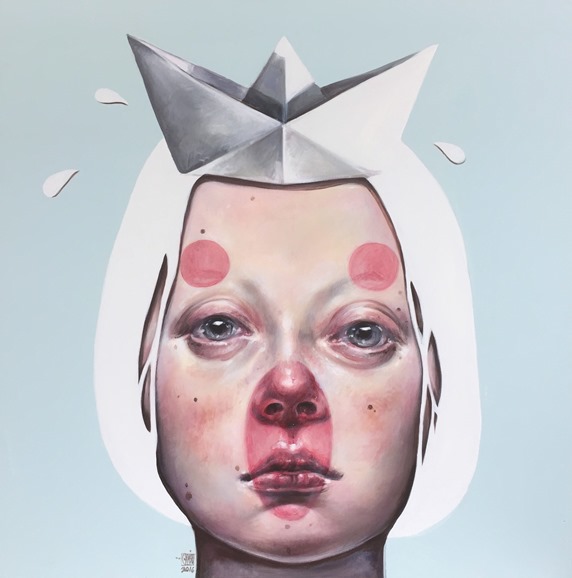 Illusion
Five shattering huge canvases welcome the viewer in the Red Hall of Dorothy Circus Gallery. These stunning paintings are characterized by a central female figure on a plainly colored background, which is often cut by living elements and objects that cross a mystic scenario. While in Sajedi's past production women's faces came out of the darkness to describe feelings of pain, now the figures are calmer and dressed with accessories that remind of Futurism. Once more, some key elements are repeated in all of the canvases, creating a strong symbolic vocabulary that generates a particular surreal atmosphere, typical of Sajedi's creations. Through each piece, the feminine figure undergoes a detailed study from different point of views. Together with these large artworks, Afarin Sajedi also exhibits smaller pieces that propose a different approach to her artistic production. These artworks own a narrative flow, they tell a story that is more figurative and less evanescent in the eyes of the viewers. More than one character appears, while the human features mix and are sometimes replaced by animal parts or beings.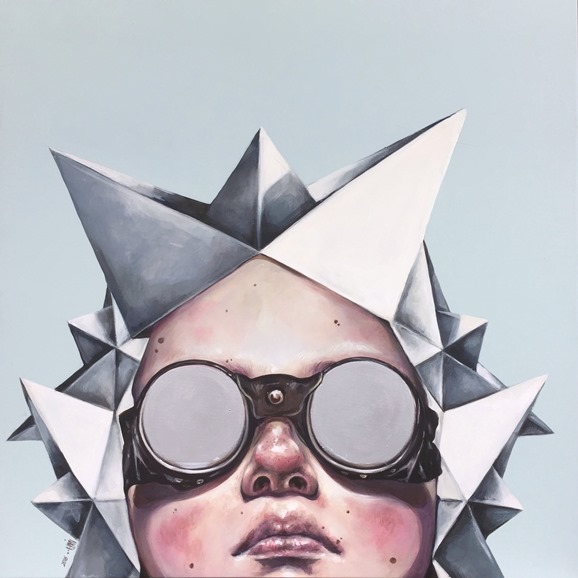 Afarin Sajedi Exhibition at Dorothy Circus Gallery
Sajedi has been featured in many exhibitions and art fairs in Tehran, with Etemad Gallery, which represents her officially in the United Arab Emirates. She had her first European solo show in Rome, when she was invited to display her art in the prestigious location of Palazzo Valentini for the exhibition Inside Her Eyes, in 2013. Now, you have unique opportunity to see the beautiful works by Sajedi at Dorothy Circus Gallery, so be sure not to miss the show! The exhibition titled Illusion opens on April 16, 2016 at Dorothy Circus Gallery in Rome.
Featured Image: Afarin Sajedi -Illusion 4, detail, 100x100cm, acrylic on canvas. All Images courtesy of Dorothy Circus Gallery.