Infinitely rich African culture and history have an enormous influence on African artists. Depicting the raw impact that the continent emits, artists everywhere have implemented motifs seen across the African lands, often mixing in the style of African art into their own. Combining the Western and the African art traditions started with Picasso and a continuation of this practice can be seen in the works of the African artist Aboudia Abdoulaye Diarrassouba. Presenting his mural-like canvases in New York, he brings more than his work with him: he is followed by his past and its characters, the expectations of his family, friends, ancestors, and ghosts. Hosting his third show in New York, the Ethan Cohen gallery presents Aboudia's solo exhibition titled Aboudia: Talking Heads.
Recalling Home
Aboudia Abdoulaye Diarrassouba, known as just Aboudia, is an artist of African origin whose paintings have been displayed worldwide. Born in 1983, he has seen a lot of conflict and misery in the toughest neighborhoods of his hometown of Abidjan, especially since the violent post-election period of 2011. Interacting constantly with the children of this area, his paintings are reminiscent of this disadvantaged youth as well as the ubiquitous graffiti around Abidjan, reminding him of his home. Inspired by his background, Aboudia has formed a distinct "nouchi" style, a word referring to their street patois, drawing from both the African inspiration as well as the Western influence. His vivid pieces recall the situation in Abidjan, bringing his past and its characters along with him throughout the world.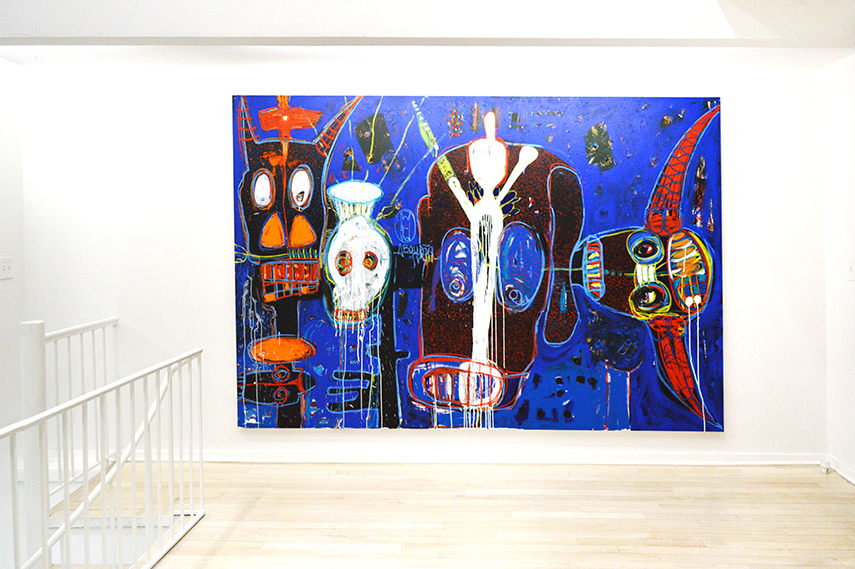 A Stranger in a Strange Land
Moving his art residency to New York, Aboudia feels like a stranger in a strange land, and his newest line of work was born out of this consciousness transplantation. He sees his work as a form of journalism, describing a situation in order to create a record of his country's recent history. Maintaining his distinct style, the presence of his background is obvious in details depicting his hometown surroundings and child-like figures while resembling graffiti art that recalls Jean-Michel Basquiat. The mural-like canvases are vividly rendered in oil sticks, acrylics, and collage, and the present colorful, energetic lines are characteristic for all of his works. Ethan Cohen describes Aboudia as "the most globally recognized of the young African new wave artists. Everywhere I go, people find the vivid color, dynamism and raw honesty of his work highly compelling."
Aboudia Exhibition at Ethan Cohen Gallery in New York
With his explosive, energetic pieces, Aboudia illustrates the relevance of African art in the international contemporary circles. Noted for his large-scale paintings, his works are often layered and filled with enigmatic details, requiring several revisions of the painting to fully grasp it. He is heavily influenced by the children of Abidjan and the city's omnipresent graffiti, and it can be seen in his latest body of work as well. Hosting the third solo exhibition of the artist titled Aboudia: Talking Heads, the Ethan Cohen gallery presents his newest works created in New York. The exhibition will last from February 25th to April 9th, 2016, with the opening reception taking place from 6-8PM.
Featured images: Aboudia - Talking Heads Exhibition. Images courtesy of Ethan Cohen gallery.