Charged with a felony (for "vandalizing" Detroit properties), one of the most renowned urban artist Shepard Fairey was arrested in Los Angeles. Last month, Fairey was charged with two counts of malicious destruction of property. Few days after, an arrest warrant was filed in Detroit. Wayne County prosecutors charged him for malicious destruction of property over $1,000 and less than $20,000, after he allegedly vandalized 14 different buildings and walls, including two city-owned properties. Fairey was arrested at Los Angeles International Airport as he returned from Europe.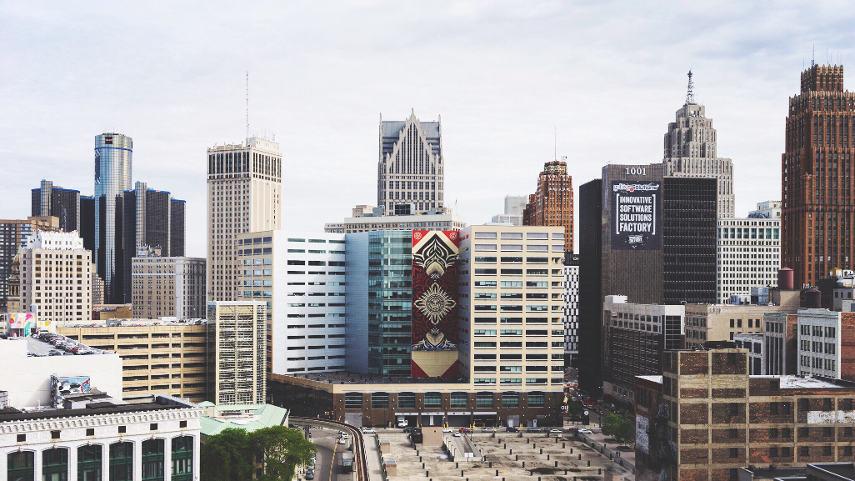 Shepard Fairey "Vandalizing" Acts in Detroit
What is Shepard Fairey actually charged for? In May, the famous artist created a gigantic mural in downtown Detroit (on an 18-story building, a mural that largely re-shaped the local urban landscape), and he also did another, smaller mural, and five paintings for an outdoor public exhibition called Public Matter. And he was very aware of the risk he was taking. Before his Detroit actions, Fairey stated that he is still producing art on the street without a permission, and that he would do just that during his stay in the city of Detroit. Anyways, the artist created a 184-foot by 60-foot mural on the east side of the Compuware building owned by downtown building magnate Dan Gilbert. Additionally, several smaller murals with artist's famous "Obey" logo were seen on several spots in the city.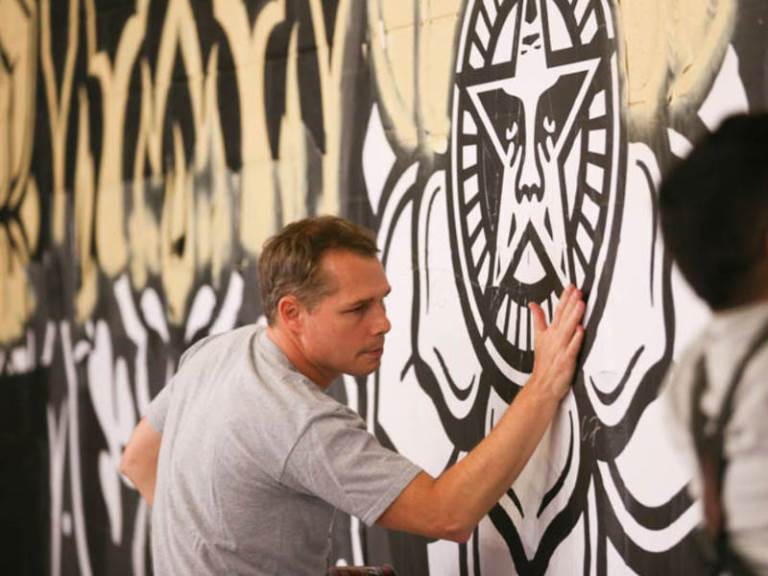 Shepard Fairey Arrested – What is Next?
Douglas Baker, chief of criminal enforcement for the Detroit Law Department confirmed that Fairey was detained by customs agents at Los Angeles International Airport. Fairey spent the night in a Los Angeles jail while authorities checked to see whether Wayne County wanted to extradite him. Baker said that Detroit city officials are discussing with Fairey when he will come to Detroit to face charges. Victoria Yarnish, who is a supervising director for Fairey's Obey Giant Art firm, said that the artist doesn't have any comments at this moment. However, if convicted, punishment for the offense carries up to five years in prison and a fine three times the monetary damage of the crime. The arrest of this amazing artist again poses the question about the freedom of art creativity. Detroit is financially and economically devastated city – doesn't city authorities have bigger issues and problems to tackle with? Anyway, this is not the first time a street artist is under arrest for his/her art practice. We will see how this Shepard Fairey's Detroit saga will end.
Your opinion is valuable to us! Please join us for a discussion on our Facebook page.
Sign up for My Widewalls for free, and be informed about developments in the world of contemporary art!
Featured Image:Shepard Fairey's mural in Detroit
All images used for illustrative purposes only.