One of the biggest superstars of contemporary art, Damien Hirst, opened a new show two days ago at Paul Stolper Gallery, producing a candy-colored series of blown-up pill and medicine bottle replicas, addressing the minimalist aesthetics of the pill and the connotations it carries within. Even though the installation fills the exhibition space graciously, the series entitled Schizophrenogenesis has come across serious criticism by the British press. Some say Hirst is over, some he's taken his readymade usage too far, while some allude to a statement he made in 1990, saying I can't wait to get into a position to make really bad art and get away with it.
Rather than analyzing in detail if this is the deliberately bad moment in the acclaimed artist's career, we'll address his the nature of his artistic method. Throughout his career, as a real postmodern soldier, Hirst created implementing appropriation in a lot of his pieces. Recontextualization of animal carcases, medicines and pills, skeletal remains, even a human skull, is what launched the Young Brit into the orbit, but after some decades from his beginnings, especially with all the current judgement, one cannot but wonder - did Hirst step over the edge?
To laymen, the resin sculptures look like toys, at best, so to try and give a sound answer to a question above, let's go back to what appropriation really is.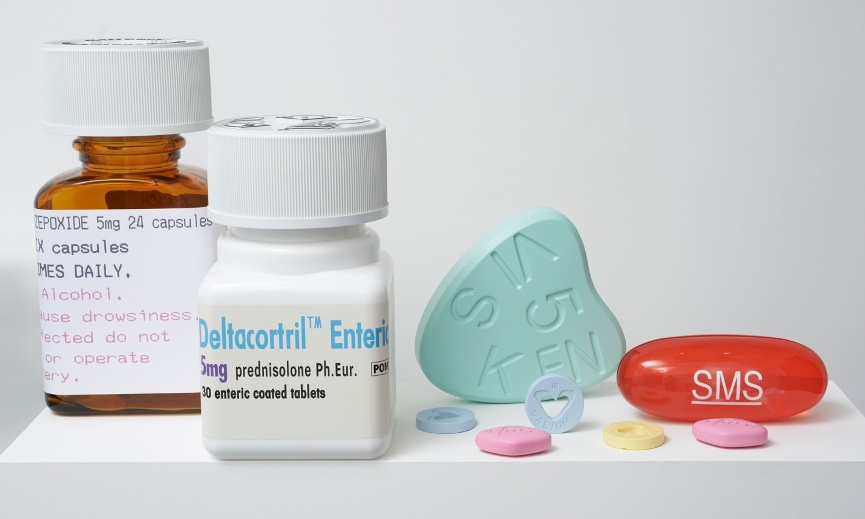 Appropriation - It's Legit!
Appropriation is not a new method in art. Defined by the experts at MoMA as the intentional borrowing, copying, and alteration of preexisting images and objects, it has been a legitimate instrument of expression for over a century, although controversy regarding authorship has frequently been related to it. Appropriation of imagery was present even in the work of Edouard Manet, but more even more concretely in Synthetic Cubism collages made by Pablo Picasso and George Braque. Marcel Duchamp was perhaps the one responsible for the final constitution of appropriation, inventing the readymade and causing much art world turmoil with his outrageously brilliant Fountain in the now distant 1917. From then on, appropriation became a frequent dweller in many an artwork or movement, until Pop Artists took it as a basic means and polished the method to perfection. Andy Warhol built an entire oeuvre on appropriation and repetition, fascinated by both phenomena, as well as by the modern consumerism. Claes Oldenburg, Roy Lichtenstein, Robert Rauschenberg and Tom Wesselmann all, by definition, composed their work on pre-existing imagery sifting it through a Pop concept. As the divine aura of Andy Warhol radiated all throughout the 80s, appropriation became not only widely accepted, but an perfectly valid practice in art. Barbara Kruger has made her strong statements by incorporating actual images from papers and advertising, while Jasper Johns is most famous for his American flag transmutation. In performance art, appropriation came naturally, employed by eminent artists as Joseph Kosuth is.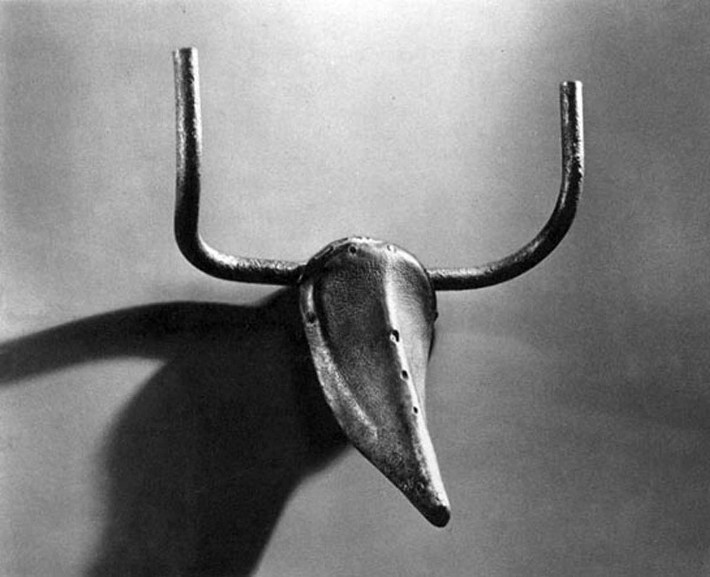 Celebrity Artists Borrow Imagery
Nowadays, appropriating, transforming, mixing, sampling and using pre-existing images or object in the creation of art is widely present. Perhaps even the eclectic Postmodernism is naturally prone to such a method, just as comprehensive at core. When we take a look at financially best performing artists today, we find that most of them are in fact big followers of the approach, re-purposing kitschy, insignificant or celebrity pictures and endowing them with novel meanings. Besides Hirst, one of the best examples of appropriative practice is Jeff Koons, whose artwork is almost entirely created on it. His super-expensive Balloon Dog is a redefinition of a real doggy made of play-balloons, his Popeye series borrows one of the most favorite cartoon characters, while his earlier Michael Jackson and Bubbles seemed like a Warholian sculptural elaboration. Another luminary of the contemporary scene, Richard Prince, presented a completely appropriated series of Instagram portraits in his latest show, demonstrating the artistic potential of new communication channels, while pursuing the creative process he's been using for decades. One of the more interesting appropriating practices is Cindy Sherman's. She started recreating famous movie scenes and photographing them, placing her disguised self in every shot. Her long lasting series was named Untitled Film Stills, and it was questioning the constitutional character of identity, commencing a thread that runs throughout her body of work.
Urban Art Was Built on Appropriation
If we agree that urban art is inherently a postmodern movement, the appearance of appropriation comes as expected. Concentrating on recent years alone, we find adopted images throughout the urban plane, starting with the most basic stylistic expressions. Banksy, for example, built his whole aesthetics by appropriating imagery from the 50s. His studio works take the method further, where works such as Rembrandt's Self-portrait with Googly Eyes came into existence. Another great name in the genre, Shepard Fairey, also doesn't shy away from juxtaposing various existing pictures, emblems, portraits and statements in his work, whether he borrows them from the current popular culture, or from the historic posters belonging to various eras or regimes. We talked about Roy Lichtenstein who already adopted the aesthetics of the comic, while in urban art we can identify his direct descendant in D*Face, who takes Lichtenstein's imagery further, into the realm of macabre and bleak. Cases of appropriation in urban contemporary art are indeed countless, and while some stand as well-executed, supported by critics, some are just pathetic attempts in joining the talent club. We'll let you decide who belongs to the latter.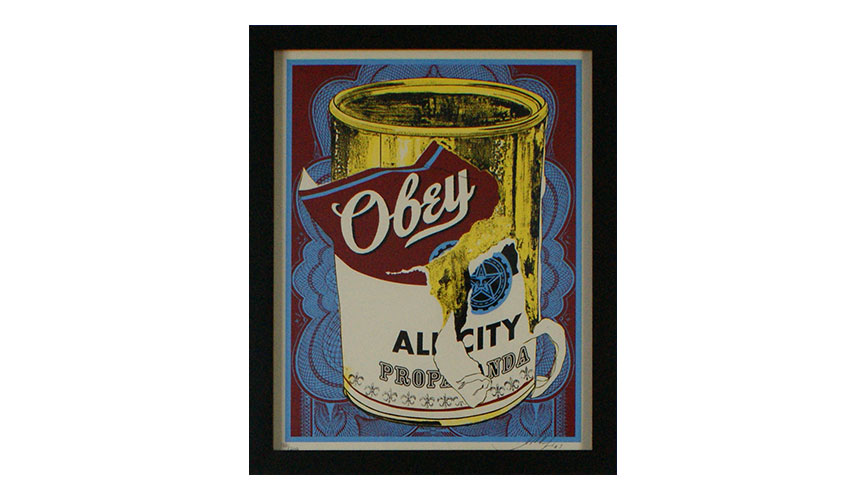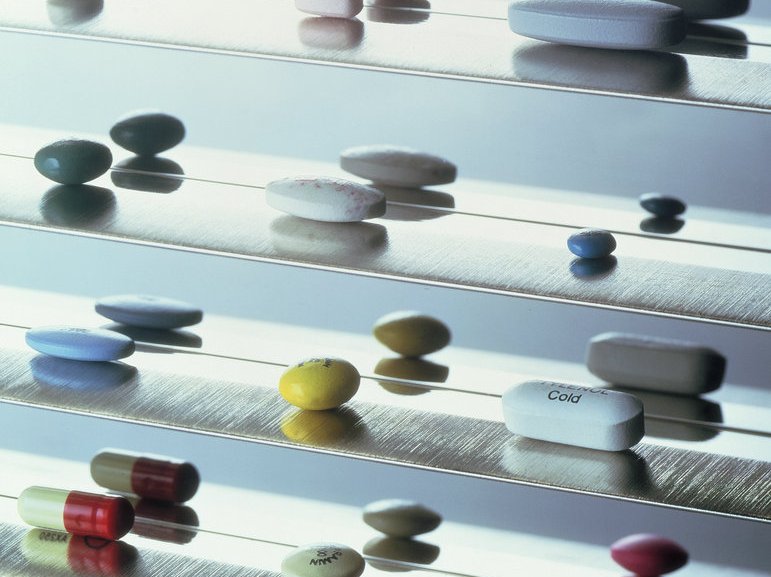 Damien Hirst Taking a Chill Pill
Returning to Damien Hirst's new show from the beginning of the article, we can now attempt to decipher his intentions behind the latest pill collection. Appropriation gained a new, Pop Art proportion in the latest show, revisiting one of the most common artist's themes. Evoking some of the subjects Hirst renders also regularly, such as sickness, death, consumerism and its aesthetics, this installation becomes a contemporary vanitas, completely justified in its own right. Critics have said the artist may have lost his edge, repeating himself a little bit too much, which makes him somewhat dull. Allowing a blandish episode in any artist's career, the process of artistic creation has shown many a time that contemplation upon a subject can last for decades; therefore Hirst's pills may just announce the closure of the pill cabinet era, while subtly announcing something new from the artist, while the appropriation as a method is not really questioned. What makes a problem for the public and the critics alike are the overdone repetition and the lack of innovation, which might just be a temporary stance in the great artist's path.
Another interesting employment of a different kind of pill in art emerged recently by an artist named Chemical X.