Taking into account the illustrative strokes, bright hues and flat backgrounds, many would immediately label what Agostino Iacurci creates as works of art for kids. However, it would quickly become apparent that these murals and illustrations are not particularly aimed at children or any other individual social group.
These works, populated by marvelous figures and characters, have a strong desire to speak to everybody, relying on a visual vocabulary that, although deceptively simple at first glance, is actually a skillful way of condensing the stories intended to be interpreted by all of us, tales of everyday life that go unnoticed all too often.
Agostino Iacurci's monumental murals have a job of rediscovering the narrative power of static images within an urban context they are placed in. The Italian artist has been developing these street concepts since 2008 and has come to be extremely respected for what he achieved within the international urban art scene - however, this does not mean that Iacurci was a stranger to indoor pieces during this time.
From paper to large urban areas, his artistic endeavors reduce the gap between the functional aesthetic of illustrations and the poetic value found in each urban or gallery context in which the artist unleashes his creativity.
We caught up with Agostino Iacurci in a time he is preparing for his solo show about to be held at Celaya Brothers Gallery, an exhibition titled Trompe-l'oeil.
The Magic of Agostino Iacurci's Street Expression
Widewalls: Every artist has a distinctive creative drive behind his or her work, so what fuels your creativity? What makes you tick as a street painter? What do you see as your main artistic goals?
Agostino Iacurci: My work is mainly moved by an inner need for spending time worrying about art, mostly to respond to a personal need. I've been trying to make it in an honest way, developing a language that represents me at that specific stage of my life.
Widewalls: You put great emphasis on starting a communication process between the works you make and the viewers. What are the messages you want to send out to the world?
AI: I don't think in terms of "messages", but more in terms of "visions". I've been trying to give a physical form to some visions, for example painting what I see where somebody else sees just a blank wall or some moisture spots.
As an art lover, the artworks I like the most are those that have a certain amount of mystery, uncertainty and ambiguity. I like to keep my work open to interpretations and I think that once the artwork is out in the world, it's like a living creature, and as a living creature, it is able to create connections.


Widewalls: What is more important to you, the connection your work makes with the chosen location or with the accidental viewer? Why?

AI: They are both important to me. I try to create works that can have a dialogue with the context, and for me, the context is made of many different things: the architecture, the history, the landscape, the weather, the light and colors, the people, etc.
I try to connect to the viewer by doing a work that connects with the location.
Widewalls: What do you think about the current state of the street art world? Are you satisfied with its directions and the way it evolved over the last few years? Would you describe yourself as a perfect fit with it or a bit of an outsider in terms of concepts and style?
AI: I don't know much about the current state of "street art world" and it's directions. "Street art" is a huge label that includes a lot of things and people with very different ideas, approaches and intentions.
What counts to me is the work of single artists: I know and admire some of the artists who have been animating this "world", and some of them are doing great. I don't feel very comfortable with labels in general. In my work, I always try to create bridges between different "worlds".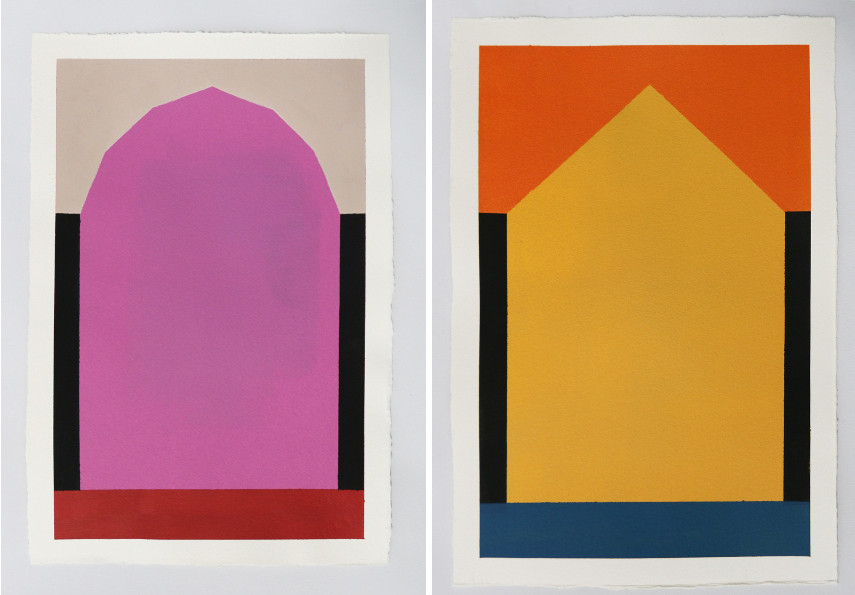 The Importance of Sophisticated Humor
Widewalls: Everything you create is underlined by an elegant note of humor – how important is this "ingredient" to your style and topics? Would your art work as well without it?
AI: Thank you! Talking of humor in art makes me think of the following quote by Marcel Duchamp: It's true, of course, humor is very important in my life, as you know. That's the only reason for living, in fact.
I like this quote, I also see in humor one of the good reasons for living, but to be honest, I don't think much about that while I am creating my work.
Widewalls: Can you take us through your creative process? How much do you plan ahead and how much do you rely on your instinct to get you where you wanna go?
AI: I try to plan ahead, for example doing my research, interviewing people, trying to understand the context in which I'm going to work, or for instance, in case of an exhibition, planning the amount of work and the ideal timing.
In many cases, the reality is way different from the plans and what I try to do is to be ready and open to react to what happens, and let the events and possible changes of plans be part of the whole process.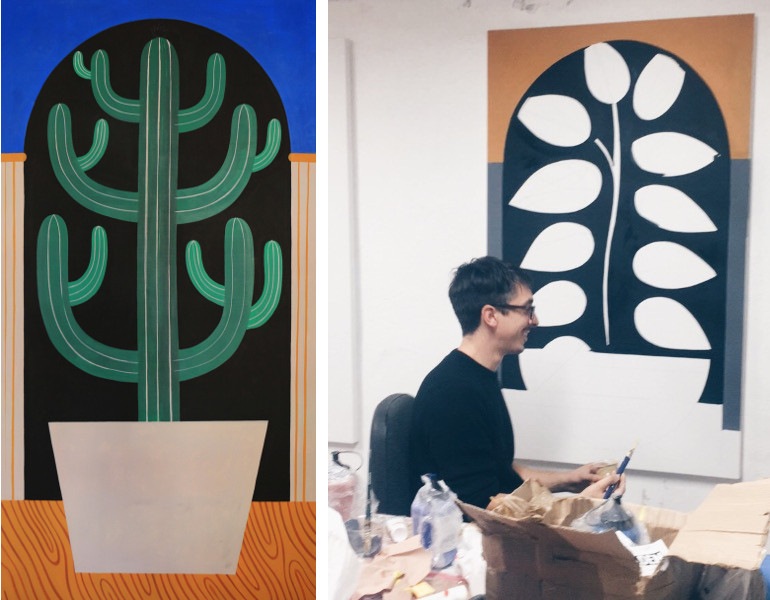 Agostino Iacurci at Celaya Brothers Gallery - The Trompe-l'oeil Exhibition
Widewalls: Can you tell us a little bit about your experiences with the 2017 Residency Program with Celaya Brothers Gallery?
AI: I've been working with the Celaya Brothers since 2015 when they invited me to Atlanta for our first collaboration. On that occasion, we lived together and we had the chance to get to know each other and become friends. Last year, they invited me to Mexico for another project and, on that occasion, I traveled to Mexico City in order to experience the city and collect some inspirations for this residency.
They invited me to spend a one-month residency in Mexico City in their gallery. It's a pretty interesting situation: it's an old 2 story house in the heart of the beautiful district of "Roma". Under the same roof, there is the gallery, the guesthouse for the artist, the studio and also the offices where they work. It gives the artist the opportunity to be focused without feeling isolated because there are many people around and the district is very vibrant.
Widewalls: What is the main idea behind the Trompe-l'œil exhibition? What are you hoping to achieve with this show?
AI: The main idea was to create something that could reflect the experience of being in Mexico City and try to push my work in new directions. "Trompe-l'œil", despite the French name, is inspired by my daily walks around the neighborhood, its very peculiar architectures, rich in decorations and details, with beautiful colors and vegetation.
I'm trying to create a series of new pieces that work together with the architecture of the gallery as a single organism. I've taken some of the recurring architectural and decorative elements, such as arches, pedestals, pot plants, and used them as constructive elements for my paintings and sculptures.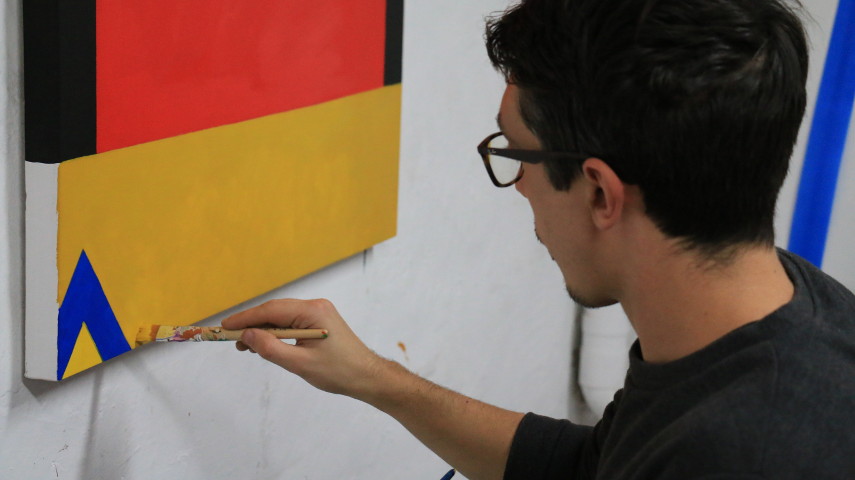 Past and Future Career Landmarks
Widewalls: We'd love to know what previous projects you see as being the pivotal moments of your career so far? Furthermore, can you tell us something about the upcoming projects you're planning on starting soon, if there are any?
AI: There are many pivotal projects, each one for different aspects. Sure, the first big murals in Rome between 2008 and 2011, after which I started being invited abroad and this radically changed my life. Then the experience I had in Germany working for Adidas between 2012/13 that showed me how to work in a team in a very complex reality. In 2014 - my solo show with Wunderkammern in Rome which opened me the doors to the "gallery world".
This year, the collaboration with Alfredo Arias and Marco De Vincenzo, for the set design of the play "Madame Pink", is challenging the limits of my work while also bringing exciting challenges, along with the opportunities of working with bigger teams of collaborators. For the future, right after Mexico City, I'll be traveling to Thailand to make a new wall painting and then go back to my studio in Berlin to work on a next solo show in Milan next year.
Widewalls: Since you made a name for yourself at a very early age, is there any advice you'd like to give to younger colleagues starting out? Perhaps something you might have benefited from knowing a while back?
AI: I think it's very important not to be shy and ask for advice and comments from everybody. Then put all the advice aside and do what you feel is right.
Widewalls: Where do you think the evolution of your expression will eventually take you? Do you believe there will be some radical change down the line? Would you like to test yourself with anything new at some point?
AI: I don't know, I do not believe in radical changes. I think that deep changes take time. For me this year has been a year of collaborations; I've been doing set design for theaters, collaborating with fashion designers, magazines and also this residency in Mexico is already something new.
Every time I approach a new project, I hope it will open new paths for me and my works and bring me to unexplored territories.


Featured image: Agostino Iacurci Working in His Studio. All images courtesy the artist and Celaya Brothers Gallery.