In 2008, China's Sichuan province was heavily struck by a magnitude 7.9 earthquake, claiming the lives of over 69,000 people. After one of the most devastating events of mankind, the Chinese government was heavily criticized for the country's poor infrastructure which had a great role in the tragedy. Public buildings and school classrooms collapsed and killed as many as 5,169 students, leading the country's prominent activists, among which Ai Weiwei, to go out and do something their government didn't - find and release the name of all the people who died. The artist's audio project, titled Shouting Out and released in May 2017, is only the latest in a series of actions, which began shortly after the earthquake and are still being undertaken.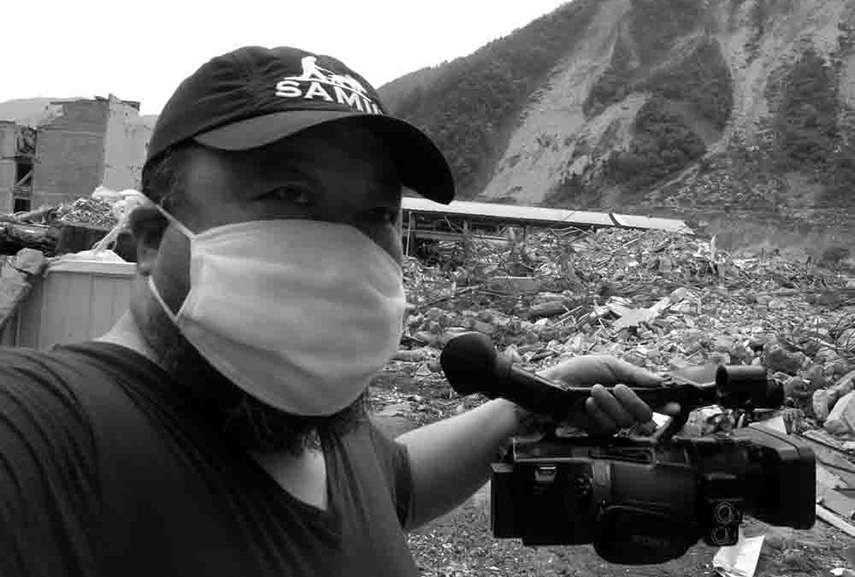 Ai Weiwei's Private Investigation into the Sichuan Earthquake
Unhappy with the government's refusal to release the death toll of the students, Ai Weiwei set out to compile the list of students - himself, by doing an independent investigation. In December 2008, his Citizen Investigation Group (CIG) was formally set up in his studio in Beijing. Ran afoul of the Chinese authorities, the group had more than fifty citizens-volunteers submitting names of the victims through a variety of channels: on-site, on social media, via email or the artist's blog, set up just for the occasion. Once the names were released, the government shut down the blog, censoring and deleting its contents. However, Ai Weiwei continued to pay tributes to the victims without letting their names be forgotten: on numerous occurrences, he printed their names on papers and covering museum and gallery walls - like in the case of the 2013 traveling exhibition According to What? at venues like the Hirschhorn Museum in Washington, D.C. and The Brooklyn Museum.
Ai Weiwei's Audio - Shouting Out
Ai Weiwei's Audio - Shouting Out
Some five years after the foundation of CIG, Ai Weiwei began an audio project, entitled Shouting Out, in which he shouted the individual names of the student victims. Within two months, he shouted 2,639 names of the student victims and lost his voice. The remaining names were shouted by assistants at Ai Weiwei Studio. In eight months, a total of 5,196 names were shouted. The total audio recording has a duration of 1 hour 40 minutes 42 seconds, including the participation of 14 people. Participants include Ai Weiwei, Chen Shuo, Chen Chao, Ma Yan, Sun Mo, Wang Zhongxia, Cui Xing, Guo Mengqiu, Chen Wei, Edmond, Xiao Ye, Wu Tun, Song Xiaojing, and Yao Gaocai. What will be the artist's next take on the 2008 tragedy in Sichuan? It remains to be seen.
Featured image: Ai Weiwei with his list of names of schoolchildren who died in the 2008 Sichuan earthquake, posted on the wall of his office at FAKE Design in Beijing, May 2009. Courtesy Ai Weiwei. All images used for illustrative purposes only.