Just after the Chinese government finally had returned passport to China's famous artist Ai Weiwei, he encountered another inconvenience: the British embassy rejected his application for a six-month business visa, as he "didn't declare a criminal conviction in China". Ai Weiwei did get a short-term Schengen visa and already went to Berlin. However, Schengen visa does not include Britain, so, Ai Weiwei applied for British visa, as well, in order to attend the opening of a retrospective of his work at the Royal Academy of Arts in September. But, the British embassy gave him only a 20-day visa, telling him even "that was an exception", since Ai Weiwei did not declare a criminal conviction.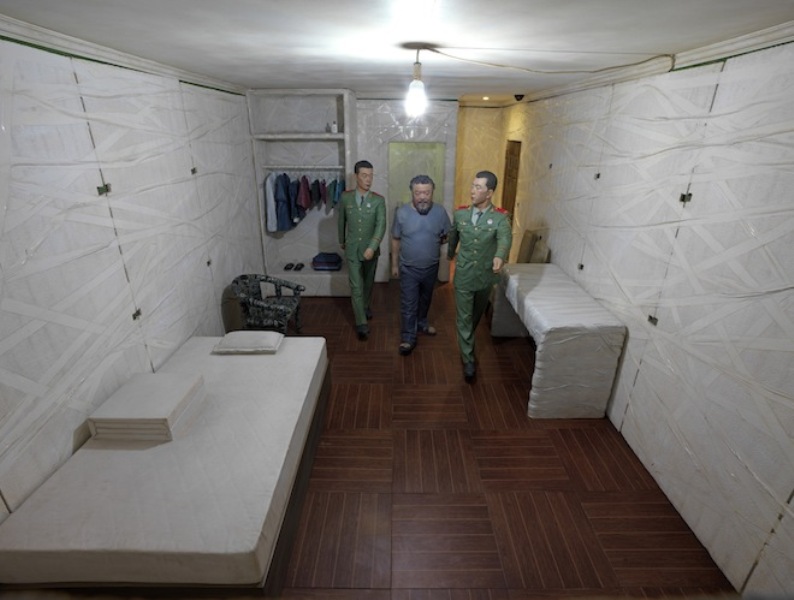 What Happened to Ai Weiwei in China
Just a few days ago, the news broke that Ai Weiwei finally got his passport back, after four years. He was detained in 2011 on a Beijing airport, when he tried to catch a plane from Beijing to Hong Kong. He was held in prison for 81 days - at first, the authorities said that his detention was due to the incomplete departure procedures, but later it was announced that he was detained as a part of investigation over economic crimes. He was released after 81 days, but did not receive a passport, until a week ago, and he was ordered to pay $2.4 million for penalties and back taxes. It is believed that his imprisonment was a kind of revenge for Ai Weiwei's activities after the big earthquake in Sichuan province in 2008, when he and his team publicly announced the names of more than 5,000 students that died in the earthquake, partly because of the poor construction of students' campuses.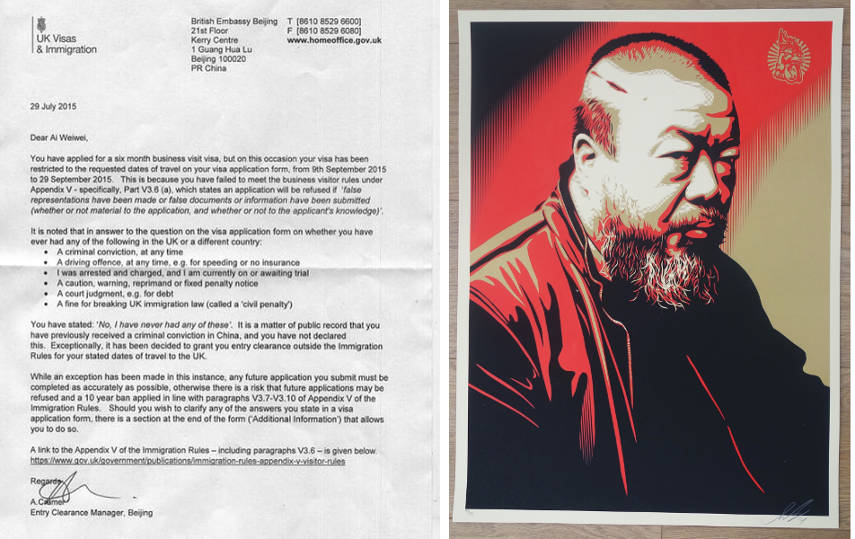 Human Rights Defenders Furious Because Ai Weiwei Business Visa Was Denied
On his Instagram profile, along with a picture of his 20-day British visa, Ai Weiwei posted an accompanying letter of the British embassy in Beijing. In that letter, an Entry Clearance Manager stated that Ai Weiwei's visa has been restricted to the dates 9 - 29 September, because he "have failed to meet the business visitor rules". Then, the letter to Ai Weiwei says that he has stated that he has never had any of the listed things (six of them, including a criminal conviction, and arrest, charge, or awaiting trial), and continues: "It is a matter of public record that you have previously received a criminal conviction in China, and you have not declared this". In another Instagram post (with a photo of a toilet seat), the famous Chinese artist stated that he has never been charged or convicted of a crime, and that he tried to clarify this with the UK Visas and Immigration Department and the British Embassy in Beijing, but that "the representatives insisted on the accuracy of their sources and refused to admit any misjudgment". This decision, concludes Ai Weiwei in this post, is a denial of is rights "and a stand to take the position of those who caused sufferings for human rights defenders". Many human rights activists stated that this decision is ridiculous, that Ai Weiwei does not have a criminal conviction in China, and one Tibetan activist wrote on Twitter that this decision is "purely a kowtow to Xi Jinping's London visit". Xi Jinping, the president of China, will have his first official visit to the UK in October.
Your opinion is valuable to us! Please join us for a discussion on our Facebook page.
Sign up for My WideWalls for FREE and be up-to-date with contemporary and street art.
Featured image: Ai Weiwei - Photo by Gao Yuan, 2010