Through the course of his career, Ai Weiwei has been working to expand the definition of art to include new forms of social engagement. He has built a remarkable interdisciplinary oeuvre as a highly influential artist and one of the world's most prominent and respected human rights and social justice activists.
In a collaboration between Ai Weiwei, eBay and leading non-profit organization Public Art Fund, a total of six portraits from the 200 originally presented as banners on lampposts across New York City in his landmark exhibition Good Fences Make Good Neighbors will be released as powerful new works of art.
Chosen by the artist himself, these compelling portraits will be released on June 20th, World Refugee Day to support Public Art Fund's mission to provide democratic access to contemporary art by today's most important artists.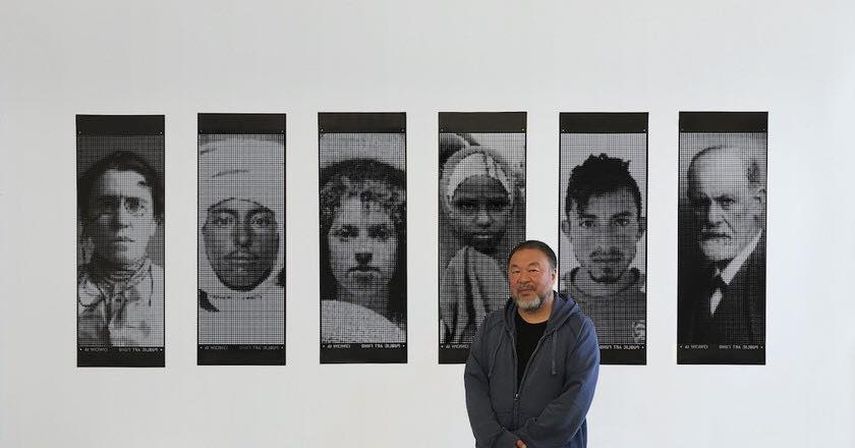 Good Fences Make Good Neighbors
Between October 2017 and February 2018, the exhibition by Ai Weiwei titled Good Fences Make Good Neighbors was presented in all five boroughs of New York City by Public Art Fund. Inspired by the international migration crisis and current global geopolitical landscape, the exhibition included over 300 artworks that grew out of the existing urban infrastructure with a goal to draw attention to the role of the fence in dividing people.
The artist created 200 individually numbered portraits of immigrants and refugees, from the nineteenth century to today, installed on lampposts across the city. Adapted from historic photographs from Ellis Island, images of famous refugees, and his own contemporary portraits taken with his studio on their global travels to 40 refugee camps, each image was laser cut from industrial black vinyl, using the negative space to create a bold, two-sided image.

The Charity Sale
On June 20th, the public will be given a unique opportunity to own an iconic work from this landmark exhibition at an accessible price. Ai Weiwei has been addressing the global refugee and humanitarian crisis with a range of artworks, and these portraits are a remarkable and timely expression of this practice.
Following the exclusive charity sale, Public Art Fund will make a donation to USA for UNHCR to support the vital work of the United Nations High Commissioner for Refugees, as well to the International Rescue Committee (IRC) in recognition of their work supporting displaced people.
Making a selection that represents a historical span, global reach and emotional power of original banners, the artist used the same technique to replicate them at half scale of 17" x 48".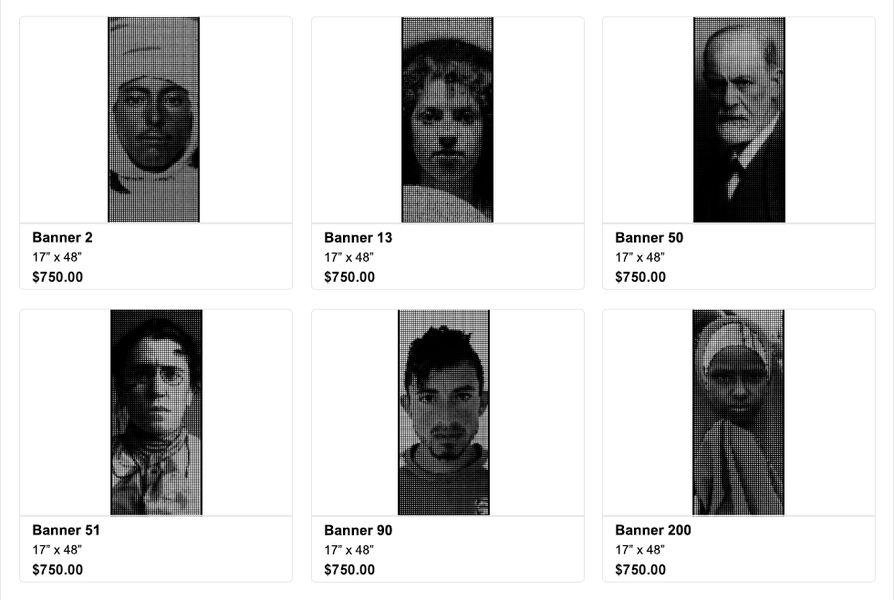 Ai Weiwei on eBay
The online charity sale will take place on eBay from June 20th until June 27th, 2018, starting at 9 a.m. PDT / 12 p.m. EDT.  Only 500 of each banner will be available at a price of $750 per work. The banners may be collected individually or as a complete series of six for $4,500.
Featured images: Ai Weiwei -Banner 138 installed in New York as part of the citywide exhibition Good Fences Make Good Neighbors, presented by Public Art Fund October 12, 2017 - February 11, 2018. Photo by Jason Wyche, Courtesy Public Art Fund, NY. All images used for illustrative purposes only.