Sometimes, the only thing left to do is to show the finger. Ai Weiwei is in London - finally! - where he expects the opening of his long-awaited exhibition at the Royal Academy of Arts. And, since he's already there - you remember that, if it were up to both Chinese and British government, he wouldn't have been there at all - Ai Weiwei decided to visit some other people that also have huge problems for saying and doing what is right, what is good, and what was needed to be done, so this planet could eventually become a better place for everyone.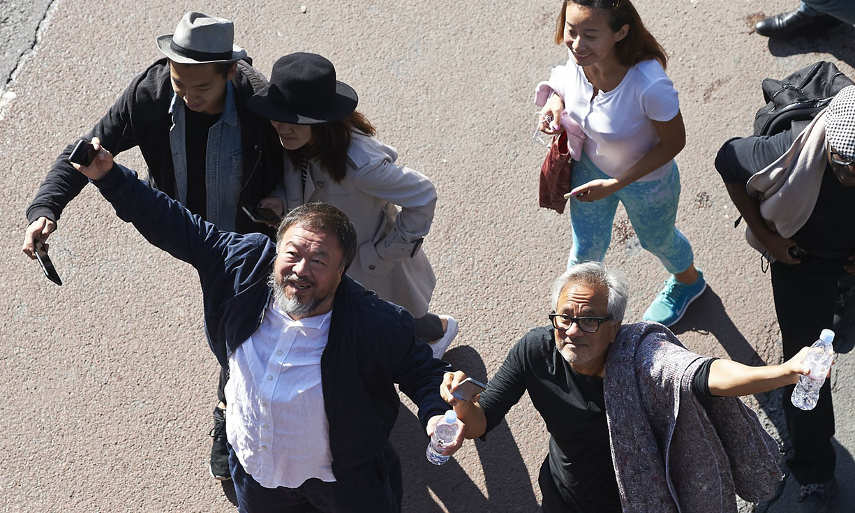 Ai Weiwei and Julian Assange
So, who did Ai Weiwei visit in London? You'll probably recognize this white-haired, white-bearded man, as he is one of the symbols of resistance to ever-growing oppression of freedom of speech and expression, and freedom of information. Julian Assange could have lived a carefree life, if he decided that it was none of his business to public things that came his way, things that have shown what did the U.S. government do during the war in Afghanistan, the war in Iraq, in Guantanamo and in diplomacy. Instead, he is a refugee at the Embassy of Ecuador in London, and this country granted him political asylum, because of the threats of the US secret investigation against him, as well as the threats from many American politicians - Joe Biden, the U.S. Vice President called him "a terrorist", while others wanted him to be killed. So, who would understand Assange better than Ai Weiwei? Weiwei himself was practically abducted by the Chinese authorities and held in secret prison for 81 days back in 2011. Reasons? Well, the official ones highly differ from the most probable ones. While you may call us biased, we'll stick to the logic ones, not the cynical ones, and we're gonna say that, as well as Assange, Ai Weiwei did what was needed to be done, and said what was needed to be said - and the Chinese authorities, as well as the other authorities, to a lesser or greater extent, do not like that kind of behavior. Hence the whole "economic crimes" accusations for Weiwei. So, because of the state of the world we are living in, and they are fighting with, they gave "them" the finger.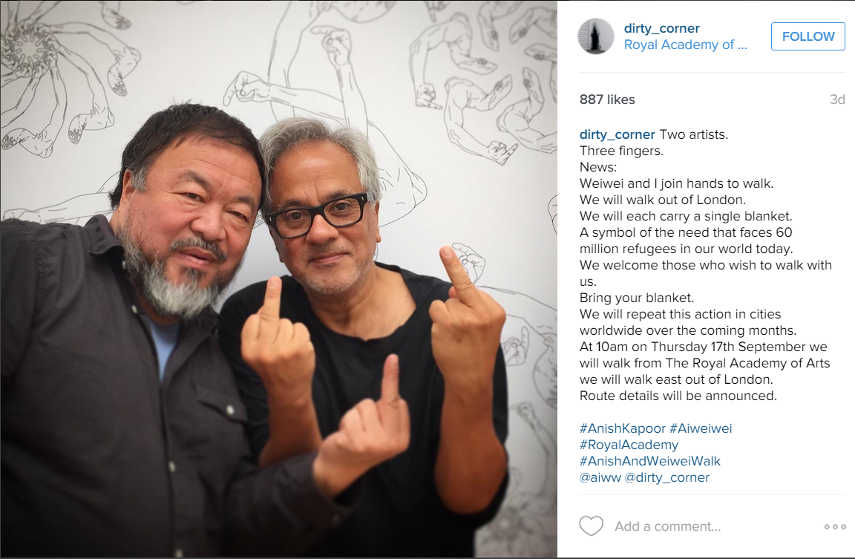 Ai Weiwei and Anish Kapoor
But, that was not all what Ai Weiwei did in recent days. He also visited Anish Kapoor and them two walked along through the streets of London, as a gesture of solidarity towards all the refugees - everywhere. Their march started at the Royal Academy of Arts, where Ai Weiwei will have his exhibition that starts on September 19th, and they walked around eight miles, to the Orbit - Kapoor's sculpture in the Olympic park at Stratford and the largest piece of public art in the UK. More than hundred people joined two artists in their walk, who asked all participants to carry a single blanket, which is one of the few things refugees are carrying - if that, as well. Ai Weiwei said that refugees need understanding, while Kapoor added that the responses of the governments of the world "have been political, and not human, and so we ask for human responses". The refugee crisis is worsening by the hour, as refugees from Syria, Afghanistan, Iraq, and other war-torn countries are facing some more moronic decisions by some European countries' authorities, with Victor Orban's Hungary leading the way. Just to remember, refugees were also doing what was only right - instead of going to war, killing and being killed, they've decided that they and their kids should have a future, and left everything they've had.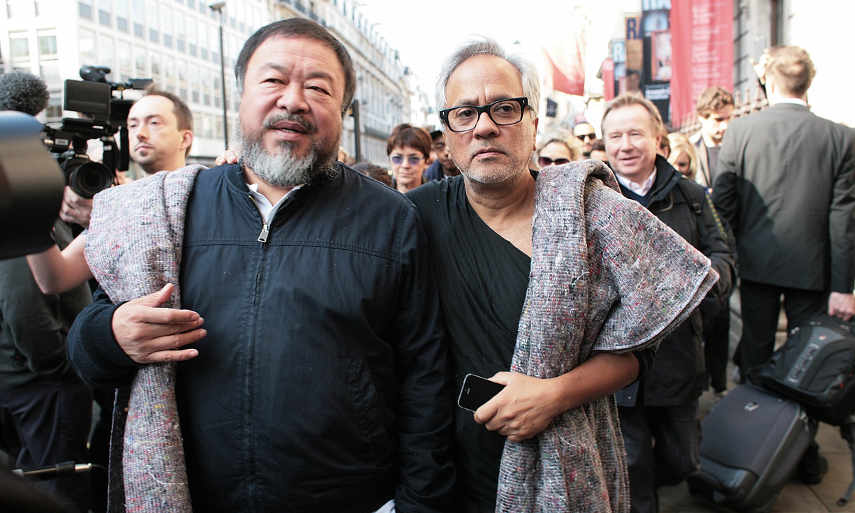 Fighting the Stupidity
Kapoor also had troubles because of things he had done, namely, his work at Versailles "the vagina of the queen Marie Antoinette" was attacked and vandalized several times in the last few months, with some far-right politicians and fascists and xenophobes (hm, spot the difference between these three?) giving some absurd statements and filing some absurd complaints. Before the march from September 17th, Ai Weiwei and Anish Kapoor also made a "selfie". Kapoor wrote on his Instagram profile: "Two artists. Three fingers", and called citizens of London to join their walk. The battle has just begun.
Your opinion is valuable to us! Please join us for a discussion on our Facebook page.
Sign up for My WideWalls for FREE and be up-to-date with contemporary and street arts.