As the migrants continue to find new ways of reaching Europe (after the EU made a deal with Turkey practically making the situation for refugees even more difficult), Ai Weiwei's refugee crisis activist involvement continues, this time with the exhibition at the Cycladic Museum of Art in Athens (this is actually the first time the famous artist exhibits in Greece). As we already wrote, Ai Weiwei has set up his studio on the island of Lesbos, Greece, where tens of thousands of refugees came in the last couple of months. Being very critical towards European response to the refugee crisis, Ai has described the EU-Turkey deal as illegal and immoral, shameful, underlining the fact it's not a solution, but a source for further problems (EU-Turkey agreement allow the Greek and EU FRONTLEX border teams to stop the influx of refugees into Greece, forcing them back to Turkey, while the European countries would accept refugees from Turkey based on quota-system agreed among the EU member states. Turkey received billions of Euros as aid).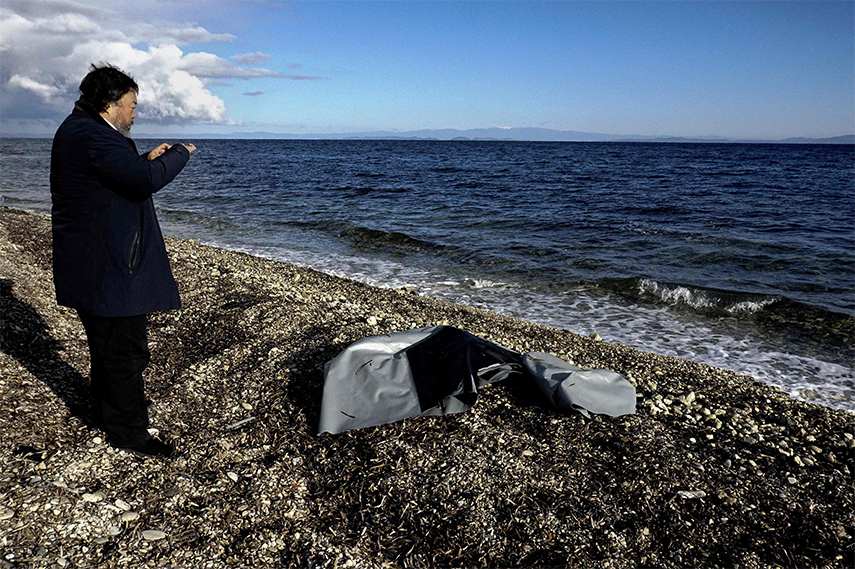 Ai Weiwei Refugee Crisis Activism
Ai Weiwei has been involved in the European refugee crisis for months. He is constantly criticizing the European and the global response to the crisis. As he recently told The Guardian: These people have nothing to do with Europe; they are like people from outer space, but they have to come. They have been pushed out and they are being totally neglected by Europe. They are sleeping in the mud and rain and it is only volunteers giving them food or clothes. Ai also visited refugee camp Idomeni in Northern Greece, where thousands of people are trapped after the so-called Balkan Route was closed. Ai pulled his works out of Denmark when the Danish parliament passed the law allowing the authorities to confiscate valuables and cash from migrants in order to cover the cost of their care. He plans to create an artwork out of 14,000 lifejackets in order to emphasize the problem of smugglers who sell these (often useless), items to refugees and migrants at incredibly high prices. We could continue with listing Weiwei's actions in regard with the refugee crisis; but in this article, we will focus on the exhibition that opened today at Athens-based Cycladic Museum of Art.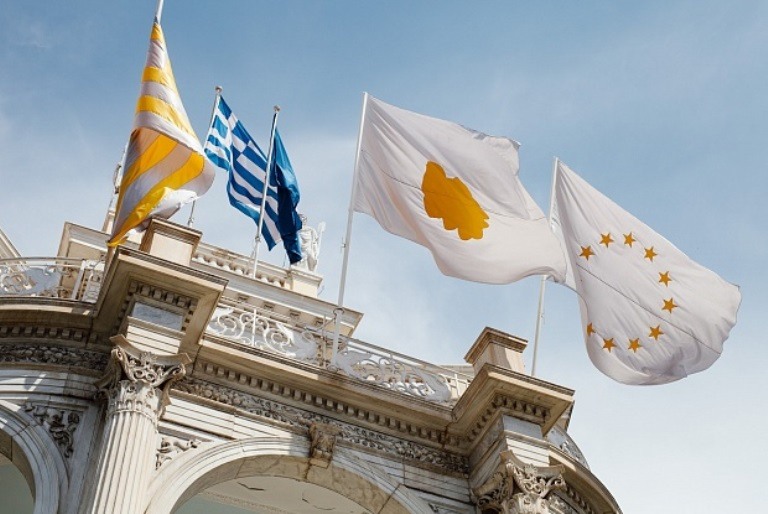 Ai Weiwei Exhibition at Cycladic Museum of Art
The first thing you will notice on the Museum's façade is one flag. There are Greek and the EU flags, but also there is a flag outlining the body of three-year-old Syrian boy Aylan Kurdi, who drowned in the Aegean Sea last September (around 2,000 children died on their way to Europe). The exhibition itself is titled Ai at the Cycladic and will be on view until October 30, 2016 at the Cycladic Museum of Art in Athens. Other works that are shown include iPhone Wallpaper – a huge collage of 12,030 images shot by Ai on his smartphone between January 2015 and April 2016. There will also be Lesvos Photographs, a series comprised of 600 images taken by members of the Photographic Society of Mytilene (these photographs are taken by six Greek amateur photographers). In addition, Ai created a new piece for this exhibition – it's titled Tyre and it's made with rubber lifebuoy rings hewn in black and white marble, which has been sourced in China. It is important to mention that 10 percent of all the exhibition proceeds will go to Médecins Sans Frontières and to the METAdrasi, a Greek non-governmental organization.
Ai Weiwei Visiting Refugee Camp in Idomeni, North Greece
Artivism versus Activism
Logically, many are praising Ai's humanitarian activism in Cycladic islands and in mainland Greece. From the artist's statement, we can conclude that he is really involved in migrant crisis as a humanitarian, not only as an artist. As Ai said: People are being selfish, very greedy, short-sighted and ridiculous. This is not a regional problem; it is a human problem. The bad guys are everywhere, but also the good guys are. We have to trust in humanity but not trust in politicians. However, there are some voices criticizing his art engagement in relation with the refugee crisis. When he posed on Mediterranean beach as the Syrian boy, lying face down on the beach, many critics accused him of using this situation for strengthening his celebrity status. On the other hand, many critics are saying that his activism damages his art. Those who are critically oriented towards Ai's activism are also critical about the artist's idea to make a feature length documentary which he plans for cinema release (a film about the refugees). But, that is how protest art functions. Someone might dislike it, but nobody can deny the enormous potential art and celebrity artists have to raise awareness about injustice, humanitarian crisis, wars, and other violent events. Anyway, use the opportunity to visit the show at Cycladic Museum of Art in Athens. After that, you can walk to the port of Piraeus – there you can see thousands of people, refugees and migrants, living in difficult (almost inhuman) conditions – something that Ai Weiwei exhibition in Athens is actually about.
We would like to hear your opinion! Please comment on our Facebook Page!
Featured Images: Ai Weiwei on the island of Lesbos (via theguardian.com. Photograph: Orestis Panagiotou/EPA); Ai Weiwei – Tyre (via theguardian.com. Photograph: ©Museum of Cycladic Art. All images used for illustrative purposes only.