Alain Biltereyst is typically known for creating small-scale paintings based around the graphics found on the side of trucks. What I've noticed recently is there have been some changes within his oeuvre. When you work in a reductive fashion, such changes become noticeable. And I wanted to find out some of the outcomes of these shifts: in scale, framing device and even moving from the vertical to horizontal format.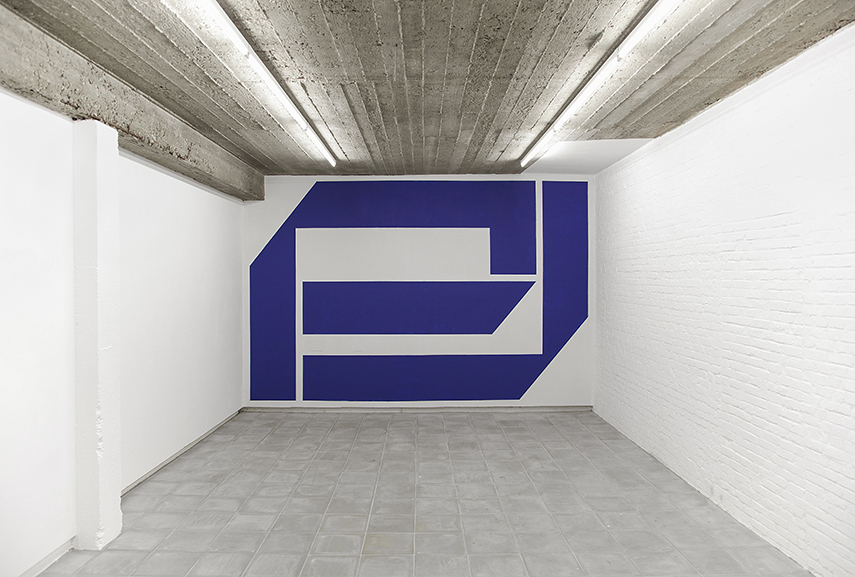 In Conversation with Alain Biltereyst
Brent Hallard: When I see one of your works on the wall, what I'm taken with is the frontality of the piece and the shifts in two-dimensional space. This in itself works for me: two dominant colors spelling out a design that actually doesn't really add up, though begins to when you start getting involved with it. With "Untitled, 814-2", 2019, a predominately black and white piece, there is a stasis with the thick vertical outside bars, then movement with the twin pairs of the slightly diagonals. And then there's the so-called negative spaces dividing up the picture into four equal parts. The thin horizontal line becomes such a clincher in the whole deal, yet that 'whole' feels measured and equal in all its distribution.
Alain Biltereyst: I think this work is pretty typical for me. I start with a simple shape, sometimes a detail of a logo or typo. Then I start turning and flipping until I get a new whole. And it has to be perfect within that rectangle. There must be balance in everything: open and closed, oblique and straight, thick and thin. This particular work is heavy and rigorous in thick black bars, but with a fragile thin middle line. And I love symmetry.
BH: In "815-3", you have copy-pasted a portion of a grid so it lines up pretty much with how we experience the weight of a painting when standing in front of it. Of course, there is no 'one' weight, clearly understood when we consider, say, Mondrian's oeuvre. Yet, with this simple tool of a line you have captured not what looks like a painting, instead pushes the buttons and challenges a visual experience. "Untitled, 820-3", 2019 is the same scale as the fine grid piece and the heavy thick bars, and, as you say, is typical of your style and structure, though always with surprising differences. "Untitled, 801-3", 2019, a petite yet robust little number, is the scale I tend to identify your work with. That said, I do remember watching you make a large-scale painting-come-mural in Leiden for the 100 Years of De Stijl at The Open-Air Museum de Lakenhal. 
How easy is it to shift scale like that?
AB: If it's strong and working in a small format, then, typically, when scaling up it should also look right. In the case of a mural, I need to take into account the space and size of the available wall. When it's increased in scale from a small image, I can usually say it's going to check all the boxes at that larger scale.
It might sound odd, but I can pretty much tell whether an image is working when it's stamp-size as an icon on my desktop. Again, with a wall mural I might need to play around and make adjustments to bring in the elements of the wall to the piece. This saves any major surprises when I realize it.
Until recently I've only made work in portrait mode, but often the available space has suited a landscape-formatted mural, which has forced me out of a comfort zone. Now, probably because of this, I also make small works formatted to landscape.
BH: What was your reason for using portrait format for much of your work, given that the images on the sides of trucks (and your photographs of them), plus the billboards, are mostly all horizontal images?
AB: Good question. I never really thought about it.
But it does help to create more distance with my source of inspiration. Otherwise, one might fall into the anecdotal too easily. And I just feel better with a vertical image.
BH: My thoughts are when you started making these images, they were small and very much about a head space. Also, being petite-scale, the vertical gives the image a greater strength - the vertical stronger than the horizontal. So, my question with the small horizontal works, are there any mental shifts that you noticed to accommodate the horizontal format?
AB: It's true that the vertical gives the image a greater strength. But just to turn a painting on its side to get that horizontal format would seem crazy as it'd look completely different!
Through the process of mixing up the orientation, trialing with the horizontal format, became a refreshing thing to do. As mentioned earlier, I continually rotate a work scrutinizing it from all orientations. What is added to the mix now is knowing it's possible that some of my designs can work better in the horizontal.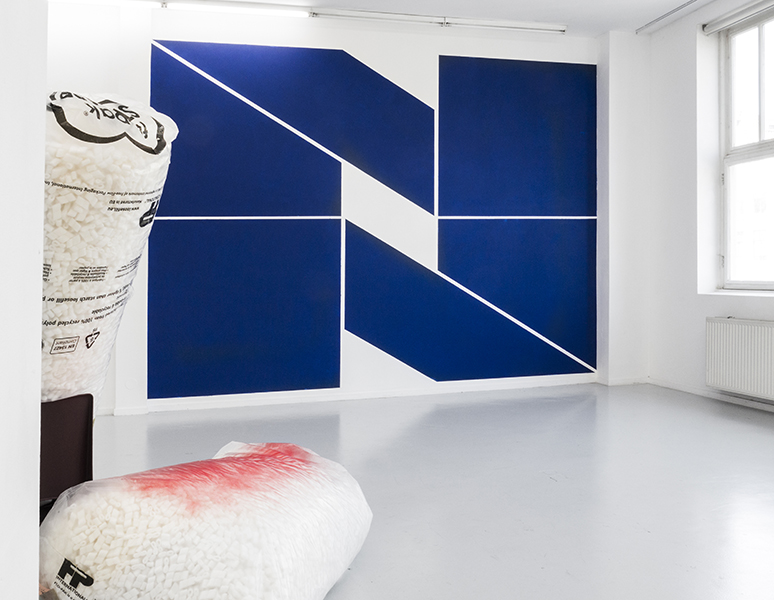 Artworks in Dialog
BH: Do you consciously decide beforehand that one will be a flat design, while another will play havoc with illusion?
AB: I make work at random and it is during the installation of a show that I decide where to hang what.
In a show, I try to hang the works in such a way that one work communicates with another, or enters into a dialogue with each other–in terms of color, form, lightness and weight, etc. For example, in my current show at Jack Hanley, a wall where two larger pieces sit next to each other, I've balanced a strong blue horizontal stripe painting with a piece that has fine vertical lines.
BH:  So, you are not really fussed if and when a depth, or an illusion, creeps in?
AB: No, that's not the focus. Sometimes, in the process, a sudden depth in design appears. I'm not afraid of that.
BH: I noticed your larger pieces are now sometimes framed. That's new!
AB: What, the pieces up at Jack Hanley Gallery?
BH: From what I can see there are no frames in the work at JH's. I'm referring to the Brussel's show early this year where there was what looks to be a wooden bead around the larger pieces. I commented on this on your Insta-feed, and I think I said that it looked... 'new'. I'm always a little torn by the necessity of framing. Mostly, I think it just protects a work and feeds off a finish fetish. NY tends to like it a little rawer... But, it can work, and it looks to be that way in those images you had up on Instagram, as well as images you sent through here. I don't know, what do you think?
AB: Ha-ha, now I understand.
Indeed, for my show at Baronian Xippas in Brussels I worked for the first time with a cadre around the large works. I thought it suited the space with the wooden floor, and so on. I was very curious what the effect would be. And I'm still kind of happy with it. The color of the thin wood matched perfectly with the blue of the works.
However, as you noticed, for my NY show it really wasn't necessary. Framing really didn't suit some of the works. Another way, perhaps for the future, it might be good to experiment with other colors, etc., so the frame becomes more integrated with the work.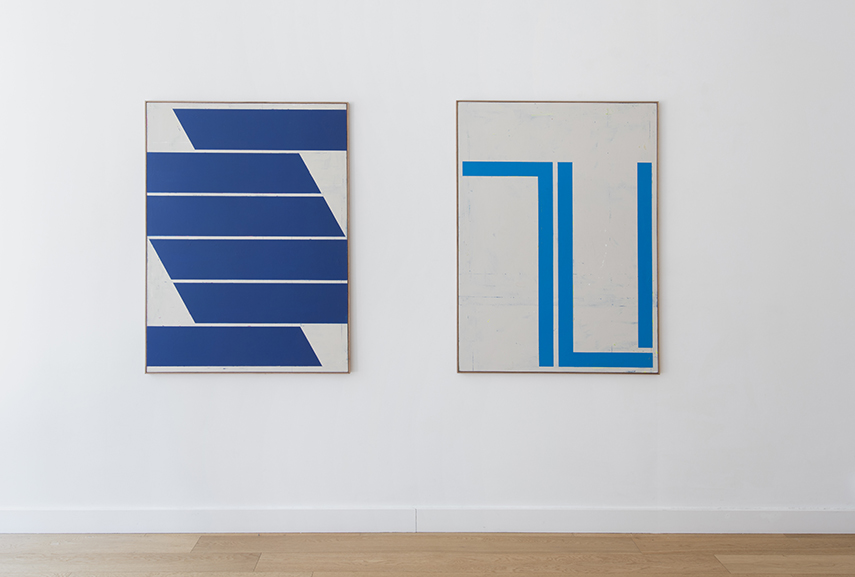 Looking Ahead
BH: The very reductive thin-lined pieces work effortlessly at a small scale; however, when they get bigger, it's important that everything is just right. The more the empty space the more it has to be read as filled.
AB: Do you mean that the large empty spaces should also remain interesting?
By applying several layers of paint and by the traces of corrections that I am showing, I believe these surfaces remain pretty intriguing.
BH: I know you have said that if it is working at the postage stamp scale then scaling up doesn't present a problem–is this always the case? Looks like you've covered all the bases.
AB: I wish that was true! There are times when it doesn't work, I may not be happy with the form, or searching for the right color is an uphill struggle. Then I start to correct. If it doesn't work out and I run out of patience, then I paint everything white and start all over again. But the errors and information I have seen in the previous painting are used in the next painting. There's no way forward if you don't take the risk of failing. Each painting is like a stepping stone for the next one.
BH: What's ahead?
AB: I have already done 3 solo shows this year. Now it's time to take it easy and recharge the batteries. After I came back from NY, I cleaned up my studio. That's really a great thing to do. For my NY show, I tried out some new directions and introduced more colors. I'd like to continue with that.
There is still so much to do. There are still so many shapes I want to paint. It's in my nature not to stick to a formula for success. I find that too easy. That's why I always make it difficult for myself. But when I walk around in the city, or drive around on the motorway, I receive so much information that I will never have enough time to handle it all. That way, sometimes I see my work as a kind of archive.
There is also this niggle to start working on a new book.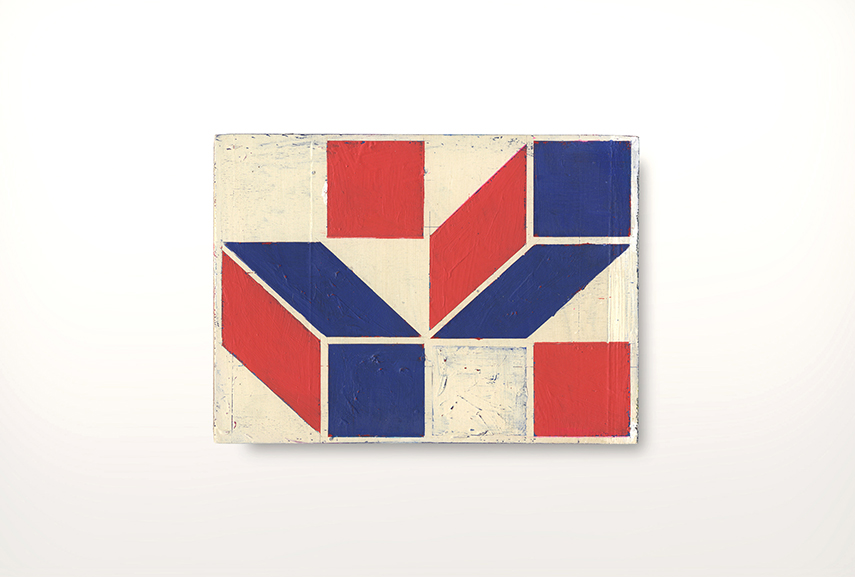 Featured images: Alain Biltereyst, Leaving the House at Jack Hanley Gallery, 2019. Photos: Brad Farwell. All images courtesy the artist and Brent Hallard.