When looking at the work of Alannah Farrell, one can be reminded of Edward Hopper, of a melancholic mood and a sense of being alone, but not lonely. Or perhaps Nan Goldin, whose snapshots of the underground scene evoke an unforgettable kind of intimacy.
Alannah Farrell in turn provides a gaze of their own, making paintings that "celebrate the brilliant misfits, lovable weirdos, the survivors, the hustlers, the entrepreneurs, the ones thinking and speaking outside the status quo." The subjects are caught in a pensive or a moment of contemplation at their most vulnerable, but their strength is almost palpable. Although most often depicted individually, Farrell's sitters also give out a striking feeling of community and belonging.
In the critical times we live in, caused by the Covid-19 pandemic, Alannah Farrell's paintings take on a new layer of meaning, offering new interpretations of reflection and isolation - especially within the queer community in New York City, which Farrell is mainly depicting. To help those affected in one of the hardest hit cities in the world, the artist is putting a print up for sale in collaboration with The Linocut London.
The limited editionprint L.E.S. (Marina) is based on the 2019 of the same title and is available for purchase from the gallery's website. Partial proceeds will benefit the Ali Forney Center in protecting LGBTQ youths from the harms of homelessness and empower them with the tools needed to live independently.
To find out more about Alannah's work, their relationship with painting and the person in the portrait, we talk to artist in an exclusive Widewalls interview.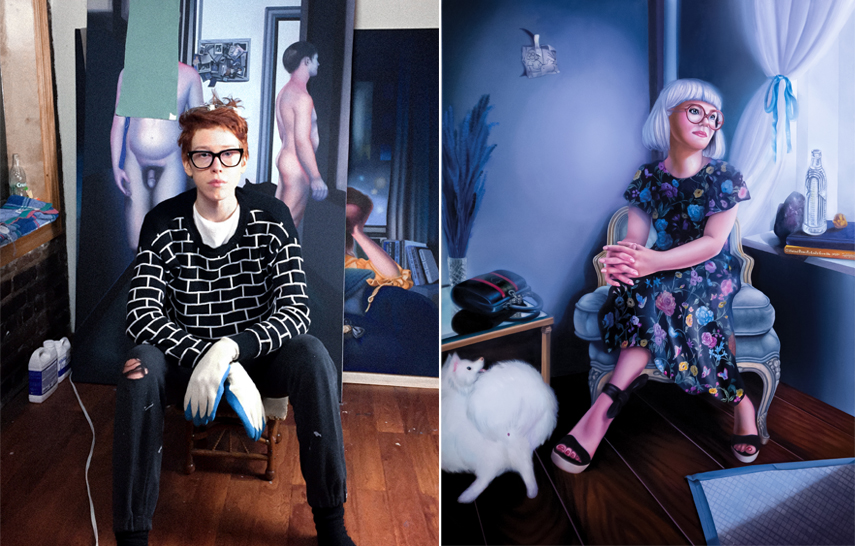 Up Close With Alannah Farrell
Widewalls: Where did the idea of depicting your community come from for you?
Alannah Farrell: I make paintings that celebrate the brilliant misfits, lovable weirdos, the survivors, the hustlers, the entrepreneurs, the ones thinking and speaking outside the status quo. At the core of my work are individuals within my community, a predominantly queer creative community in New York City. There is a long history of painters who use their community as a subject.
Most of my work is auto-biographical / biographical, but through the painting process, the painting evolves into its entity. Although I represent real individuals, I'm conscious of arriving at a finished painting that is accessible to everyone (including those outside my community.) On a formal and emotional level, my paintings tackle less obvious issues that we (humans) collectively carry.
Widewalls: With painting being something of a secondary medium nowadays, how would you describe your relationship with it? What's it like to be a painter right now?
AF: Being a painter can differ greatly person-to-person. For me, painting is personal. It's tethered to my history, identity; it's both a lifeline and a lifestyle for me. My parents are both artists and antique furniture restorers. As a child, I watched their processes; they both shared an intense dedication to the integrity of their commercial and personal work.
By secondary medium, you mean painting as the final result after a succession of using other mediums? I see many contemporary artists who approach painting this way and don't necessarily call themselves painters. They are not limited to it as their primary medium — nothing wrong with that! For me, painting is my primary medium.
Most of my process lies in manipulating the paint itself. I paint in many layers, often starting with grisaille and building up the colors with transparent glazing. I'm continually studying and experimenting with oil paint to gain knowledge and mastery of the medium.
I'm a nerd when it comes to the technical aspects of painting, haha. I think it's an exciting time to be a painter right now. In a way, the art world is more open-minded than ever. I see a wide range of styles, techniques, and applications.
Widewalls: How do you land on a scene to paint?
AF: The imagery I choose is an amalgam of memories, dreams, fantasies, and direct observations. I start with the setting, the lighting, and the figure(s) that I will be illuminating. Then, I gather the objects which I paint from life. Through my layered painting process, elements shift and emerge. Even though the general composition is envisioned and drawn out beforehand, there is a natural evolution with the alchemical process of painting.
It's so essential for me that everything lives and breathes naturally as how I am envisioning it.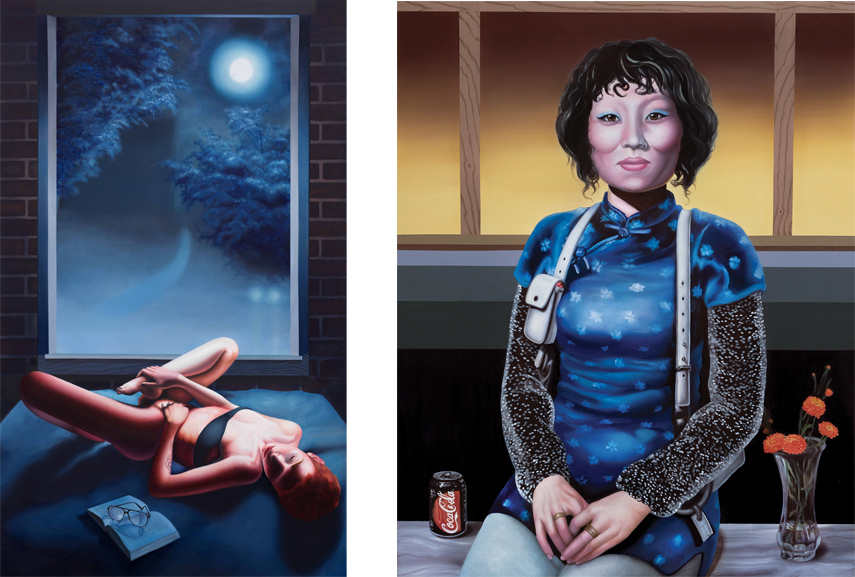 Making Art To Help
Widewalls: Who is the person in your print? Why choose them as a subject? What do we need to know about them?
AF: Great question. The figure in this particular painting is Marina (in-which my painting is partially titled). Marina and I are close; we are friends and neighbors; in fact, both Marina and her partner live several blocks away from my partner and me.
A couple of years prior, I was stuck trying to navigate and carve out space for my work within an already heavily saturated art market. Marina had some incredible advice that initiated a bloom of practical creativity! She helps artists through her vehicle; you can find her on IG ​@the_artist_advisory​.
Both Marina and I share quite a few mutual friends, and I happened to be in the middle of another portrait when I got the itch to paint Marina and her pom Odette in their apartment on the Lower East Side, NYC. Shortly after, I ended up going over to her apartment and rendered her pose for the pre-production of this painting.
The whole situation, like most of my work, is almost effortless on purpose. This arrangement accommodates my craving for connection through stillness. My subjects often are portrayed in their intimate spaces during the quiet New York after hours and early mornings, a time for reflection. My paintings hold reverence for these moments.
Widewalls: How do you spend your time in isolation?
AF: These are turbulent and unsettling times. I am pretty fortunate to be able to paint, to have a compassionate partner and two beautiful rescue cats to keep me company!
As an adult who spent the majority of their childhood in an extremely isolated area of Upstate, NY, I'm spending a lot of time reflecting on how I got through those years by delving into and seeking refuge in making art. Trust me, living in a town of fewer than 500 people can make NYC feel like an immense gift. I'm thankful for the privilege of living in NYC for the past 14 years despite the financial struggles of surviving here.
Like most, I am a somewhat social person. Socializing is a gateway to empathy, learning about yourself, and learning about others and their experiences. As a queer New Yorker, I've found many kindred spirits here, and I am happy to be here even if we are on pause.
Ultimately, this is why I'm eager to support the Ali Forney Center with my current project, a limited edition print via The Linocut London. The AF Center's mission 'to protect LGBTQ youths from the harms of homelessness' is even more crucial in light of this pandemic!
Widewalls: Where do you see the world, and your community, post-pandemic?
AF: More resilient and more unified than ever, I hope! This outbreak is exposing the pre-existing fissures in healthcare, socioeconomic disparity, and much more. I think, at this point, we can't ignore the fragmented nature of our society — change is imperative! I plan to continue working with my community visually and collectively through outreach/direct action.
Widewalls: What's next for you?
AF: Well, you can always keep up with me on Instagram ​@alannah.farrell.studio​, which I try to update regularly.
For sure, I will continue adding to this current series of paintings, while promoting my alternative projects and staying as sane as humanly possible indoors! I had visiting artist University show(s) booked for later this year, in the summer and fall.
Due to COVID-19 hitting NYC hard, it looks like they will happen in early 2021 instead. But, despite this interim period of uncertainty, I hope that we can get safely through the brunt of this outbreak, and gather once again as loving and resilient people!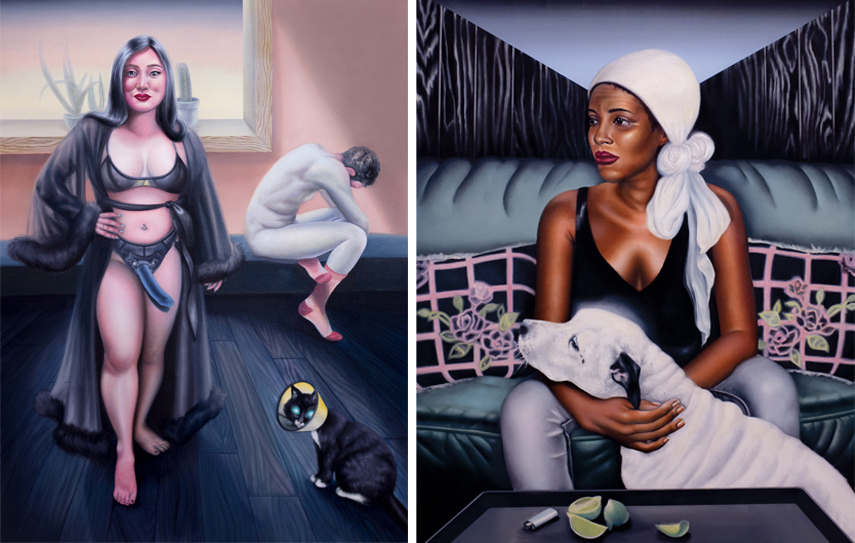 Featured images: Alannah Farrell - L.E.S. (Marina), 2019 (detail). Oil on canvas, 30 x 40 x 1.5 in; Avenue B (Marie), 2018. Oil on linen, 16 x 20 x 1.5 in; J & B, 2019. Oil on canvas, 25 x 36 x 1/2 in. All images courtesy the artist.