A Spanish-born and Cambridge-based artist, Albano Hernández Domíngues, Albano for short, is famous for paintings characterized by vivid colors and a repetition and accumulation of abstract, often geometric motifs. These works are made up of meticulously elaborated color fields, intense swathes of color and different motifs and overlapping shapes. While his paintings are unquestionably abstract, the elements he works into his compositions come from a very real world, a reality he has lived. A visual diary of sorts, his works are a reflection of the creative process itself.
The works from his recent series ATLAS present a mix of souvenirs of lands visited and tokens of more personal spaces. The artist juxtaposes the vivid green of the Castilian crop fields in the Spring with elements such as the remnants of paint taken from his palette, Pantone color cards, Adobe-like checkered transparent patterns, etc. This latest series is available at Artistics.
We had a chat with Albano to find out more about this latest body of work and his practice in general. In an exclusive Widewalls interview, the artist talks about the painting process, the ATLAS series, the role of the composition, the evolution of his work, and much more.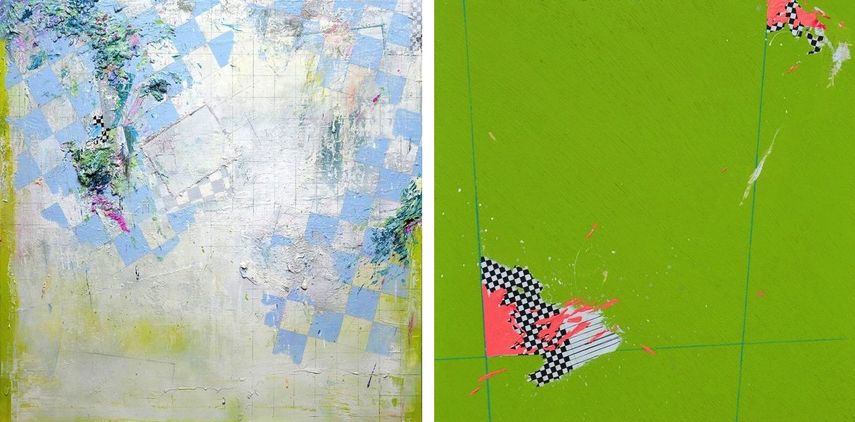 The Painting Process
Widewalls: Your current practice takes its structure from the painting process and its elements. What does this process of visual creation mean to you?
Albano: I am interested in the process by which an image is constructed. I think it is necessary to focus on the time dedicated to the creation, not only in painting but also in contemporary thought. Giving more relevance to what happens during the process instead of just evaluating the result more real sensations are achieved in painting and in life as if it were a trip to Ithaca. In what specifically refers to the construction of an image, knowing how they are created is more complex every day, because new methods are discovered and we receive visual impulses of multiple formats.
I am also very keen in the temporality of images because the relationship between the time used in the production of an image and the time used in its consumption is increasing drastically since images require a long time to be produced and are fleetingly consumed.
Widewalls: Although abstract, your work is firmly rooted in reality. How would you describe this poetic self-referential journey between the memory and the image?
A: I believe strongly that painting educates every day, is a very profitable investment in cognitive terms. At first, studying painting teaches to see, educating observation in a superficial way (colors, shapes, textures...) With the time that observation becomes more complex and acute, this is when sociology, physics or religion appear.
Then, the painter observes everything and tries to find an explanation of what surrounds us and does not accept imposed solutions. This universal idea means that we can not talk about images without memory since everything we do is conditioned by our culture. Our education is responsible for how we perceive or interpret an image. That is why image and memory are two inseparable terms.
Widewalls: Your latest series ATLAS combines souvenirs of lands visited and tokens of more personal spaces. Could you tell us more about this series and how it came to life?
A: The series Atlas was born from the process of picture making; delving into the limits of the surface, from the workshop tables to the studio floor, fixing the remnants of paint onto the white canvas and providing a structure to evocations that converge into an 'Atlas' (an allusion to Warburg's "Mnemosyne Atlas").
Each one of my projects is a graveyard of memories, inheritors of the high visual density into which we are subjected. Mass production has overloaded us with images by using mechanical reproduction techniques.
My work consists of, collecting the ashes of these processes, the compilations of the remainder of images and the rests of wasted inks or pinches of color that lounge dispersed over forgotten surfaces.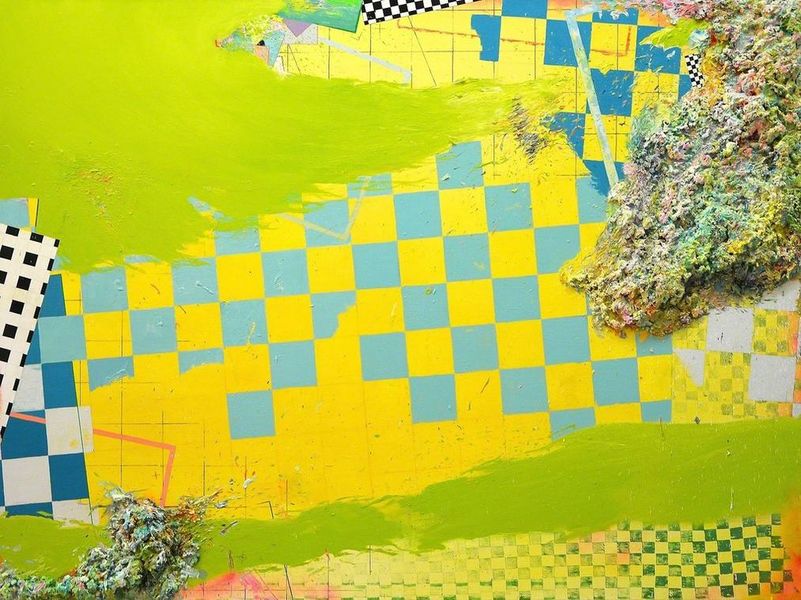 The Evolution of the Practice
Widewalls: The composition has a fundamental role in your work. Could you tell us something about your working process?
A: My paintings are created as strata, the process is similar to an agenda or a chronological sequence where temporal dimensions are added to the work. The studios and workshops where images are produced contain reminders generated during these processes over a long period of time. The relationship between my paintings and these spaces is based on adding pictorial elements in different temporal spaces, in this way my work is composed of time.
Sometimes I stick and screw dry paint on the surface, in an additive process without limits.
Widewalls: How would you say your work evolved over time?
A: There are three distinct periods in my brief career. The first one comprises all the technical training next to my father. The second encompasses the five years of University, where my painting evolved with theoretical approaches linked to the search for identity through contemporary spaces, specifically deserts. And the current one, where my paintings talk about painting after having found the longed desert in my workshop.
Widewalls: You were born in Avila, Spain but you currently live and work in Cambridge. How has this move informed your practice?
A: The fact that I was born in Ávila, a historic city, is a great influence on my fascination with the idea of memory. I feel a special predilection for things that show the passage of time. Perhaps this relationship was one of the reasons to choose Cambridge as a city to live. I love to work from here because this city, being close to London, offers me a global perspective as well as an excellent balance between University, nature, and sport.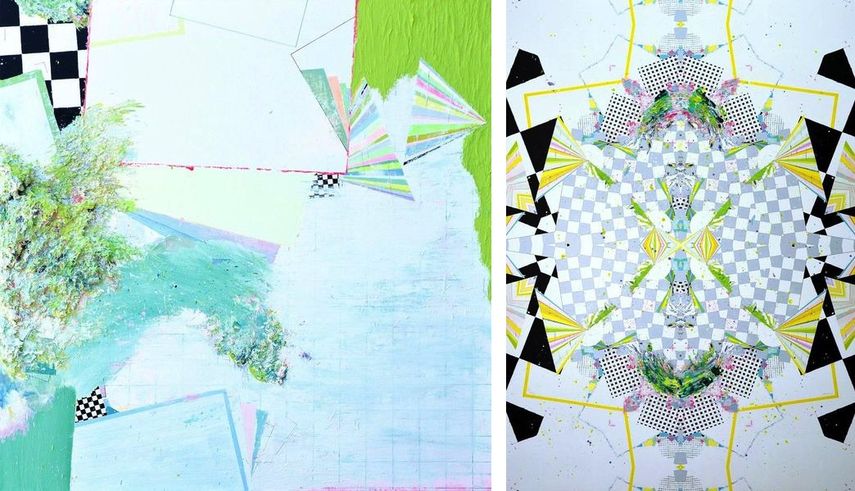 Future Plans and Projects
Widewalls: Who are the artists who have inspired you along the way and whose work do you appreciate now?
A: I am very interested in the sincerity of Caravaggio and other masters such as Velázquez or Vermeer. I always review History to understand the current context. Among the living artists I am very interested in German painters, highlighting the work of Anselm Kiefer and Gerhard Richter; feeling more identified with the so-called School of Leipzig and in particular with Matthias Weischer. This young German painter has influenced me, especially with regard to the processual creation of a two-dimensional image, putting into operation rationality, creativity and memory in order to build a space as real as fictitious.
Widewalls: Could you reveal some of your future plans and projects?
A: Last year I made four solo exhibitions, which was a great responsibility. These shows required a lot of time for preparation due to the number of works exhibited. This year I need to be concentrated in my Cambridge's studio, where I'm painting with even more powerful colors than in previous years. I have recently started the series "Pantone", these works will be exhibited in different projects that we have planned in London, Madrid, Panama City, Santo Domingo, and Montevideo.
Albano Painting
Featured image: Albano Obra Verde © David Garcia Torrado. All images courtesy Artistics.