On Tuesday, December 4th, the start of Miami Art Week 2018, members of the press and special guests were invited to a preview of Albedo, a large-scale temporal pavilion and public installation developed by Tomás Saraceno for Aerocene, and presented by Audemars Piguet.
The luxury watch company has been a Global Associate Partner of Art Basel since 2013.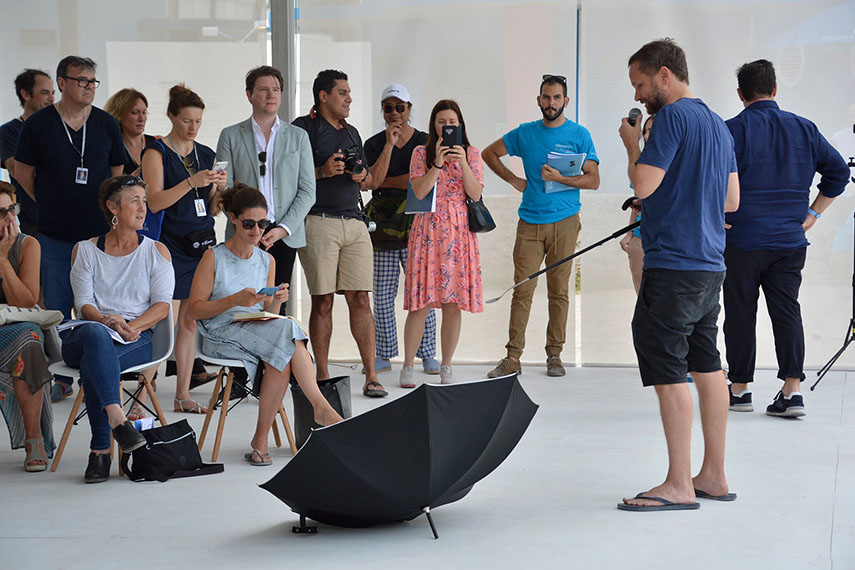 Albedo by Tomás Saraceno
Albedo is comprised of 40 reflective, out-turned umbrellas that in flight come together to create a large hemispherical sundial. The solar energy harnessed is used to fly Aerocene's iconic aerosolar sculpture, the Aerocene Explorer. Saraceno's floating sculpture imagines a new infrastructure that demonstrates the possibilities of ethical, fossil fuel-free movement in the atmosphere, while challenging and redefining a global right to mobility.
All week, passersby can enjoy free daily programming (weather permitting) including community solar cooking – a first for the Aerocene Project. Prepared only using solar energy, there will be a daily, rotating menu inspired by Miami's regional cuisine. There will be Explorer flights in the morning and backpacks containing a solar and wind-powered version of the Explorer sculpture can be borrowed and flown on the beach.
The term "albedo" comes from Latin, meaning whiteness and refers to the amount of solar radiation reflected by a surface in comparison to the total amount it receives. In a conversation with András Szántó, writer, researcher, and consultant in the fields of art, media, and philanthropy, Saraceno states:
I want to push the imagination to think what humans can be, where they could be, beyond the geopolitics of today that drives the Anthropocene, trying to find common places for new inter-planetary belongings.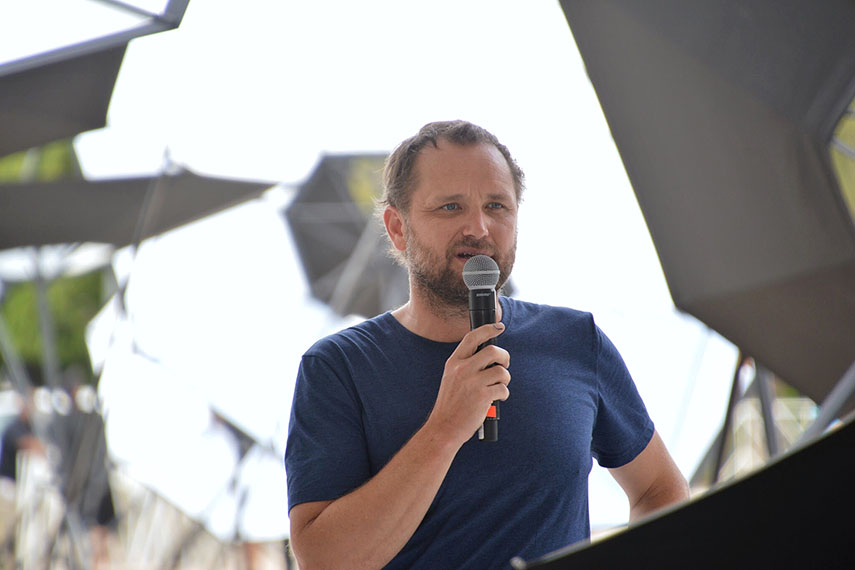 An Airborne Collaboration
Born in Argentina in 1973, Tomás Saraceno's oeuvre can be seen as an ongoing research, informed by the worlds of art, architecture, natural sciences, astrophysics and engineering; his floating sculptures, community projects and interactive installations propose and explore new, sustainable ways of inhabiting and sensing the environment.
Aerocene, an open-source community project for artistic and scientific exploration was initiated from Saraceno's vision.
In 2015, in White Sands, New Mexico, Aerocene achieved a world record for the longest and most sustainable certified manned flight without fossil fuels, solar panels, helium or batteries, lifting seven people for over 2 hours and 15 minutes.
Miami Beach between 21st and 22nd Streets near Collins Park. Explorer flights (December 5, 7–9, 10am) and solar cooking (December 5, 7–9, 11am–1pm; December 6, 12pm–1pm). Explorer backpacks will also be available for visitors to borrow and fly their very own Aerocene Explorer on Miami Beach (December 5–9, 12pm–4pm).
Art Basel Miami 2018 – the making of Albedo by Aerocene with Tomás Saraceno
All images copyright and courtesy the author.