Celebrated as a sculptor, painter and draughtsman, Alberto Giacometti's characteristic elongated figures are regarded as some of the most instantly recognizable works of modern art. The first major UK retrospective of Alberto Giacometti artwork will soon be on view at Tate Modern. Simply titled Giacometti, the exposition will highlight the artist's place, alongside the likes of Matisse, Picasso and Degas, as one of the great painter-sculptors of the twentieth century. Bringing together over 250 works, the display will include rarely seen plasters and drawings which have never been exhibited before and showcase the full evolution of the artist's career that spanned five decades.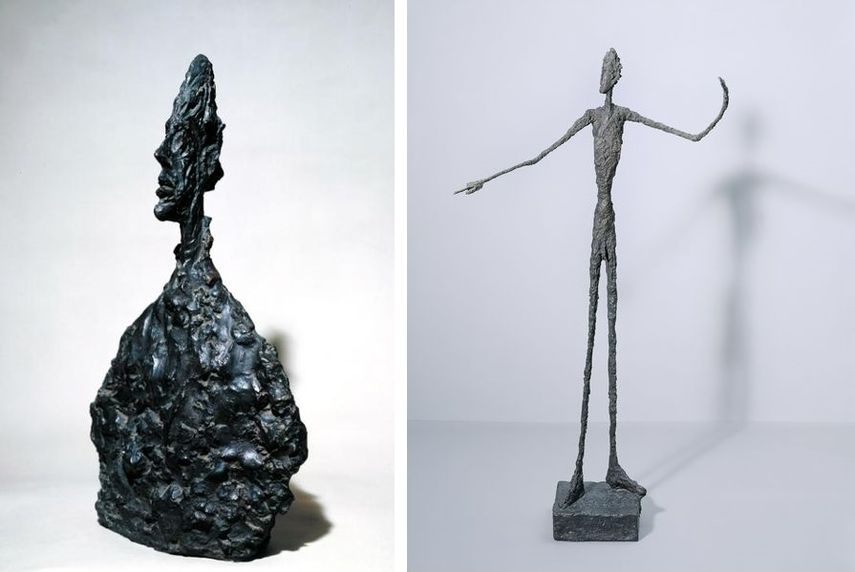 The Early Years
Born in Switzerland in 1901, Alberto Giacometti moved to Paris during the 1920s, initially engaging with Cubism, and subsequently Surrealism in 1930s. While involved with Surrealism, he devised innovative sculptural forms, often reminiscent of toys and games. This period of his career will be highlighted in the exhibition through pieces such as Woman with her Throat Cut from 1932, a work that also reflects his explorations of brutality and sadism. Best known for his sculpture, the artist's output also extends into paintings and drawing. Thus, a wide range of his large-scale sculptures will be accompanied by his books, drawings and major paintings major paintings like Diego Seated from 1948 and Caroline in a Red Dress from around 1964-5. Additionally, the display will include works such as Untitled (mask) from 1934, demonstrating his engagement with the decorative arts, and The Chariot from 1950, showing his preoccupation with Egyptian and African art.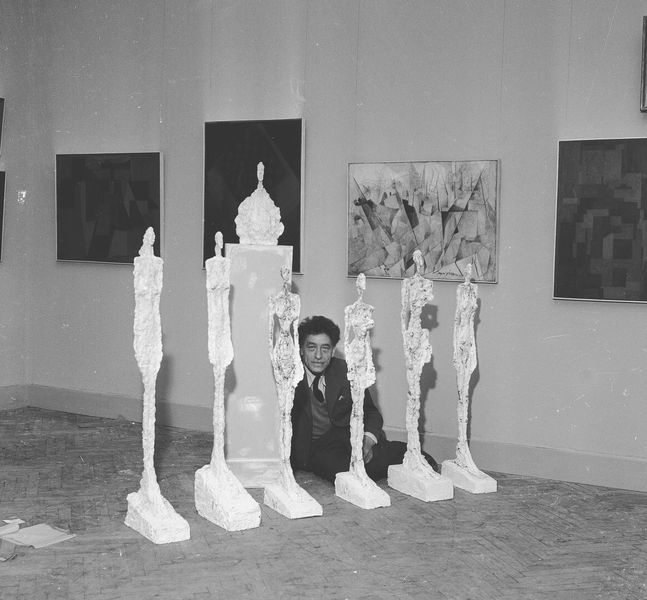 Creating the Motif of the Suffering Human Figure
After moving away from Surrealism, Alberto Giacometti started working on smaller sculptures in a more realistic style, and after the Second World War, the artist started working on his famous elongated figures. Capturing the tone of melancholy, alienation, and loneliness, these figurative works helped make the motif of the suffering human figure, becoming a popular symbol of the post-war trauma. The exhibition will include an astounding selection of such masterpieces including Man Pointing from 1947, Falling Man from 1950 and The Hand from 1947. Although mainly working with bronze, he explored a variety of materials and textures, such as clay and plaster, that allowed him to work in an inventive way. A large number of plaster works that rarely travel, will be presented in the exhibition, including the famous Women of Venice from 1956. This group of works created for the Venice Biennale will be brought together for the first time since their creation. Also, one room in the exhibition will be dedicated to portraits of some of the key figures in the artist's life, demonstrating his careful observation of the human face and figure.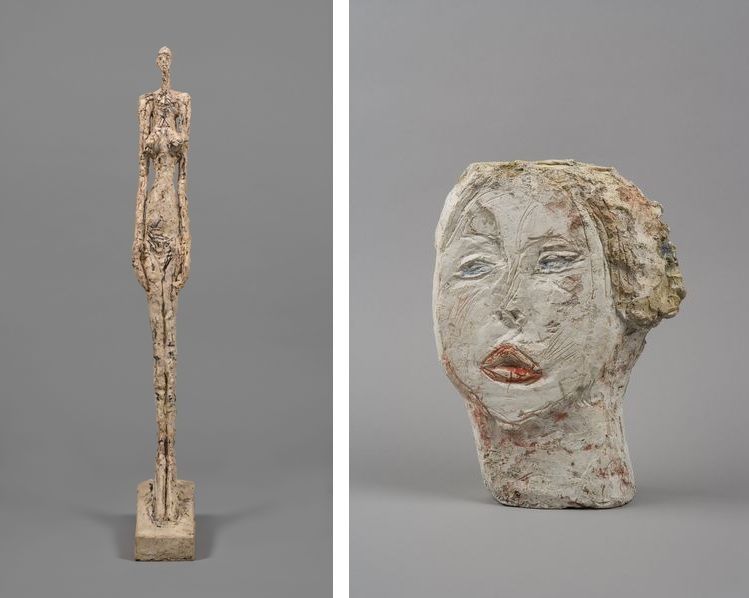 The Retrospective of Alberto Giacometti Artwork at Tate Modern
The remarkable career of Alberto Giacometti traces the shifting enthusiasm of European art before and after the Second world War. The exhibition Giacometti will be on view at Tate Modern from May 10th until September 10th, 2017. Curated by Frances Morris, Director, Tate Modern and Catherine Grenier, Director, Chief Curator, the exhibition will be presented in The Eyal Ofer Galleries, supported by Maryam and Edward Eisler, with additional support from the Giacometti Exhibition Supporters Circle, Tate Patrons, Tate Americas Foundation and Tate Members.
Featured image: Alberto Giacometti - Woman with her Throat Cut, 1932. Bronze (cast 1949), 22 x 75 x 58 cm. National Galleries of Scotland © Alberto Giacometti Estate, ACS/DACS, 2017. All images courtesy of Tate Modern.