An influential graffiti artist in Thailand, Alex Face is best known for his character Mardi, an aged, disillusioned child wearing animal costumes. An artist with a social conscience, he attempts to create a link with the urban population through his art, especially the underprivileged of Bangkok and the provinces.
Also coming from Thailand, MUEBON is famous for an iconic memento mori totem of a surprisingly concordant blend of a skull, peace sign and Mickey Mouse which reflects on pressing issues such as building community and helping to alleviate suffering.
The work of these two talented artists will now be joined in an upcoming show at Vertical Gallery. Titled Mythical Creatures, the exhibition will bring together their new bodies of work, both features both featured within the famed Souled Out Studios collective of artists.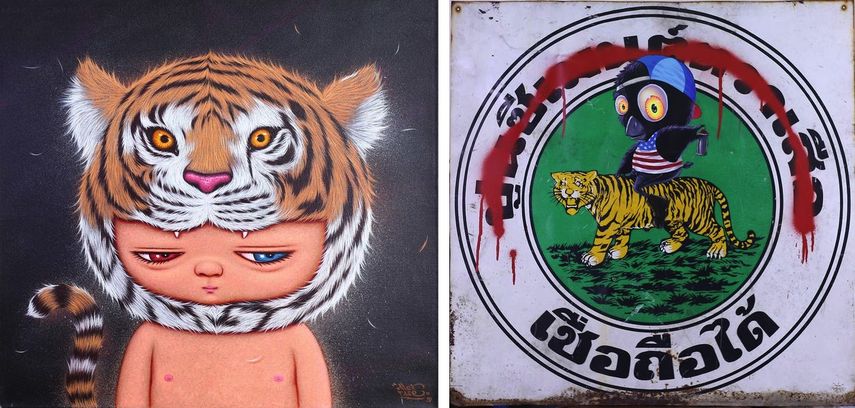 The Practices of Alex Face and Mue Bon
First discovering American graffiti art while studying fine arts at Bangkok's King Mongktut University Institute of Technology, Alex Face began spraying his car and depicting his face, a flourish that inspired his moniker. His signature character Mardi, inspired by the artist's young daughter, is supposed to challenge viewers to consider the legacy that our children will inherit as well as what the future holds for successive generations. Well known across Bangkok and Thai countryside, it can also be seen in Tokyo, Seoul, Taipei, Jakarta, Oslo, Amsterdam and Paris.
Growing up in the slums of Thonburi, MUEBON find his first inspiration in Japanese manga. A socially engaged artist, MUEBON addresses issues ranging from wealth disparity to environmental activism to the pervasive influence of contemporary media. These commentaries are expressed through a range of colorful characters, including a flightless cartoon bird named PUKRUK and Mr. TV, possessor of a television screen face.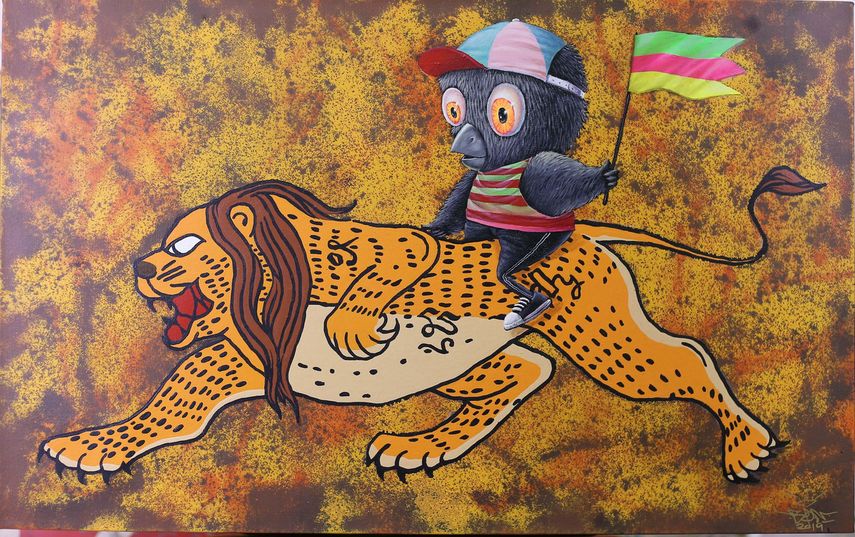 Mythical Creatures
These talented and socially engaged artists will now present their unique artistic visions to the Chicago audience. Patrick Hull, Vertical Gallery owner and founder, explained:
These are two of the biggest Asian street artists — both are character-based, and there's deep meaning in the messages they're getting across, so pairing them is a natural fit. We're thrilled to host their U.S. debut exhibition.
Both artists are part of the Souled Out Studios, an organization run by a close group of street artists and friends from many countries working together to provide the public with stunning visual treats at reasonable prices. Chris Bowden, co-founder of Souled Out Studios, said:
For over 10 years I've seen both MUEBON and Alex Face paint tirelessly on the streets, day in and day out, with incredibly recognizable styles. Both artists don't just have borderless skill with a spray can, but also with oils, watercolor, sculpture and print, making their translation into the gallery seamless.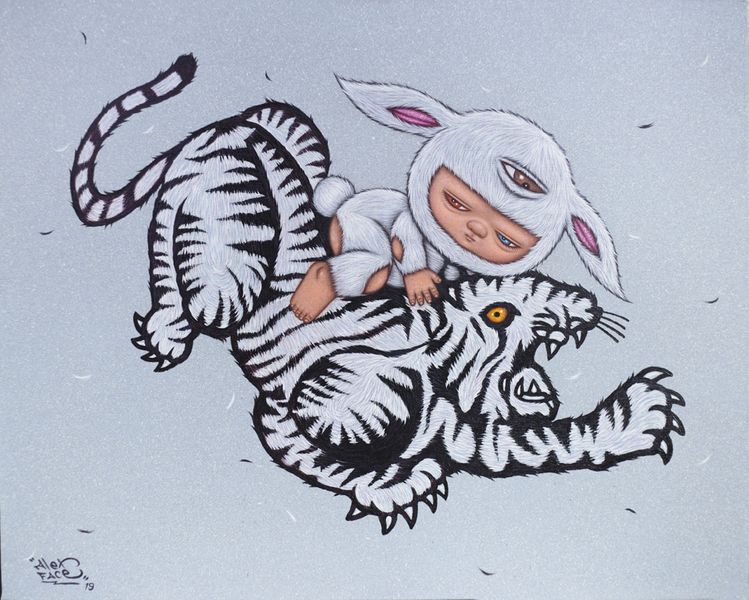 Alex Face and MUEBON Exhibition at Vertical Gallery
The exhibition Mythical Creatures will be on view at Vertical Gallery in Chicago from August 10th until August 31st, 2019. The opening reception will be held on Saturday, August 10th, from 6 to 9 p.m.
Featured image: Alex Face Sculpture, 2019. All images courtesy of Vertical Gallery.