Often defined trough its opposition to sleep and dreams, wakefulness describes the state of absolute, full consciousness and both physical and psychological engagement. And just like some things can only happen in our dreams, certain developments are only possible when we're completely awake. Canadian artist Alex Garant explores the state of wakefulness and an array of emotions that accompany it, in her latest series of work that will be exhibited at Spoke Art gallery in San Francisco. The artist's trademark blurred female figures act as a visual stimulant that should initiate a reactive response within the viewers and the state of complete alertness.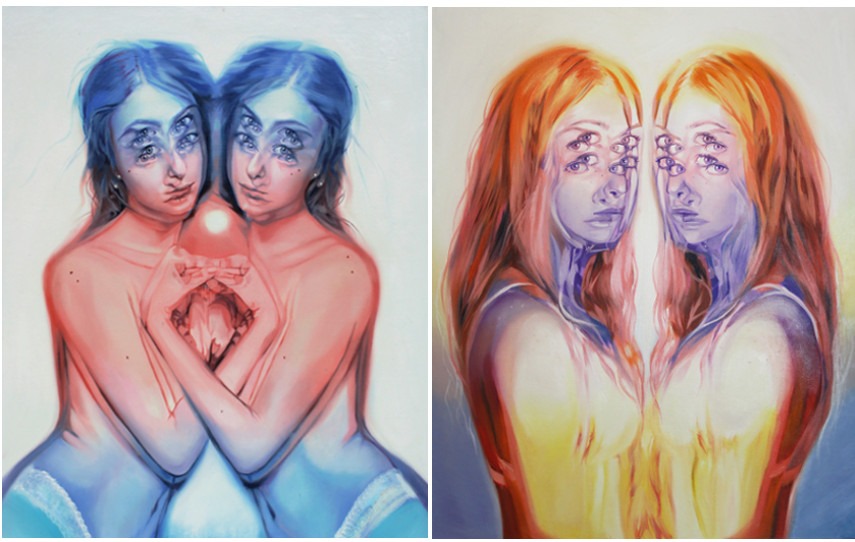 Mind-Bending Optical Illusions by Alex Garant
Toronto-based painter Alex Garant uses patterns, multiplication and symmetry to create pop surrealist artworks that resemble closely to an optical illusion.  The artist's seductive characters often appear as if they are trying to escape from their own skin because they are pursued by a different version of themselves. Her creative process starts with the drawing that is then colored with wet-on-wet paint technique, to create the celestial quality of the final product. And what could have easily been a realistic portrait of young women, through the art of replication is turned into a mind-bending extra-sensorial experience.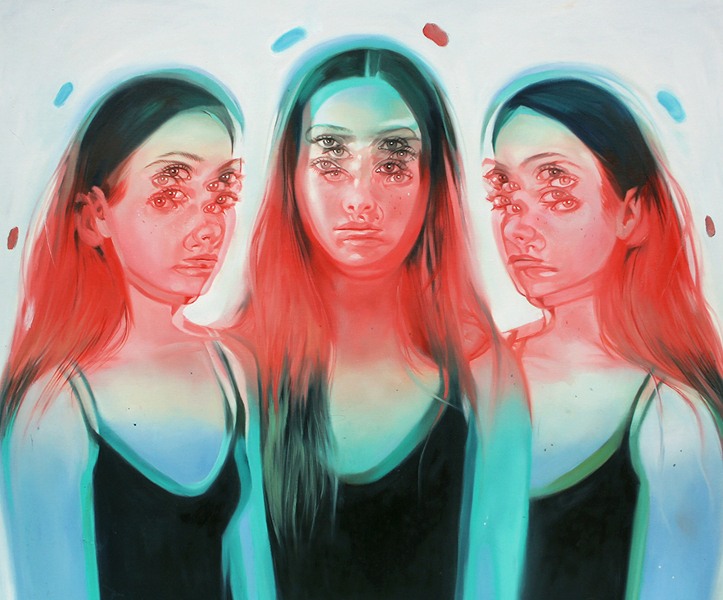 The Allure of the Double-eyed Gaze
Saturated with color and texture, Wakefulness series of artworks, moves between psychedelic and psychoanalytical. Every piece represents a kind of a self-portrait as Alex Garant chooses color tones that best depict her current emotional state. With her signature double-exposed female figures, the artist explores the idea of portraiture and the recurrent motif of a female gaze. And unlike the traditional portraiture that often retains masculine elements, even when women are portrayed, Alex Garant's paintings explore the concept from utterly female point of view. The subjects' glances are emphasized through the act of diffusion and multiplication, and their sexuality hidden, in order to convey a broader array of feelings that both the artist and the viewers can easily relate to.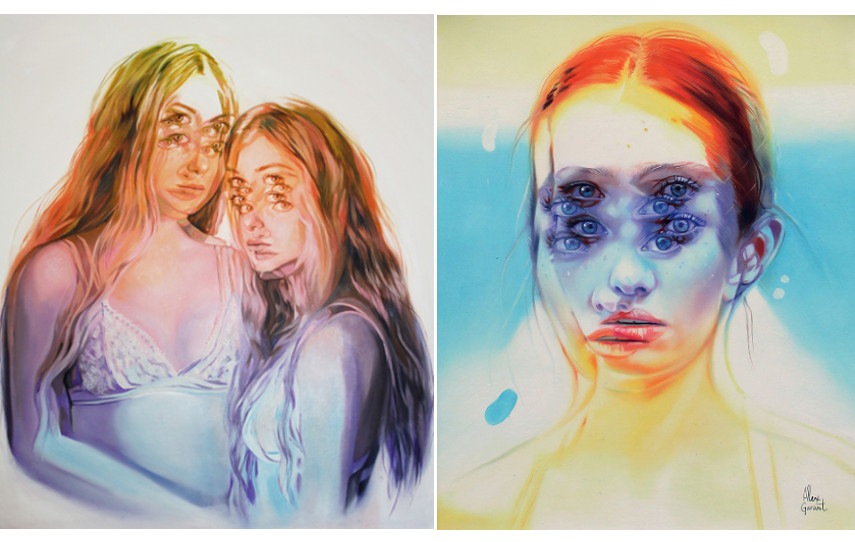 The Exploration of Portraiture at Spoke Art gallery
Wakefulness, the exhibition of works by the talented surrealist painter will open on Thursday, February 4th. While looking at Alex Garant's artworks the visitors of Spoke Art gallery may think at first that they are experiencing hallucinations and phantom vision, but once their eyes are focused, they will notice the beauty and the sensitivity that lies behind the wavy color shapes. The viewers will have the opportunity to embark on the emotional journey through the bizarre, yet captivating world of Alex Garant till February 27th, 2016 at Spoke Art gallery in San Francisco.
Feautured image : Left : Alex Garant - The Longest Winter / Right : Alex Garant Lost In Translation ; Images courtesy of Spoke Art gallery