There is strength in representing vulnerability and uncertainty of the next moment that comes after a fall, after a shift of the mood, after we turn our gaze to someone that was looking from a distance at us. This tension is felt in Alexandra Levasseur exhibition Puzzle at Galerie C.O.A in Montreal. Known for her work, that combines colored pencils on paper and experimentation with oil on wood panels, Alexandra Levasseur continues her exploration of female figures in surreal and vivid landscapes, with the need to examine the relationship of the human beings with nature. This time, Levasseur speaks about her exhibition Puzzle as representing a mind game, which questions the origin of life and usefulness and destiny of human intelligence.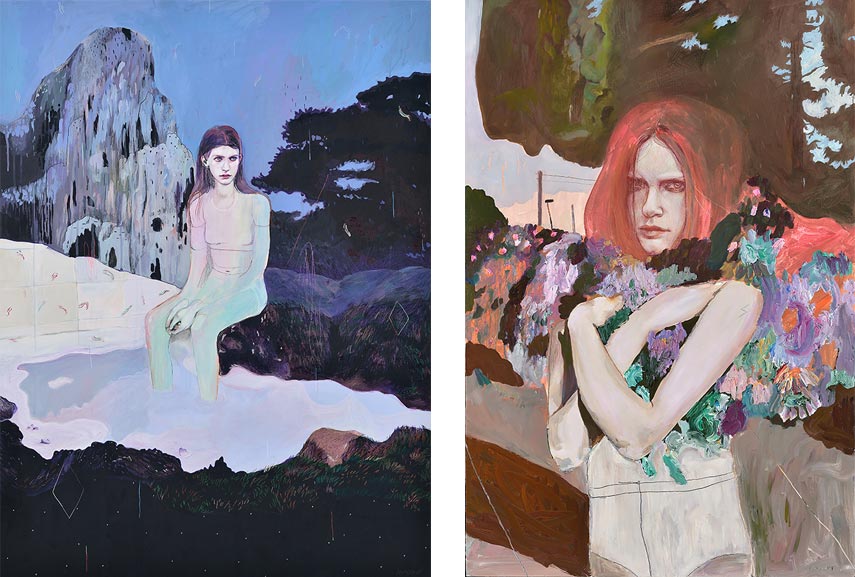 The Strength
For the artist, the female figure is a symbol of beauty, strength and universal emotions such as love, fear, anguish, and unrequested desire, that are central themes for her art. Often exposing her women to rough weather, to loneliness, and different states of mind, we recognize that her characters never surrender. We recognize that from their vulnerability, and from the honesty, recognition and acceptance of all the different states and emotions that life so often changes for us, Levasseur's women are heroines. Exploring the complex spectrum of human emotions that is always in motion, the artist echoes this shift and refers it back to the transformation of location, atmosphere and landscapes that her women occupy.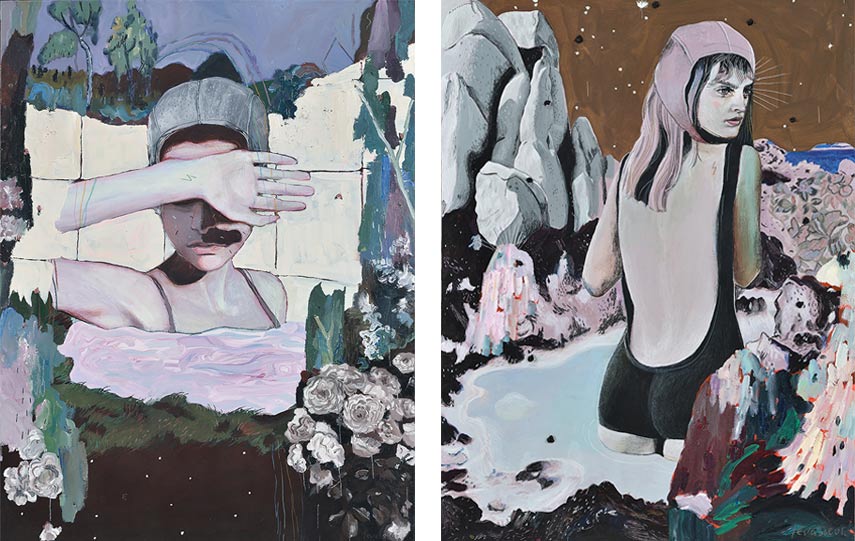 The Voyeur
The obvious vulnerability of her characters creates a gap between them and us. They appear to be alone, or in the group that the artist decided to place them in. We, her public, on the other hand, also recognize that we are alone and her characters become for us, reflections of ourselves. We almost seem to cheer them on their quest for meaning and are left wondering what will happen next once they emerge from nature and water. The resistance of her characters, and the exposure of all the different states of mind radiates a second life that seems to appear right in front of us. We can feel the tension of the intimate transformation of her characters and in that moment, we realize that we are a voyeur, a witness to the birth of something new. What may come next could be the best or the worst of humanity, and this is the uncertainty that absorbs us to Levasseur's work.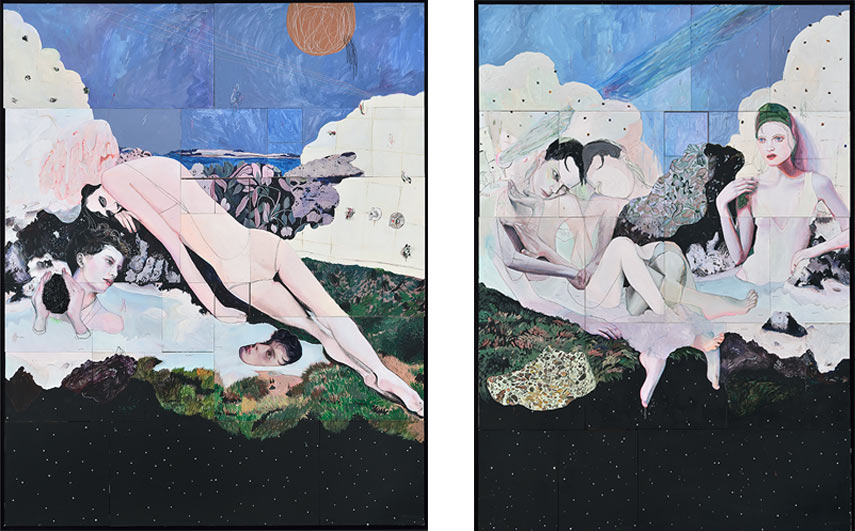 Alexandra Levasseur Exhibition at Galerie C.O.A
The new solo exhibition Puzzle for Alexandra Levasseur continues her artistic practice that places importance on change, nature, human beings, and on the search for the knowledge on how all the different elements relate with one another. The exhibition at Galerie C.O.A in Montreal, is on view from April 21st until  June 4th, 2016, and during this period, the public will witness the poetic reflections of the artist and her attempts to illustrate the refinement of some scientific theories that suggest the birth of life.
All images courtesy of the artist and Galerie C.O.A. Featured images in slider: Alexandra Levasseur – Interférences, mixed media on paper mounted on wood panel, detail: Alexandra Levasseur – Le Passage, mixed media on paper mounted on wood panel, detail; Alexandra Levasseur - Arrêter le Temps, mixed media on paper mounted on wood panel, detail.