Each first week of December, Miami becomes the favorite meeting place for the international art world crowd. Once again, Miami Art Week will take over the city, gathering world's top gallerists, artists, curators, collectors and enthusiasts.
As part of this dense and vibrant cultural event, PULSE Art Fair Miami Beach returns to its oceanfront home at India Beach Park for another strong edition. An established part of the annual art calendar, PULSE Art Fair Miami Beach provides its international community of emerging and established galleries with a dynamic platform for connecting with a global audience.
The 13th edition of the fair will mark the debut of Director Katelijne De Backer, an art professional with over 20 years of experience in the art world. Dedicated to creating a strong legacy of programming, the Fair will once again offer its diverse audience of art collectors, curators and enthusiasts a rich program presented in an engaging environment.
It will bring together 72 galleries from all over the world divided into four curated sections – Galleries, Solo, Conversations, and Points. PULSE Art Miami Beach will provide a perfect setting for discovering and collecting the most compelling contemporary art being produced today.
To find out more about this year's edition of the fair, we had a chat with the Marketing Director Alexandra Slattery. In an exclusive Widewalls interview, Alexandra talks about this year's exhibitors, program, the audience, Miami art scene, and much more.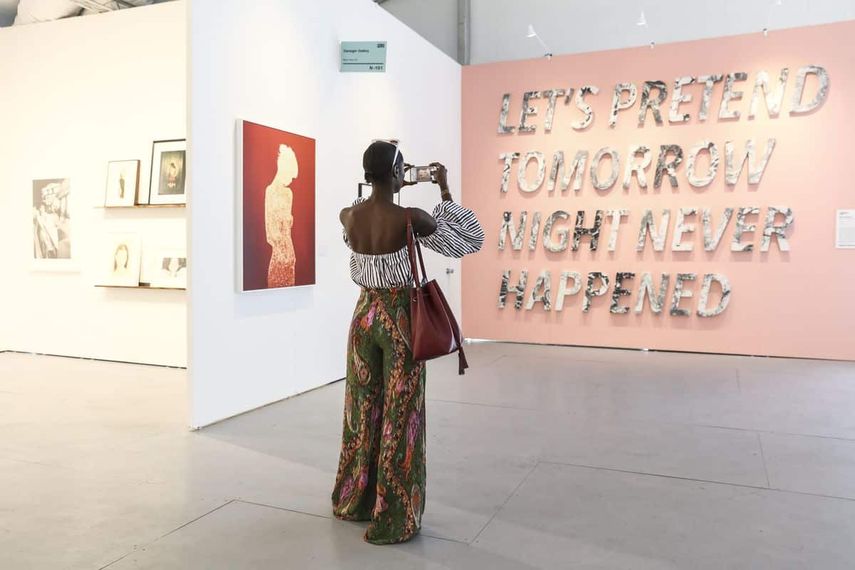 PULSE Miami Beach 2017
Widewalls: The 13th edition of PULSE Miami Beach marks the debut of Katelijne De Backer
as the director of the fair. Could you tell us more about this collaboration and how it came to be?

Alexandra Slattery: Katelijne has over 20 years of experience in the art world, she worked at the Armory Show in its early days and helped turn it into the powerhouse it is today.
So when PULSE's former Director, Helen Toomer, left to start a residency in upstate New York, Katelijne was an obvious choice to take over the helm of the fair.
Widewalls: This year, the fair will bring together 70 international galleries. Could you tell us something about this year's exhibitors? Are there some highlights you would like to mention?

AS: Anyone who has visited PULSE before will definitely recognize a number of our long-time exhibitors who consistently present beautifully curated booths! This year we are also joined by new exhibitors from places like Peru and The Netherlands, and I am really looking forward to seeing their presentations. But I am always most excited to see the galleries who are part of the SOLO section of PULSE.
These galleries each present the work of one artist in their booth who is then nominated for the PULSE PRIZE, a cash grant that is given directly to a jury-selected artist. This year I have my eye on Tony Gum, an artist who has exhibited at PULSE with Christopher Moller Gallery before but has never been up for the PRIZE. I am also really excited to see the work of Lissa Rivera, another PRIZE nominee shown by ClampArt.
Widewalls: Besides the traditional booth structure, the fair will also present a cross-section of contemporary art in the form of site-specific programming. Could you tell us something about different platforms that will be presented at the fair? 

AS: I am so happy you asked about this! There are two platforms at PULSE that we use to promote mediums that, for different reasons, are not always well represented within the booths. PLAY is our platform for video and new media and was curated again this year by Jasmine Wahi and Rebecca Pauline Jampol, co-founders of Project for Empty Space.
The videos that were selected all deal with the idea of power and how it can be interpreted, a topic that was relevant when chosen over the summer but is even more so now. PROJECTS is our platform for site-specific, large-scale installations, sculptures and performances.
The PROJECTS this year also feature quite a political slant, which was unintentional but really speaks to our current climate. They deal with everything from gun violence to a contemporary concept of fertility, allowing visitors to see how artists are interpreting what is happening in the world right now.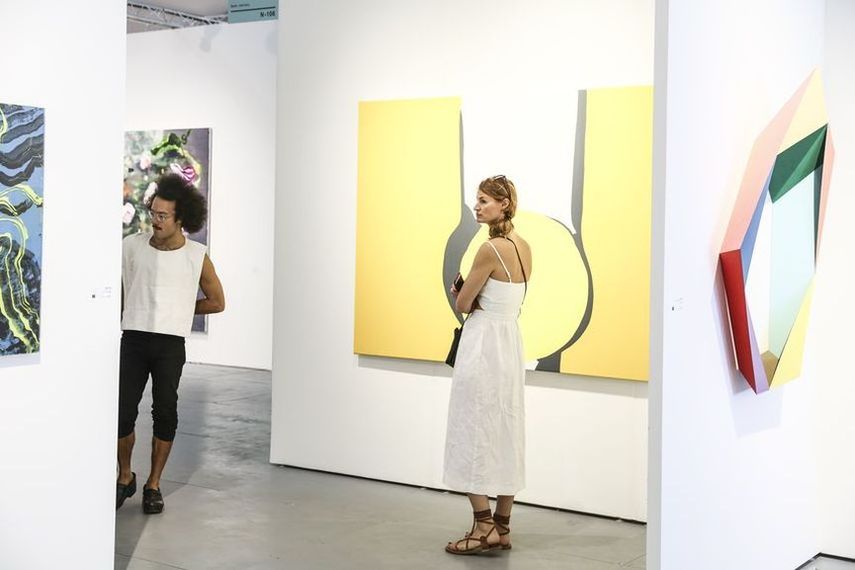 PULSE and the Miami Art Scene
Widewalls: Who are the visitors of PULSE Miami Beach? How would you describe them?
AS: I think PULSE is special because we have a really diverse group of visitors. On any given day you might walk through the fair and find seasoned collectors or curators looking at the same works as someone who just walked in off the beach and has never been to an art fair.
But my favorite group to see at PULSE is the younger or aspiring collector, those who might be looking to find their first piece. I hear from visitors all the time that they love PULSE because our exhibitors are so warm and take the time to speak about their artists and their program.
It's a great place to learn and to discover what speaks to you.
Widewalls: Could you tell us something about the art scene in Miami? How do you think PULSE contributes to its development?
AS: The presence of Miami Art Week has been extraordinarily influential to the growth and sustainability of the Miami art scene and has been a gateway for the public to become acquainted with art.
The art world, in general, can be quite intimidating to someone who is not familiar with it and art fairs offer an easy entry point. PULSE was one of the first fairs to call Miami home and thus has been engaging the public and attracting an international art community to Miami for years, particularly when the art scene was still in its early stages.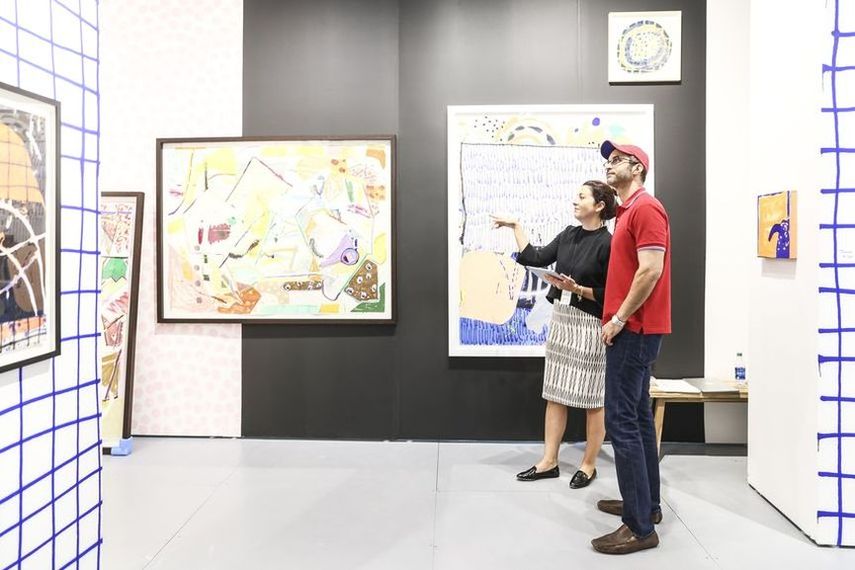 PULSE360
Widewalls: PULSE also produces experiences for audiences outside of the fair environment as part of PULSE360. Could you tell us something about this initiative? Are there some upcoming events the audience should not miss?

AS: PULSE360 was born of our desire to connect with our visitors year-round. The fair offers such an incredible opportunity for our visitors to become acquainted with our exhibitors and to learn about their artists, but it only takes place for 4 days out of the year.
We wanted to encourage and facilitate more intimate and connective experiences throughout the year and provide the opportunity for people to get back into the galleries, into artists studios and into museums, and engage with each other.
After one of our first events, I had someone who attended email me after and say "I left feeling so inspired and reinvigorated, that was a very much-needed breath of fresh air and break from the standard art fair convention center mode." That to me perfectly sums up what we are trying to do with PULSE360!
Widewalls: How do you see the concept of the fair evolve in the future?
AS: In the last couple of years, we have really seen the rise of the art fair as a cultural event, not just a marketplace for dealers and collectors. We have social media to thank for a large part of that but I think people are also becoming more interested in art – it's cool to know about a hot new artist and to be able to talk about works you've seen.
I don't think that momentum is going to slow down anytime soon so we'll continue to see lots of coverage about and high attendance at art fairs. But I also think, in order to develop the next generation of collectors and to create loyalty to specific fairs and their exhibitors, the satellite fairs, in particular, are going to have to engage on a more intimidate level with their visitors.
PULSE360 helps us accomplish that and I think we'll start to see more fairs follow suit.
Featured image: Alexandra Slattery, all images courtesy Pulse Art Fair.