The French multidisciplinary artist Alexandre Bavard is an explorer of fragments, waste materials and clashing sets of patterns. In his work, he integrates diverse visual media like performance, sculpture, graffiti, photography, assemblage, textiles and found objects deemed Neo-Archaeologies.
Global creative house Justkids hosted the artist as the winter guest of their arts residency program in San Juan, Puerto Rico. The result of the residency is the new body of work spanning his Neo-archeological sculptures, print works, costumes and textiles as well as his performative practice. These new pieces were presented during the second edition of MECA International Art Fair which took place this November at the Ancient Spanish Navy Arsenals Museum in Old San Juan.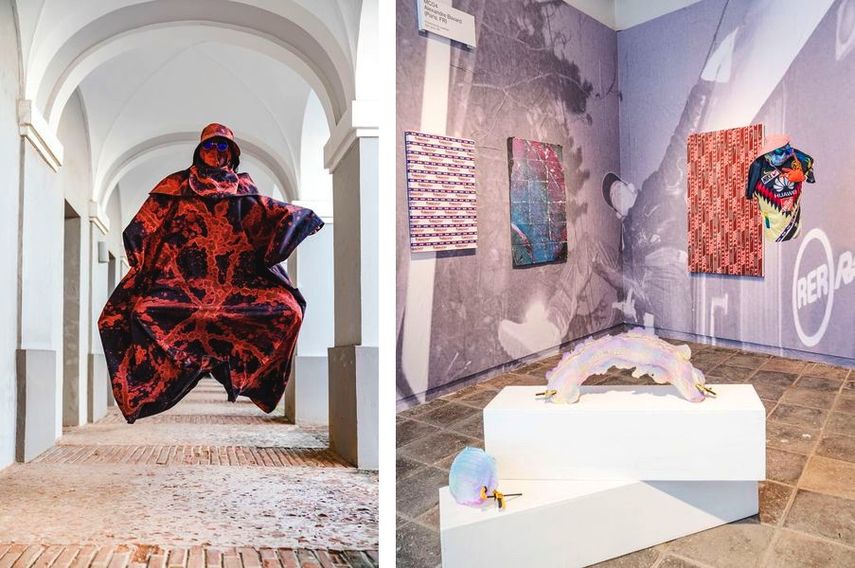 The New Body of Work
While spending time on the island, Alexandre Bavard found inspiration in its urban, social and psychological context. The artist described San Juan as "a city of explorers and crossing, which is, a year after Hurricane Maria, re-imagining itself." 
It's building new concepts, looking for new materials to develop in all ways. It's also an exchange and collaboration with the dance company La Trinchera towards the adaptation of my performance. It's the magic of the Arts and the encounters it provokes beyond all frontiers.
The artist created new pieces as part of his Neo-Archeologic sculpture series, using found objects and reworking them in a futuristic style at the Justkids Studio. He also created large canvases and installation using counterfeit materials and fabrics. Referencing iconic brands such as Balenciaga or Champion with his distinct humor, he created pieces such as BalenciaQa and Champin.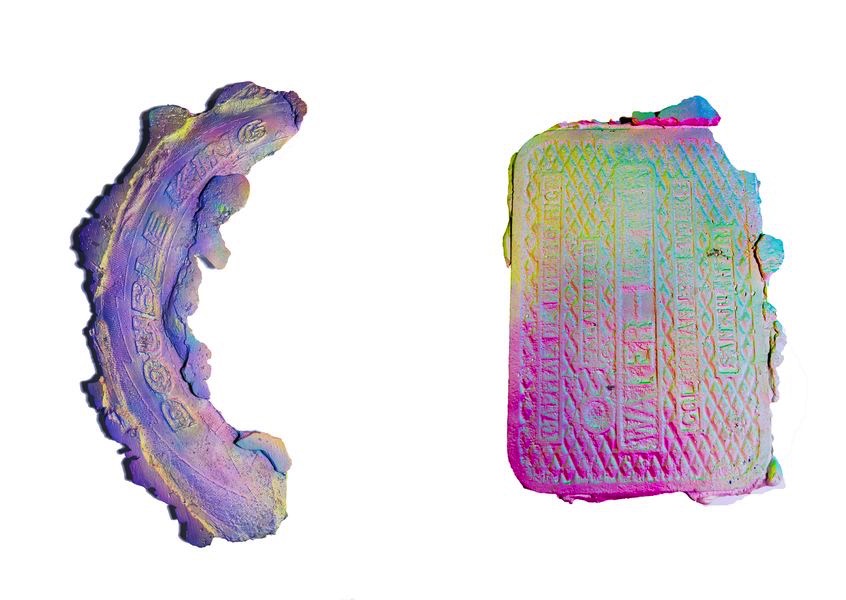 Bulky Performance
During the MECA Art Fair, the visitors could enjoy the artist's performance BULKY - GUANG DONG, presented by Justkids and in collaboration with the San Juan Dance collective La Trinchera. In the performance, the artist combined several mediums of expression to reinterpret the tag gestures, based on an interaction between street calligraphy, dance and sound creation.
The performance was choreographed by the artist and original music was composed by Hugo Doustet and Mosa 87, an alias of Bavard himself.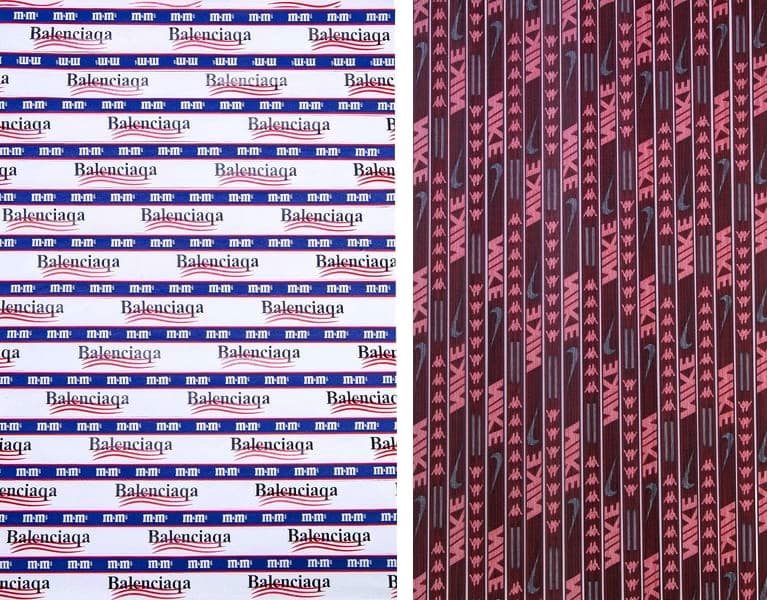 The Residency Program
The residency program of Justkids in San Juan is a platform dedicated to developing the studio work of multi-disciplinary artists whose practice is heavily influenced by the logics, disciplines and geopolitical contexts of the street, continuing to transform public art today.
Commenting on the project, director and curator of Justkids, Charlotte Dutoit explained that the agency has been wanting to work with Alexandre Bavard in San Juan for a long time.
Thanks to the connective nature of MECA International Art Fair a unique occasion has materialized to present his visual work, including his performance work, exploring established ideas of visibility and the validity of institutional spaces, themes very close to Justkids work within the fields of contemporary and public art.
Featured image: Alexandre Bavard - Bulky Performance; NeoArcheologia DoubleKing at Justkids Booth; eo Archeologia Agua at Justkids Booth; Neo Archeologia Agua. All images courtesy of Justkids.