One of the most interesting contemporary French artists working today, Alexandre Bavard is known for bridging the process of his outdoor work into compelling art pieces and performative body of work. He is continuously experimenting with techniques, materials and process, and his work integrates diverse visual media like performance, sculpture, graffiti, photography, assemblage, textiles and found objects deemed Neo-Archaeologia.
Following up his San Juan Puerto Rico residency in 2018, Bavard teamed up with Justkids to reveal the first edition of his signature Neo-Archeologic sculptures series under the title NEO-K19. The series features 12 unique plaster sculptures, hand-painted acrylic in personalized boxes.
The Practice of Alexandre Bavard
An explorer of fragments, waste materials and clashing sets of patterns, Alexandre Bavard is interested in creating a visual language, a form of expression that transcends any specific medium, and is fueled by repetition, movement, and flow. He is also part of the PAL Crew under the acronym Mosa87 along with artists such as Tomek, the late Saeio, Horfé, Keno, Esso.
His series Neo-Archelogia explores the theme of a post-urban world, where meaningful artifacts of a past utopia have lost their significance and are repurposed. The title refers to his process of casting the shape or transferring the impression of these found artifacts into his work. By reworking these found objects into vestiges of futuristic artifacts, he forges connections between space, objects, memory, and meaning.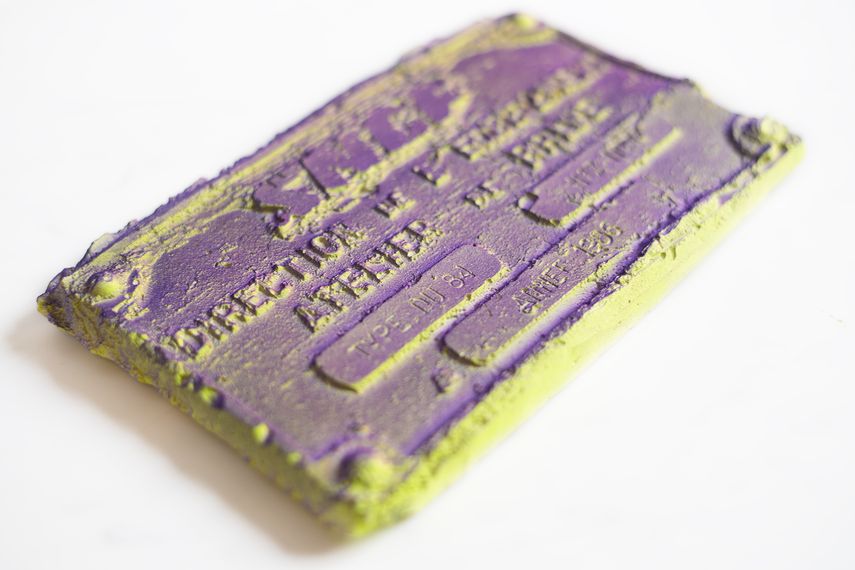 New Neo-Archelogia Pieces
The artist now presents new sculptures cast on original SNCF plates of the famed National Society of French Railways. Creating a narrative about a fictional archeological discovery, Bavard examines the connection between our memories and beliefs. The urban, social and phycological context of cities continues to be his main source of inspiration.
The artist sums up his thoughts on the latest series:
Winter 2019. Paris suburbs. Near a railroad, in a wasteland, diggers revealing curious artifacts. Vestiges of a future or forgotten past. Found after a search, in a vacant lot. The perceptible radioactivity.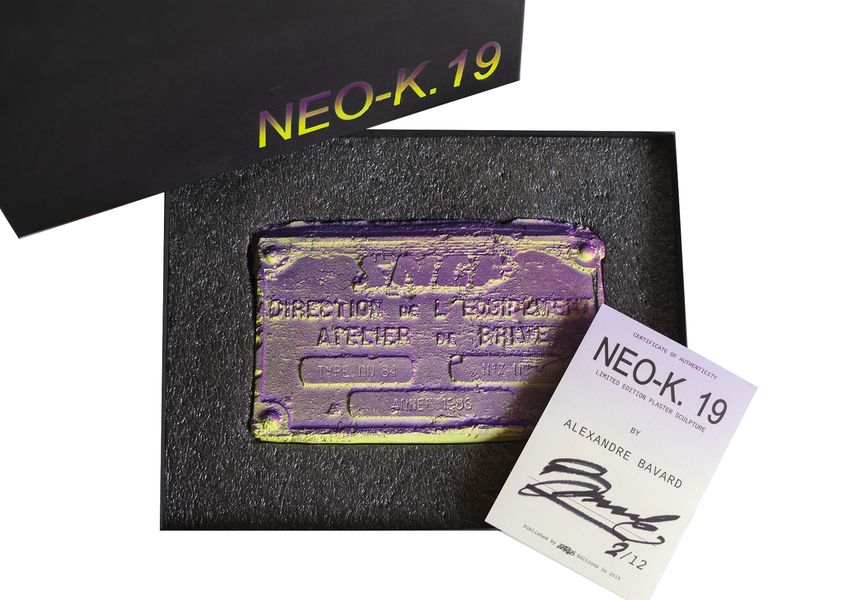 Alexander Bavard for Justkids
A multi-disciplinary art platform working globally, Justkids offers wide-ranging visual experiences, favoring art practices that exist in or take inspiration from the streets, speaking to broad audiences within contemporary visual culture.
NEO-K 19 sculptures are made of plaster and acrylic paint, measuring 5 x 9 x 2/3 inch and accompanied by custom and screen printed box. Edition of 12, each one is hand finished and unique.
Featured image: Alexandre Bavard - NEO-K.19, 2019. All images courtesy of Justkids.