There are number of artists that seized our attention over the course of 2014. Many of them gave us the reason to expect even more of them in the year to come and first in the line to do so is Alexis Diaz. Following the good practice of Pejac and his Heavy Sea, Low Bros Own the Night and the Consumer by SHOK – 1, Alexis is bringing us his new print release. It is a limited edition silks screen-print which is based on his latest mural he did on the East London wall. Just in time for the New Year's Eve, this Puerto Rican street artist is making his The Cage print available for purchase.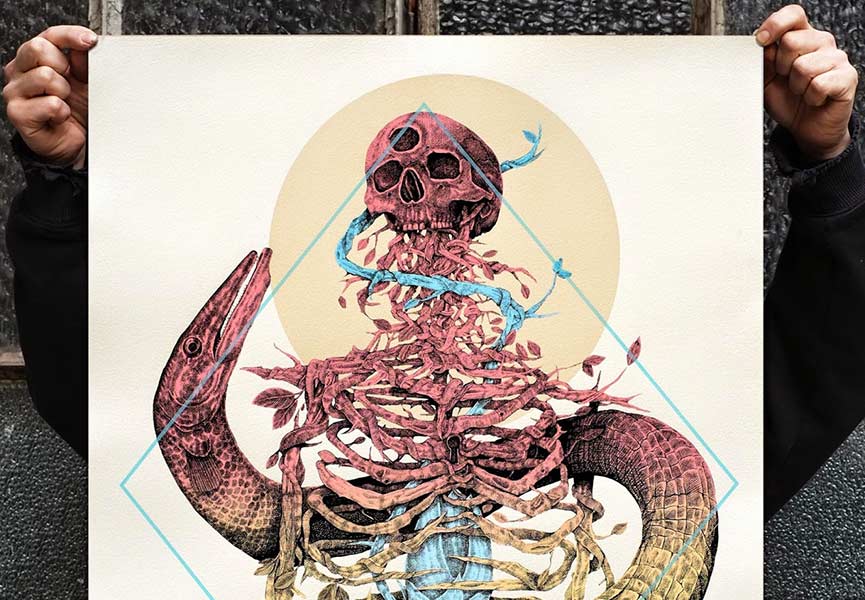 The Cage
As said, this piece is the jaw-dropping replica of the original artwork made on the walls of East London. We didn't expect anything less from this street artist as he once again did a remarkable job portraying the The Cage. This piece flourishes with details serving as a proof to his meticulous approach when portraying an artwork. There are so many specific aspects which are contained in the artwork, the piece itself is a thorough example of the skillset this artist possesses. The Cage silk screen print comes in an edition of 75, it measures 60 x 80cm, and it is a five layer hand-pulled screen-print on super fancy cream paper and it comes signed and numbered by the Puerto Rican superstar. This piece of art will be available exclusively at the StreetArtNews' store on Tuesday, December 30th at 5PM UK for a very affordable amount of money, only £175 each.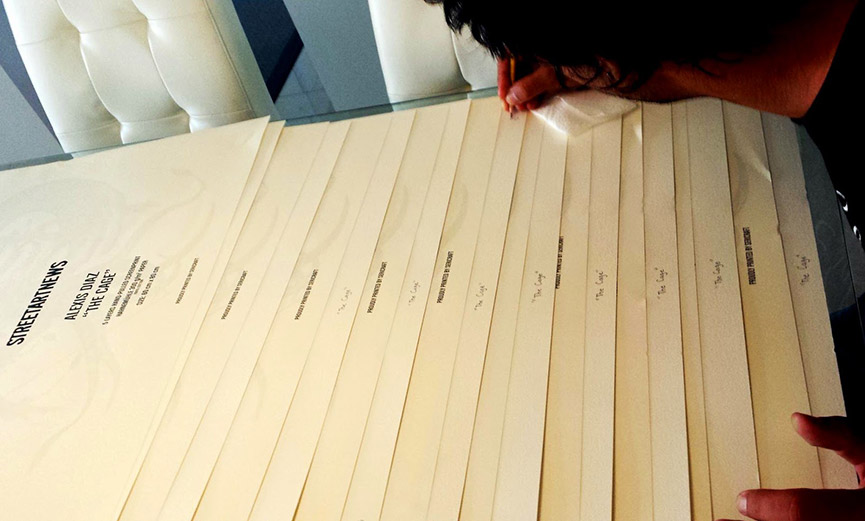 Alexis Diaz in 2014
Being known as the artist who does giant murals that cover the walls of cities spanning from US to the Bratislava, Slovakia, this Puerto Rican author also made some astonishing pieces that marked the 2014 and we will mention just some of the recent one that drew most of the attention. In October Alexis Diaz painted an impressive mural in Graz as he was invited from the Inporeable Gallery. At the beginning of December he held a solo exhibition at Wynwood, as a part of Art Basel Miami where he displayed his most recent body of work. Also for the purpose of this famous festival, the Puerto Rican collaborated with very similar but also a unique artist Faith47 as they painted a big mural, depicting a nude woman floating while a snake is wrapped up around her body, which showed all the creativity, technique and talent these two have. For his prolific work, we chose him to be artist of the week, several days ago. If Alexis continues this fruitful practice, we have something to look forward to in the 2015.
Be a part of the My Widewalls in 2015, as we bring you all the new and trendy coming from the world of urban art!