Alëxone Dizac first discovered graffiti in his home town, Paris, end of the 80s and this is when he became interested in art in general. He started learning and mastering the craft by doing graffiti on subway trains and in waste grounds and by the year 1995, he already developed calligraphic work under the name "Oedipe". In 2000, he chooses his artistic name Alëxone and starts introducing characters into his work. Dizac's work consists of using various mediums and supports – from aerosol, paper, acrylic paint to resin. Through it, Alëxone began creating his own, unique universe where main inhabitants are animals and witty characters, sometimes ridiculous but always an image of today's society. However, even though he's come a long way from graffiti community, he never forgets it and these elements are still often seen in his work.
Vision of the Spleen
Since his first solo exhibition in 2005, Dizac has had numerous shows all over the world. His latest one, a solo exhibition entitled "Banana Spleen" opens this October at the David Bloch Gallery in Marrakech, Morocco featuring works on fabrics, papers and also on a new volume. Between cosmopolitan fabrics, expertise of Moroccan craftsmanship and the fantastic world of his characters, the artist will deliver his own vision of the Spleen. The artist's unlimited imagination allows the spectator to get lost in the visual maze of the different dimensions of these animal adventures, both dark and colored, violent and childish.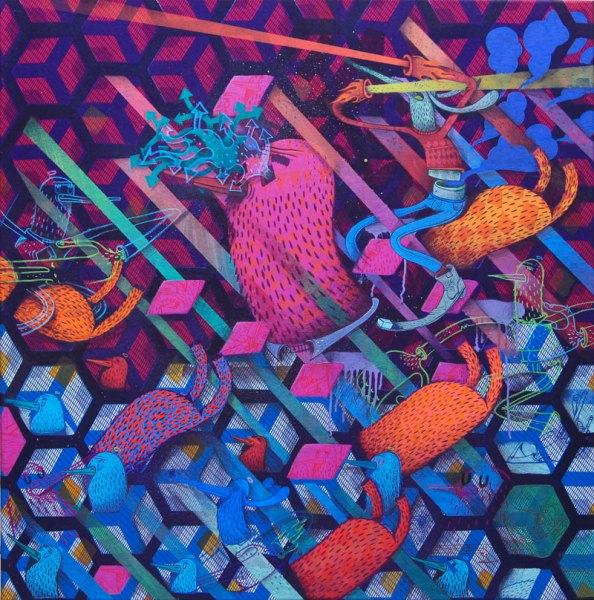 Playing with Different Media
His heroes are penguins with halos, flame-spitting horses or cross-eyed dogs that create his absurd and chaotic animal world. His world is a beautiful combination of graffiti, pop culture, comic book, byzantine and illustration art permeated with a touch of humour and irony that help the public understand a piece of artwork and it is also a way for the artist to tease the viewer and this way create a closer relationship. The underlying meaning allows Alëxone to maintain a lightness yet with a serious intention.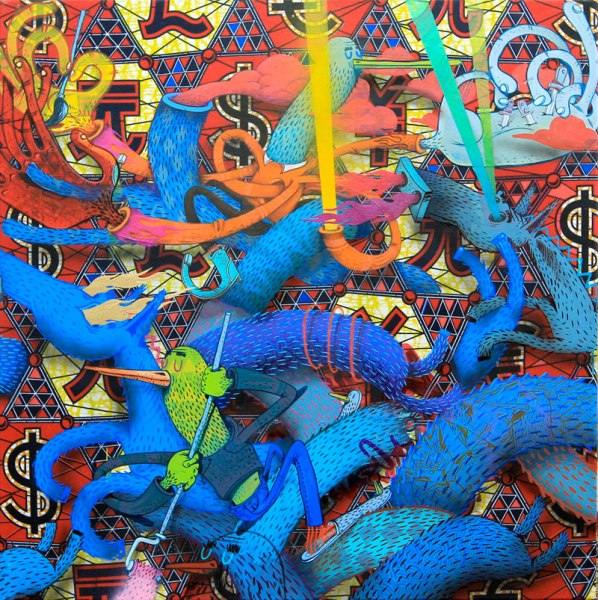 Opening October 31
Apart from working with superposition, transparence and volumes, Alëxone in the "Banana Spleen" plays with different mediums. He creates equally well on high class textiles or on photos. His mix of styles can be found in his very original art partnerships. They are an integral part of his artistic work. His work is where one wouldn't expect it to be. This is why his artwork is always surprising and innovative.
Visit "Banana Spleen" at the David Bloch Gallery for the opening on October 31, 2014 from 7pm or until its closing date, November 22.