After years of their successful collaborations on the streets and within studios, we are now finally getting the opportunity to see their duo exhibition. Soest's art is just a four letter word gallery is ready welcome Alëxone Dizac and Sumo, two versatile artists whose approaches differ, but whose visions collide. The Parisian Alëxone Dizac and Sumo from Luxembourg, whose real name is Christian Pearson, have been friends and colleagues for a long time, so long that they consider themselves - brothers from different mothers - which happens to be the name of their first joint show ever. The analogies of their artistic work they have in common is crucial for their oeuvres, which perfectly combine Sumo's figurative, symbolic works with Alëxone Dizac's imaginary stories and intriguing characters.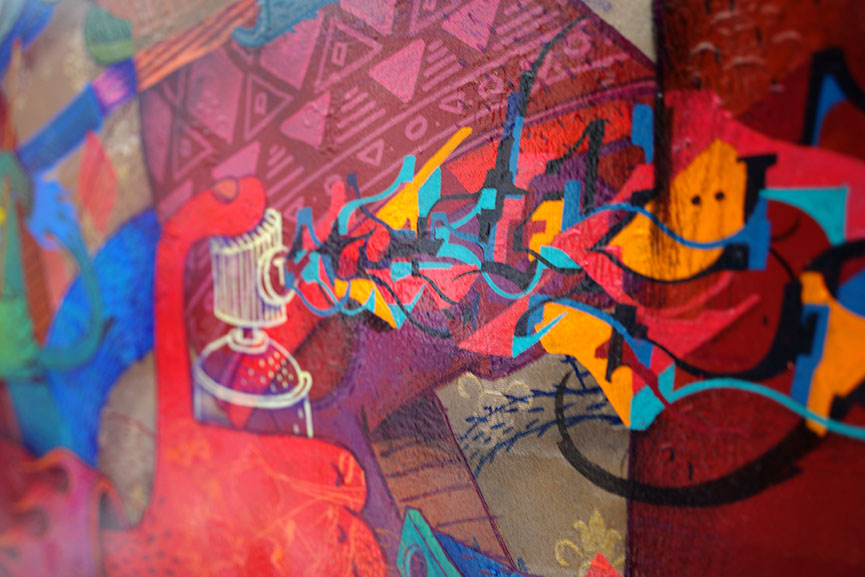 The Ironic Narratives of Alëxone Dizac
The artistic adventure of Alëxone Dizac began in the early 90s on the streets of Paris, when he began painting his "oediperies". These twisted, vivid figures combined iconic characters with colors and writings, drawing inspiration from graffiti, popular culture, comic book art, byzantine history and illustrations. The figures are often involved in humorous, ironic stories, for which the artist appropriates a comparable diversity in the choice of materials he paints on, from valuable fabrics and photographs to design t-shirts and even desserts. Alëxone is the creator of his own fairytales through fantastic stories and mystic characters such as fire-spitting horses, dogs and above all his manifold modified penguins appearing as recurrent cartoon protagonists in his imagery. His fantasy world is a dynamic one, oozing in vibrant colors and luring us in dreamy scenarios that are revealing and mysterious at the same time.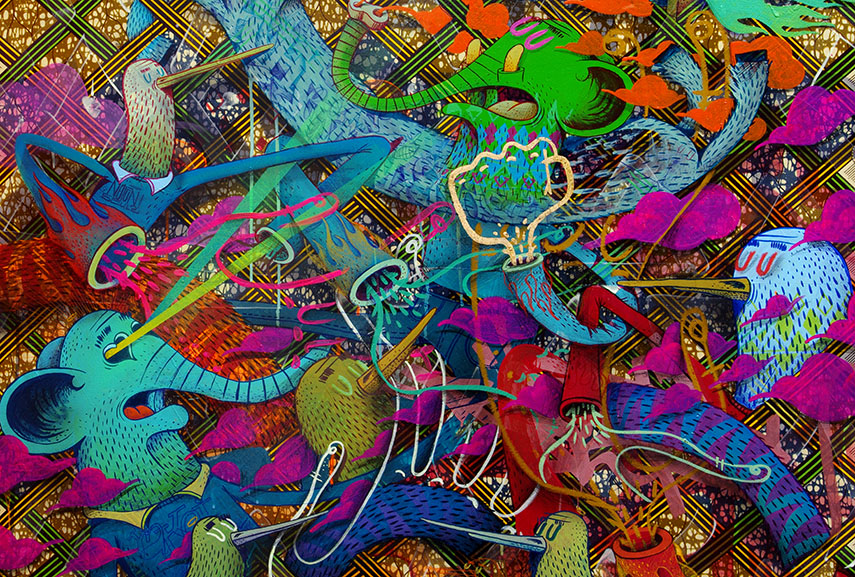 The Visual Diaries of Sumo
Unlike Alëxone, Sumo is not following any storylines. His pictures, however, can be perceived as huge pages from his diary, which derive from careful and dedicated creation of structure in his paintings. While his street pieces require speed, the studio works can be modified and changed, depending on the artist's mood or the passing moment he wants to catch. This way, Sumo becomes the chronicler of his time, getting involved into a long-term process that is far from the mere transfer of graffiti onto canvas. After all, his roots lie in this field, but also typography and graphic design, resulting in imagery that is multi-layered and containing recurring characters such as the "crazy baldheads". These, for instance, derived from an incidental potato drawing and have become complex protagonists of Sumo's art, combined with words, slogans and motives. The baldheads, the circles and the welters of clouds compose detailed compositions, alongside poignant writings.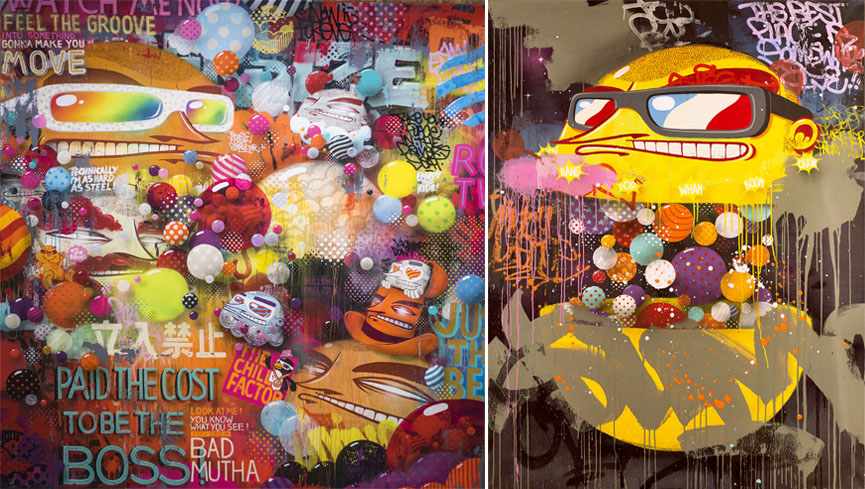 Brothers From Different Mothers at art is just a four letter word
Understanding the world around them "like soul buddies", Alëxone Dizac and Sumo will crown years of friendship and numerous collaborations with a joint show that will highlight their talents and pay homage to the captivating artistic vision they share. Brothers From Different Mothers, a showcase of works by these two individuals, will be on view at art is just a four letter word in Soest, Germany, from December 3rd 2016 through January 31st, 2017. The opening reception is scheduled for December 3rd at 7pm and both artists will be present.
All images courtesy art is just a four letter word gallery.