With its inaugural exhibition by JonOne the Zurich urban art gallery Kolly has already created a spectacular entrance to the scene. After JonOne followed TILT and subsequently Alëxone will be exhibiting at Kolly from May 8th. The exhibition entitled 'Cornelius Spaziergang' will run until the end of that month. Visitors can expect penguins with halos, flame-spitting horses and cross-eyed dogs that create Alëxone absurd and chaotic artistic world. These animals are real graphic elements that change form and meaning from one artwork to another.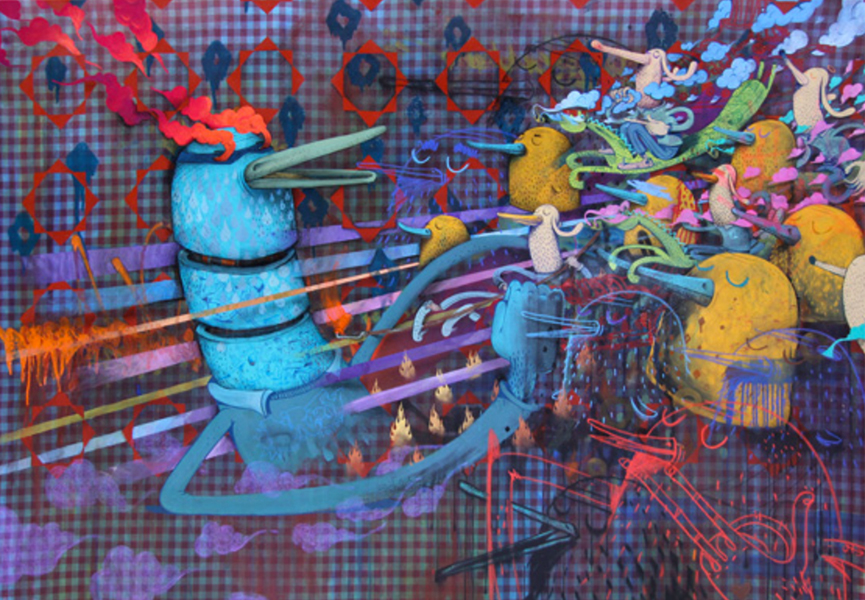 Oediperies
Paris, early 90′s, the streets of the capital are adorned with strange and special motifs : the Oediperies. Countless creatures from the unreal, morphed in the most imaginative ways keep running, rushing, mingling in a vivid frenzy enhanced by strong accents of the brightest orange, the bubbliest pink or the most mystical blue. Maybe they are birds, or their ancient cousins, but surely they all emerge from one place - the incredible imagination of the French street artist Alëxone. Over the years, Alëxone developed a highly recognizable style, uniting his draughtsmanship and sense for chromatic values into an original surreal vision. His expression sits well on the largest of walls and on the small studio pieces alike, bringing life, vigor and a good dose of crazy into our everyday.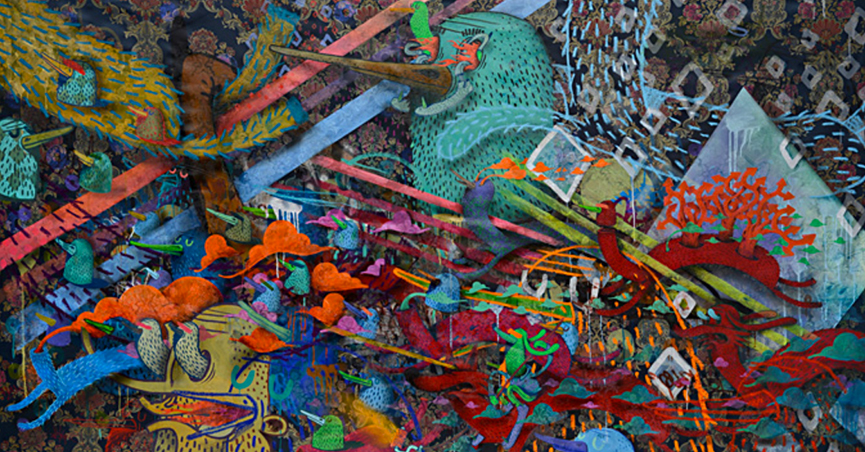 Surrealist Characters
Alëxone's inspiration is an eclectic marriage of many different sources. Besides obvious connections to graffiti and pop art, traces of comics, traditional illustration or even byzantine art can be found throughout his body of work. He renders the most serious subjects with a healthy humor, filtering it through his lively palette and giving it new, not so solemn, life in a splashy lineup of his goofy, happy, deliciously appealing characters. The viewer find him or herself drawn into the dramatic scene, participating in the rush, while reminded his own daily rushing, chasing something is not any less funny than Alëxone's cartoon on a wall. The greatest value of his art is in this immediate, almost endearing approach to the viewer, while conveying a meaningful message. We are momentarily connected, recognizing ourselves in that horse or that hen, wanting to get into the scene deeper, analyzing it more and more closely. Interpretations are many, as there are many characters in the world, but the core moral remains the same.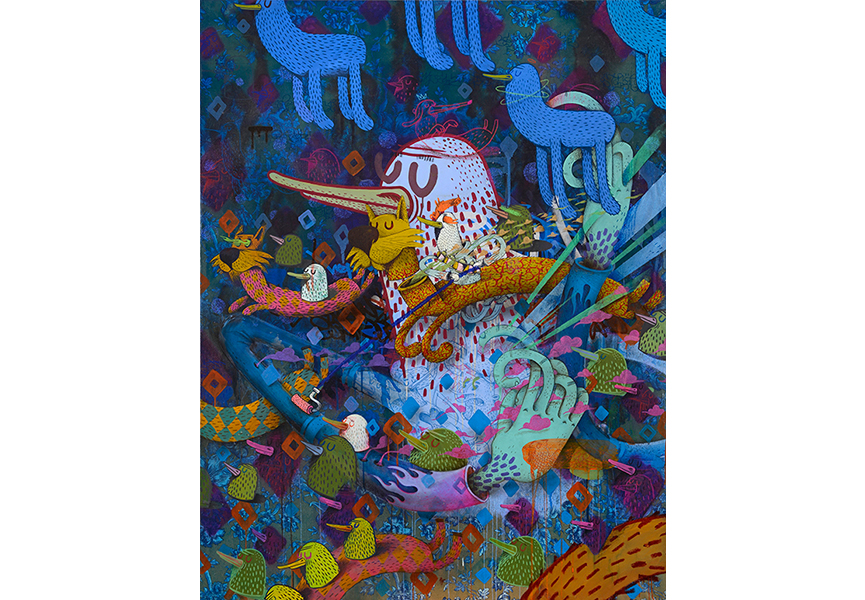 Multi Media
Alëxone's technique is quite impressive. He works excellently with juxtaposition of different planes, placing three dimensional figures over flat surface, creating depth and volume of the overall composition. He often makes interpretations on patterned textile fabrics or on photographs.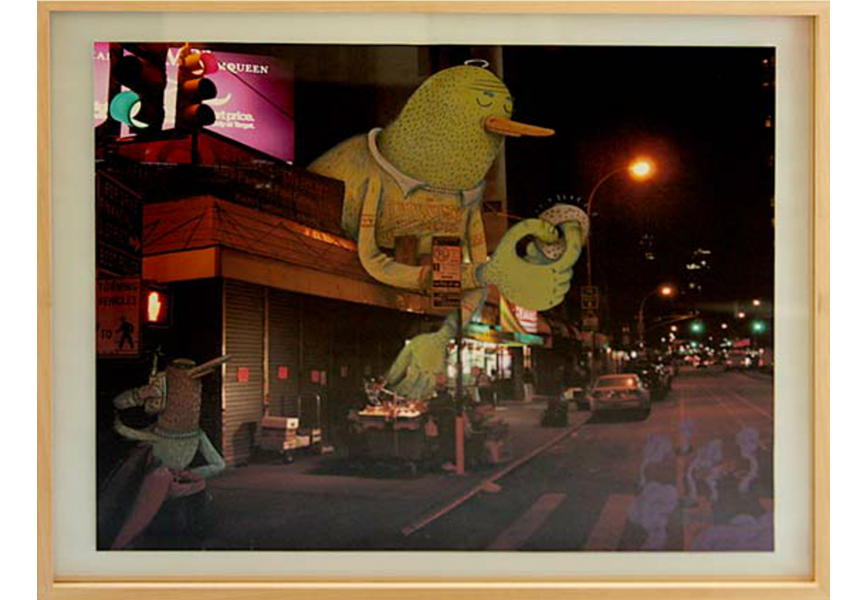 Collaborations
Although the most intriguing works of this French creative are found on his original pieces, his collaborations are not to be neglected. Alëxone creates designs for T-shirts, slippers or acts as a temp-chocolatier. Among a number of partnerships, notable are his work with Yomek, which conjured up two interesting bronze sculptures called Michto and Bruno.