A Croatian contemporary artist, Alfred Freddy Krupa is known for ink-on-paper works that reflect a minimalist, mathematical approach. Always exploring an amalgamation of various styles, as well as weaving different connections between scientific and artistic theories, he creates works that are spontaneous, raw and direct, achieving a personal and authentic artistic signature.
The latest body of work of this contemporary master of the New Ink Art Movement is currently on view at Vjekoslav Karas Gallery in Karlovac, Croatia. Titled Modern Ink Painting, the exhibition features 53 works created between 2012 and 2019, the period in which this multidisciplinary artist experienced international affirmation and recognition for his many years of pioneering work.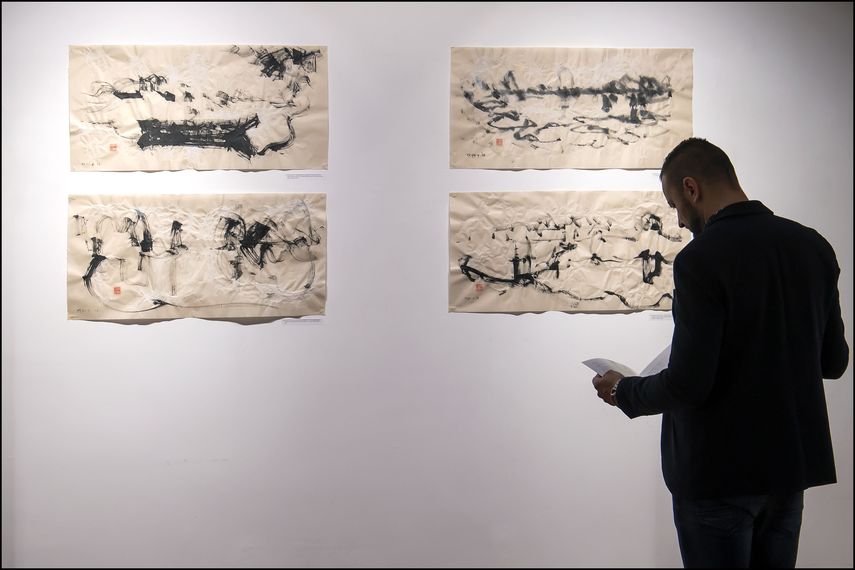 The Practice of Alfred Freddy Krupa
Through his pioneering work, Alfred Freddy Krupa brings the powerful Eastern culture of ink drawing to the West. Spending his early years learning from his grandfather painter Alfred Krupa Sr. and continuing his art studies at the Zagreb Academy of Fine Arts and later in Japan, Krupa formed a uniquely expressive visual language characterized by movement and intense use of color.
Krupa combines the Eastern school, where the flow of thoughts and emotions of the artist are represented by one continuous movement, and Western Expressionism into one unique style. The artist once explained:
I seek a higher expression and that is at the end of the process of multidimensional reduction to "essential forms": a sort of neo or re-minimalism.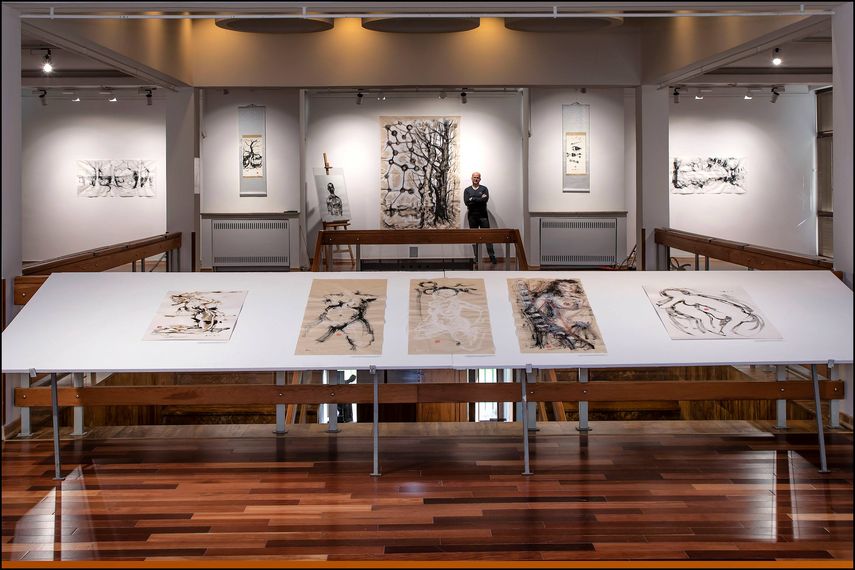 Modern Ink Painting
The Alfred Freddy Krupa works featured in the exhibition vary in sizes, from small intimate format of the traditional elongated rolls of thin mulberry/rice paper to large-scale works on canvas. The body of works covers a broad range of themes, from landscapes, cityscapes, and works inspired by Japanese wood-carvers to the current personal and social situation, nudes/figures and animals.
Despite the diversity in subjects, this body of work is linked through Krupa's genuine, unique interpretation. Through these works, the artist poses a range of questions that concern the New Ink Art Movement and contemporary art in general, at the level of deep and symbolic significance.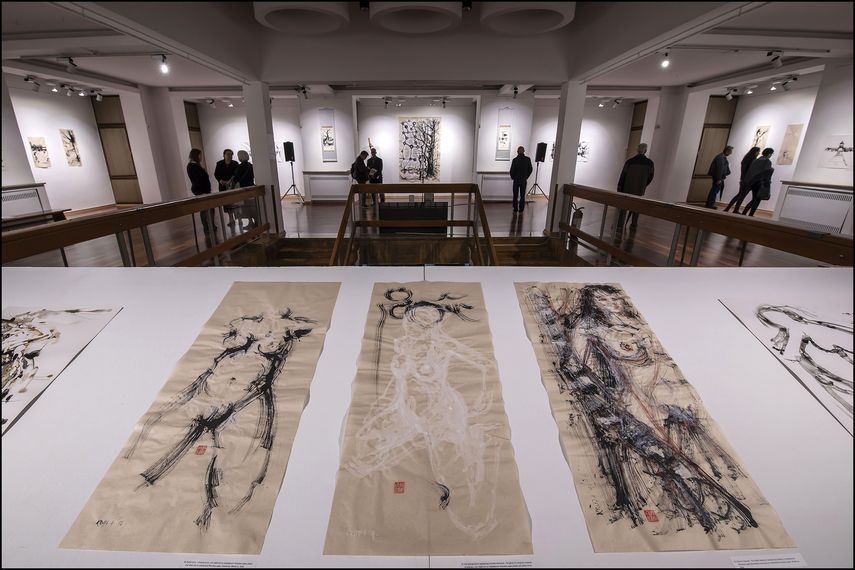 Alfred Freddy Krupa at Vjekoslav Karas Gallery
The exhibition opened in an overcrowded Vjekoslav Karas Gallery of the Karlovac City Museum in Karlovac, located in a building that is one of the most representative examples of Brutalism and Constructivism. The gallery itself was founded in 1945 as the first gallery institution in Croatia after World War II. The opening reception included a performance by Krupa titled Alfred Freddy Krupa - Becoming own art.
Modern Ink Painting will be on view at Vjekoslav Karas Gallery in Karlovac, Croatia until December 1, 2019.
Alfred Freddy Krupa is represented internationally by Art Acacia Gallery.
Featured image: Alfred Freddy Krupa during the performance "Alfred Freddy Krupa - Becoming own art". All images by Dinko Neskusil. All images courtesy the artist