For years, Berlin has been one of the global centers of urban and street art. Ever since the fall of Berlin wall, the entire city became a platform for artistic practice of local and international urban art community. Don't think for a second that graffiti are legal in the German capital, but they became one of the city's trademarks, attracting tourists to this vibrant urban environment and bringing money to the local budget. In Berlin, street art is like a big industry. In these circumstances, Alias, a Berlin-born street artist grew up and artistically matured. He is certainly among top street artists not only in Berlin, but in Germany as well. After being absent while travelling around the world, Alias is back home, where OPEN WALLS Gallery organizes a solo show of his works entitled Fragmented.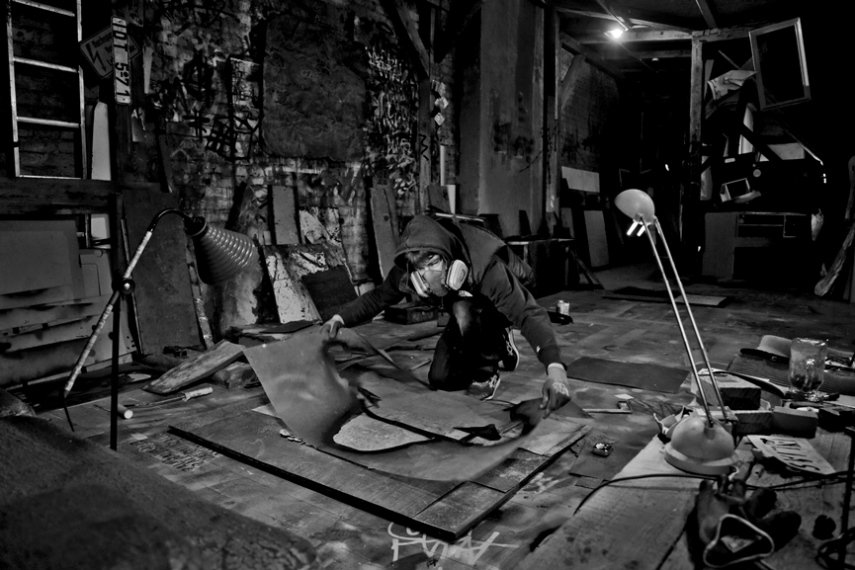 ALIAS and Berlin
Alias' art is difficult to understand without keeping in mind the Berlin local context. Since so many city streets are covered by his paint, it seems that he is perhaps the busiest of all the graffiti artists in Berlin. For a few years, he was the most active street artist in whole of Berlin. This was between 2004 and 2008, when the street art hype in the city was at its peak. After this period, he traveled a lot, and his works can be found in Hamburg, Paris, Amsterdam, Rome, Milano, Istanbul and famous urban art city of Bristol (best known as the hometown of Banksy and Sickboy). Although absent for some time, Alias has remained one of the top Berlin street artists, together with big names, such as XOOOOX or Mein Lieber Prost. From his introverted characters, it can be observed that Alias feels exhausted by a divided society – making him one of the most poignant street artists around. This can be seen in his artwork of children sitting on bombs, grown men trapped in the monotony of their jobs and faceless children disconnected from the world. Alias is working  with stencils exclusively. His works are appearing on the streets in form of paste ups, cut outs or directly sprayed against walls and are always containing his alias. The message in his works isn't clear all the time, but there is often a social and political critical impact (which is quite common in urban and street art). His emotional works provoke and stay in the mind of the observer for a long time.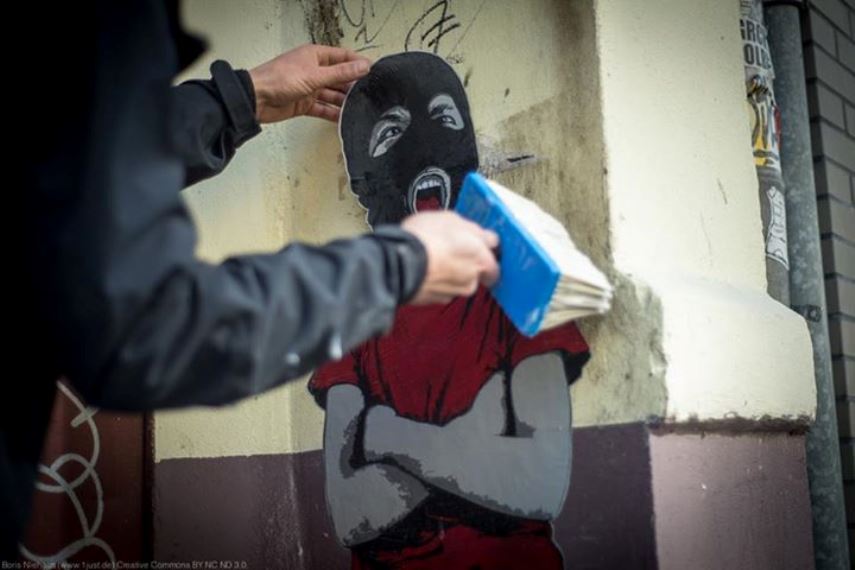 Fragments by ALIAS
Alias is back in Berlin, and OPEN WALLS Gallery organizes a show of his works. His work is still characterized by very intimate moment of vulnerability that marks every subject of his artistic universe and even in his studio works – for which he often uses different untransformed recycled materials – it's the roughness of the streets that speaks to the beholder, telling stories that reach beyond the artist and his creation.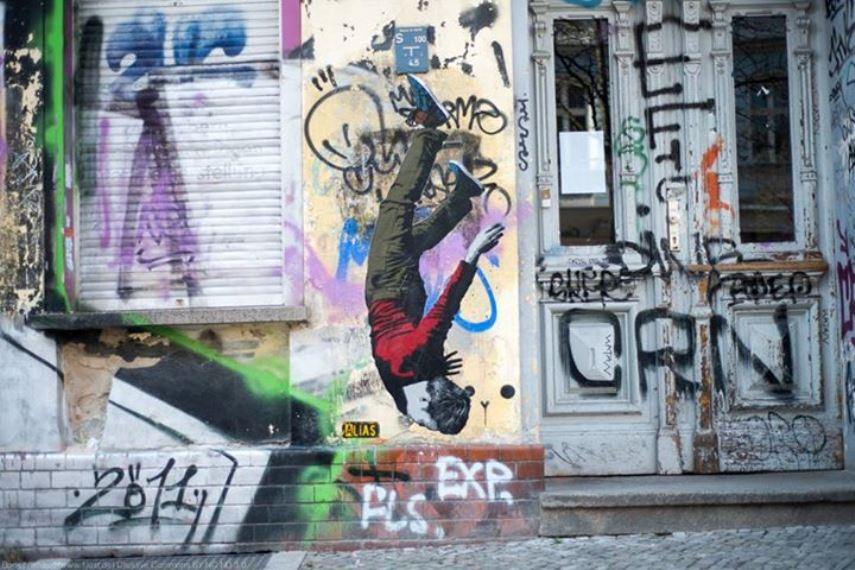 ALIAS at OPEN WALLS Gallery
OPEN WALLS is a unique and internationally renowned gallery space that focuses on Urban Fine Art. After five years of absence, Alias is back in Berlin, and the OPEN WALLS Gallery organizes a solo show of his works entitled Fragments. The vernissage and opening ceremony is scheduled for March 26th, while the exhibition will be open Wednesdays to Saturdays from 13:00 – 19:00 or by appointment, at OPEN WALLS Gallery in Berlin.
If you are interested in urban and street art, sign up for My Widewalls, and follow the news!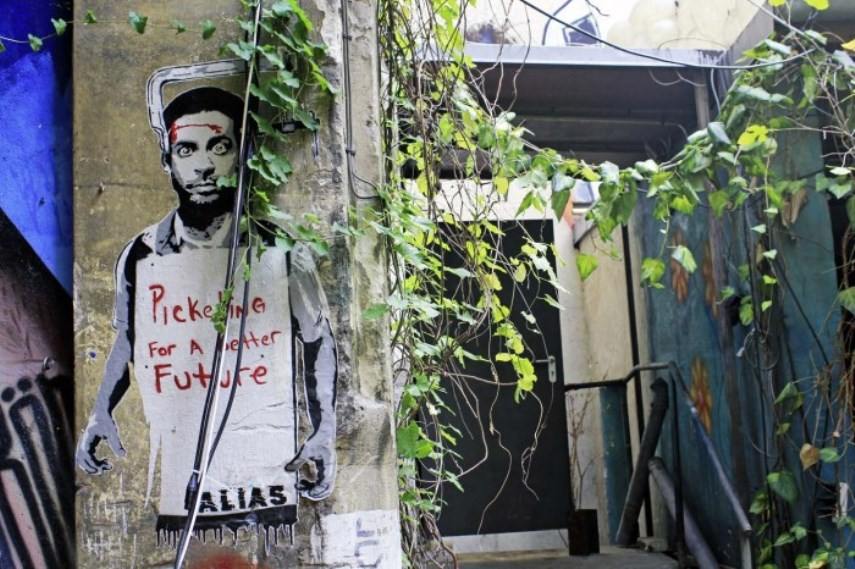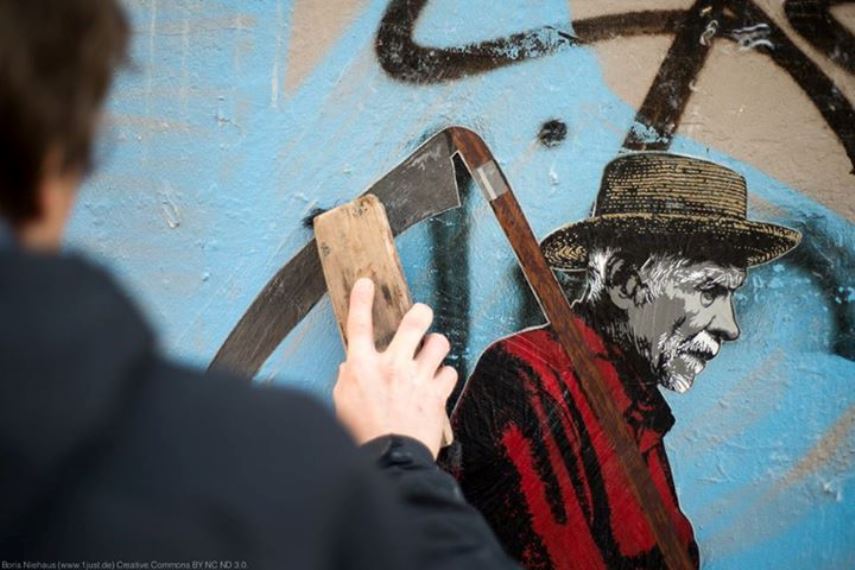 Featured Image: Alias (courtesy of streetartbln.com)
Images courtesy of OPEN WALLS Gallery, while courtesy of others are mentioned in captions.