In 1865, one of the most dazzling novels was written by the English author Lewis Carroll - Alice's Adventures in Wonderland better known as Alice in Wonderland. This fascinating piece of Literary nonsense follows a young girl named Alice, who falls into a rabbit hole and finds herself in a fantasy world populated by odd-looking creatures.
Although narrative in structure, Alice in Wonderland remarkably combines logic with frenzy and hysteria, in a swirl of hypnotic arrangements and dialogs. Shortly after it was published, the novel gained such popularity: it never went out of print; translated throughout the decades into more than ninety languages, it was also adapted for screen, stage, radio, visual art, theme parks, board games, and video games.
The sequel of the novel was published in 1871 under the title Through the Looking Glass, and in 1890 another version for young children, The Nursery "Alice".
To take a look at a rich artistic production inspired by the novel since it was published, The Victoria and Albert Museum decided to launch the exhibition Alice: Curiouser and Curiouser that will offer an immersive and mind-blowing voyage down the rabbit hole with astonishing examples coming from various artistic fields.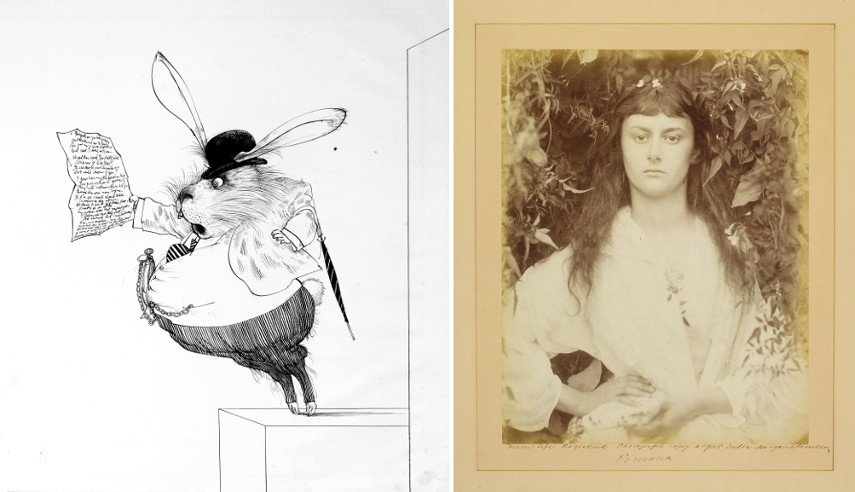 Honoring Alice's Adventures
The upcoming exhibition tends to thoroughly explore the immense impact that Alice in Wonderland made on culture with over three hundred objects including fashion, visual arts, photography, music, film, and performance art.
Imagined as an expensive playground designed by a renowned designer Tom Piper it will present Alice's Wonderland in a one of a kind experience filled with large-scale digital projections, theatrical sets, and immersive environments.
The Senior Curator of Theatre and Performance at the V&A, Kate Bailey, said:
With our world-class collections of art, design and performance and founding mission to inspire the next generation, the V&A is the perfect place for an exhibition on the cultural impact of Alice in Wonderland across artistic disciplines. Alice encourages us all to question, to learn, to explore, and to dream – discovering why she's an endless source of inspiration for some of the world's most creative minds has been an extraordinary adventure. We look forward to welcoming visitors of all ages into Alice's magical and mind-bending Wonderland, to imagine their own world on the other side of the Looking Glass.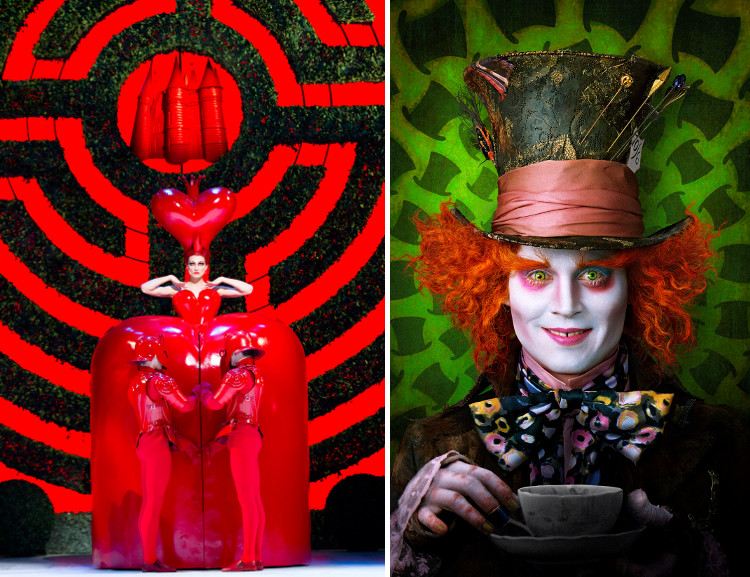 The Installment
A theatrical interpretation of the story opens the exhibition, while the first section, Creating Alice, explores the origins of Alice in Wonderland, the places, stories, politics and the people who inspired Lewis Carroll. The visitors will have a chance to understand better the collaboration between Lewis Carroll and John Tenniel, the illustrator who helped him creating the imagery world underneath the rabbit hole, and the art that inspired them such as the painting The Ugly Duchess by Quinten Massys (1513).
The following section called Filming Alice will bring the artifacts that represented Alice in motion pictures throughout the 20th and 21st centuries including film clips, animations, designs, costumes, and scripts. The central spotlight will take the recognizable concept art from Walt Disney's seminal film Alice in Wonderland made in 1951, as well as Tim Burton's adaptation from 2010.
Reimagining Alice will showcase the 1960s surrealism and psychedelia with reinventions of Wonderland through works by Max Ernst, Salvador Dalí, Peter Blake, Yayoi Kusama, and as well as the music of Jefferson Airplane and The Beatles. The whole experience will be focused on the Mad Hatter's tea party presented through psychedelic digital projections, and an invitation for a game of Flamingo croquet.
Staging Alice, on the other hand, will explore how this particular novel (as well as several other centered on Alice) inspired various musical, dance, and performance pieces with an array of set models, concept designs, costumes, and props. Among these artifacts, the visitors will be able to see costumes from National Theatre's wonder.land, as well as international productions in Switzerland and Russia and magnificent Bob Crowley's costume for the Queen of Hearts from the Royal Ballet's 2011 production.
The final section Being Alice will be focused on art, science and popular culture and will include exquisite photo series by Tim Walker (his 2018 Pirelli Calendar recreating Wonderland with an all-black cast including Naomi Campbell, RuPaul, and Adwoa Aboah will be on display) and Annie Leibovitz; fashion designs by Iris van Herpen and Viktor & Rolf; album-artwork for Little Simz; photographs of political protests, and other memorabilia featuring various interpretations of this remarkable story.
A recently commissioned 'through the looking glass-inspired' digital art installation will close the exhibition, enabling visitors to scroll down into the rabbit hole on arrival and leaving through the looking glass.
Alice at the V&A
It is quite clear that Alice: Curiouser and Curiouser will deliver a unique museum survey of this phenomenon, one that takes an important place in Western culture and has inspired numerous artists ever since it was published
Alice: Curiouser and Curiouser will be on display at The V&A's Sainsbury Gallery from 27 March to 31 December 2021.
In celebration of the exhibition, the V&A are partnering with HTC VIVE Arts to present their first ever virtual reality event: an immersive, innovative sneak preview led by curator Kate Bailey.
The live exhibition preview will take place through the VR platform Engage at 9am EST on 22 October and will be free and accessible to global audiences, with or without a VR headset. Participants will be able to "travel down the rabbit hole" as avatars and interact with one another in bespoke virtual environment inspired by the V&A building and the fantastical landscapes of Alice in Wonderland. Kate Bailey will lead audiences through the landmark exhibition as highlight objects materialize into the virtual space, which will transform and adapt with live visual effects such as giant rolling dice and a pool of tears.
The V&A and HTC Vive Arts will also launch 'Curious Alice' a new VR experience based on the aesthetic and illustrations of artist Kristjana Williams for audiences to enjoy at home.
Editors' Tip: Alice: Curiouser and Curiouser
This book explores the global impact of Alice in Wonderland across art, design and performance from the nineteenth century to today. It shows how Alice has been re-imagined and reinterpreted by each new generation: from the original illustrations by John Tenniel to artwork by Peter Blake and Salvador Dali, and from the 1951 Disney movie to Tim Burton's latest interpretation. This beautiful, playful publication also includes specially commissioned interactive illustrations by award-winning artist Kristjana S. Williams, as well as quotes from an array of cultural creators from Stephen Fry to Tim Walker, Ralph Steadman to Little Simz about the profound influence of Alice on their work.
Featured images: Dorothea Tanning - Eine Kleine Nachtmusik, 1943. © ADAGP, Paris and DACS, London 2019; Anna Gaskell - Override#26 (Override), 1997. Solomon R. Guggenheim Museum © courtesy of Galerie Gisela Capitain, Cologne. All images courtesy V&A.