As the world speculates about the mutation of COVID-19 in the UK in an alarming manner saturated with sensationalism, the hardship of the daily struggle to stop the horrific virus remains hidden behind the closed doors of hospitals across the globe. Standing at the forefront of these hard times are the medical workers themselves as the working conditions and stress level reflects on their daily lives.
To pay homage to these people who have sacrificed themselves entirely to the struggle, the Mexican-born New York-based painter Aliza Nisenbaum recognized for her vibrant portraits of numerous community groups, has produced a new body of work inspired by the dedication of Liverpool's key workers.
The set of two new large-scale group portraits and eleven individual portrait works on paper juxtaposed against some of the artist's earlier works are currently part of Nisenbaum's first solo exhibition in Europe taking place at Tate Liverpool.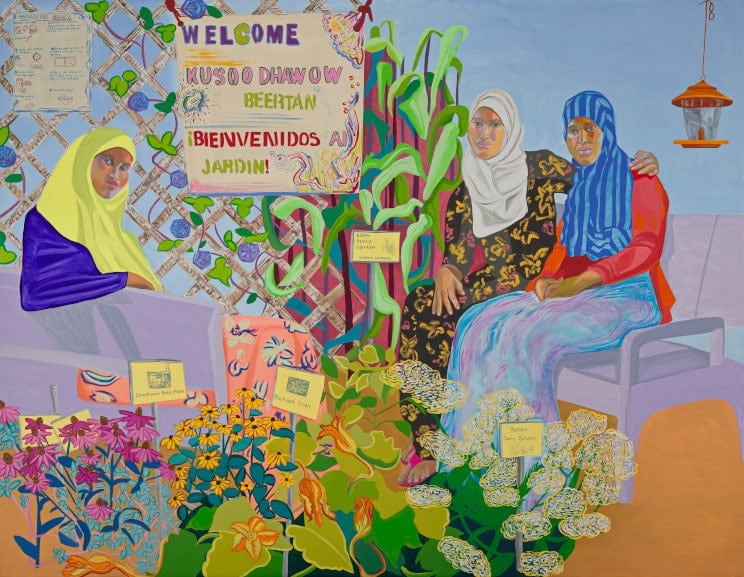 Depicting The Ones On The Frontline
To reflect the current global health crisis, Aliza Nisenbaum, who is generally inspired by the Mexican mural movement, created unique portraits of NHS staff from Merseyside hospitals.
The sitters posed in August this year; they include a student nurse returned to the front lines during the pandemic, along with many other medics in her family; a doctor who launched a special storytelling support group for his team to keep up their sprit and prevent the emotional trauma of his colleague; and a respiratory doctor returning home to a pregnant wife and later a new born baby after every shift.
Other sitters included a chaplain, a hospital porter, and a professor of Outbreak Medicine who is a member of SAGE.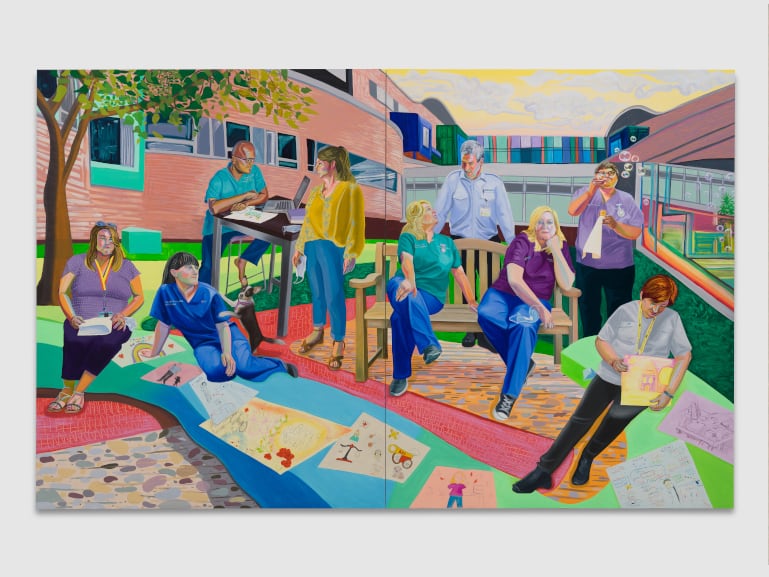 The Process
Nisenbaum adjusted to these struggling times as she worked with her sitters remotely, by using video technology and bonding with her participants. She presented them properly with objects from their immediate surroundings that gave them hope or meaningful purpose during the pandemic.
The new works are presented alongside paintings the artist produced throughout the last five years, including London Underground: Brixton Station and Victoria Line 2019 (Nisenbaum's largest composition to date), as well as three films that consider different aspects of Nisenbaum's practice.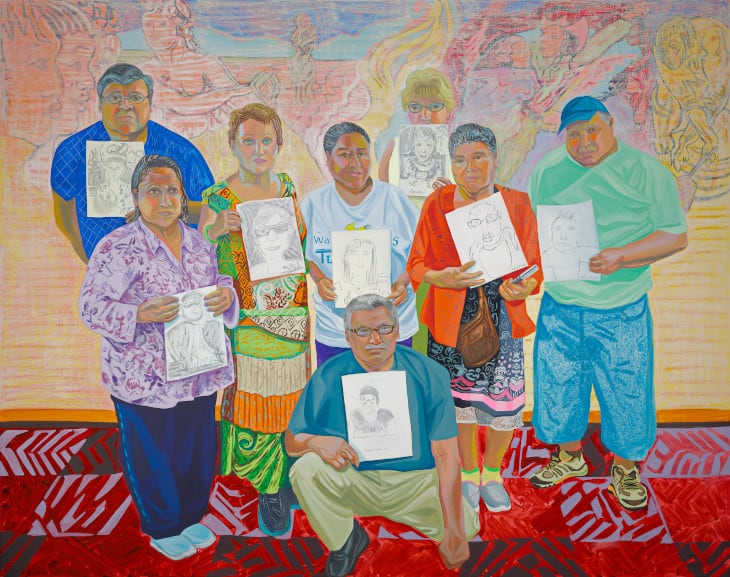 Aliza Nisenbaum at Tate Liverpool
For this occasion, the exhibition space also reached a group from Alder Hey Children's Hospital who have been using online reflective practices, focused on the mental health and well-being of medical teams working in traumatic situations so that the compositions emit all the seriousness of the exposure of the NHS workers.
To emphasize the artist's approach, Helen Legg, the director of Tate Liverpool, briefly stated:
Nisenbaum sees painting as a political practice and in choosing to paint people who have worked tirelessly in support of others, at a time of heightened physical risk and anxiety she not only celebrates them but also asks us to consider whether as a society we place sufficient value on the critical work that they do. Though Nisenbaum is best known for community portraits she always draws out each individual, spending hours talking to them throughout the process and incorporating aspects of their personality and interests within her paintings. In her paintings, every individual is unique and is valued. We hope that this exhibition speaks of the enormous gratitude people in this city feel towards all keyworkers.
Aliza Nisenbaum will be on display at Tate Liverpool until 27 June 2021.
Aliza Nisenbaum – Painting the NHS | Tate
Featured image: Aliza Nisenbaum - Morning Security Briefing at the Minneapolis Institute of Art, basement door open onto Guard Lounge Pet Wall, 2017. Oil on linen, 190cm x 240cm. Courtesy the artist and Minneapolis Institute of Art, Minneapolis, Anton Kern Gallery, New York/ © Aliza Nisenbaum. All images courtesy Tate Liverpool.