...is but a dream within a dream. It is, sometimes, quite simple to phrase the truth of creativity and art in only one sentence. It is a privilege of only a few, however, to be able to express profound meaning in this way. The poetry of artistic articulation of a group of artists which create on wood, canvas and found objects will be on show during the exhibition at Vertical Gallery in the period between August 2nd and August 30th 2014. Featuring artists Jim Houser, Matt Haber, Blažo Calovic, Stormie Mills, Laura Berger, Jeremy Tinder, Edward Robin Coronel and Zed1, the exhibition will provide an almost spiritual insight to the worlds which these individuals have created.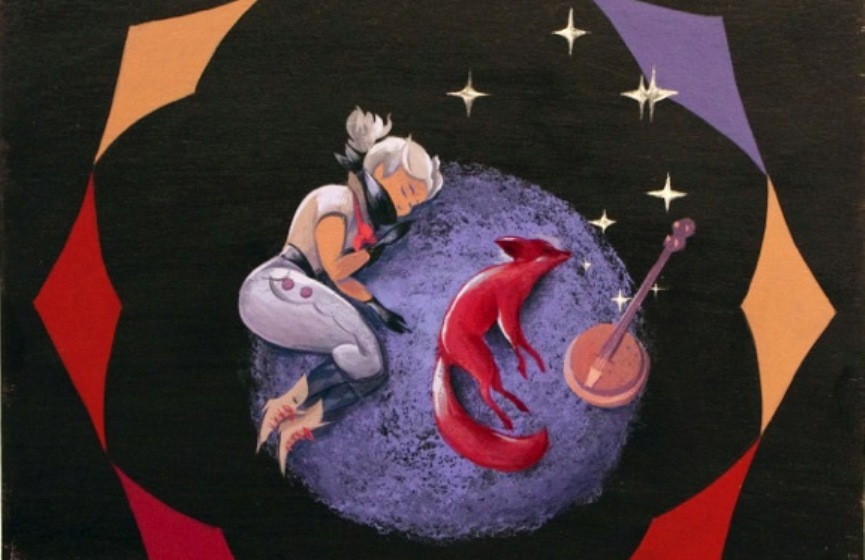 Jeremy Tinder / Laura Berger / Blažo Calovic / Edward Robin Coronel
Jeremy Tinder, Laura Berger, Edward Robin Coronel and Blažo Calovic are Chicago based artists. Tinder has found his calling at The School of the Art Institute of Chicago, where he teaches classes in comics and illustration. He is a cartoonist, painter and toy designer. His fellow illustrator, Laura Berger, has had exhibitions in Europe, North America and Australia, working as a freelance illustrator and muralist. On the other hand, the third artist who has found his home in Chicago is the Yugoslav born Blažo Calovic. He studied fine art in Chicago and is working in advertising. He has described his work as at times "gross, odd weird and even violent", but with the representation of optimistic proportions. With no formal training, Edward Robin Coronel started drawing cartoons to entertain his younger sister. From this childhood infatuation, he has managed to become an artist with solo exhibitions and a devoted volunteer at the Humane Society.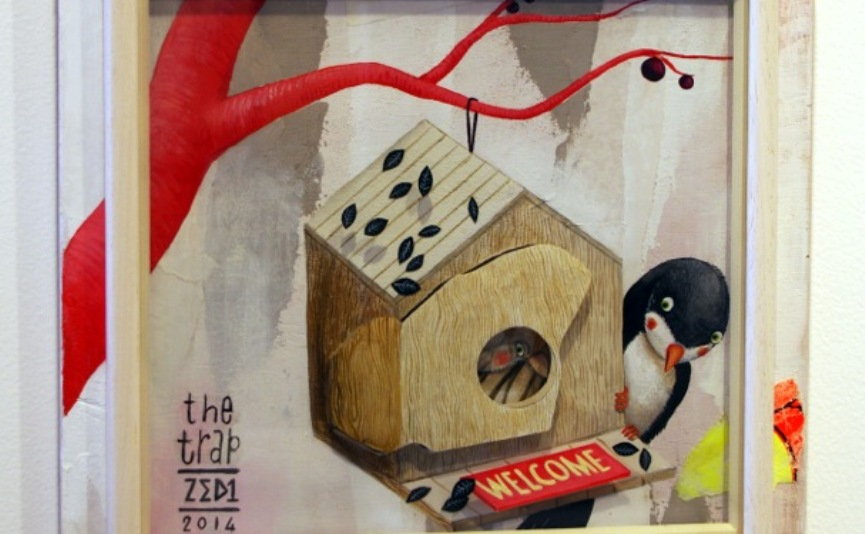 ZED1 / Jim Houser / Matt Haber / Stormie Mills
Marco Burresi, also known as ZED1, is a creator of large scale murals. He has painted all over the world and represents the true nature of street art. Jim Houser, of Philadelphia, is a self-taught artist and a member of Space1026, an artist collective. He has exhibited his work on four continents and has created inspiring installations, collages and painting. Some of his work is a part of the permanent collection of the Philadelphia Museum of Art. Matt Haber is a visual development artist, who has had solo exhibitions across United States and in Europe. His work is influenced by folk art, which he incorporates in the contemporary art form. Finally, with the work of Stromie Mills, art enthusiasts will be able to dwell upon the human condition by examining his characters, which found their way from the streets onto the canvas.