Kyle Hughes-Odgers is an illustrator, independent artist, street artist and installation artist. However, the Australian doesn't like this parochialism. Instead, he only counts the ability to tell his stories, in any medium. Hugh-Odgers rose to fame in his home country thanks to the amazing large scale murals and distinct artistic style depicting playful and meaningful narratives. Combining abstract and figurative elements in his work, the artist adds the passion he has for folklore, texture and authenticity. He portrays moments of life, death, experiences of friendship, loneliness and survival, and the constant struggle between good and evil all through the use of small tragicomic figures.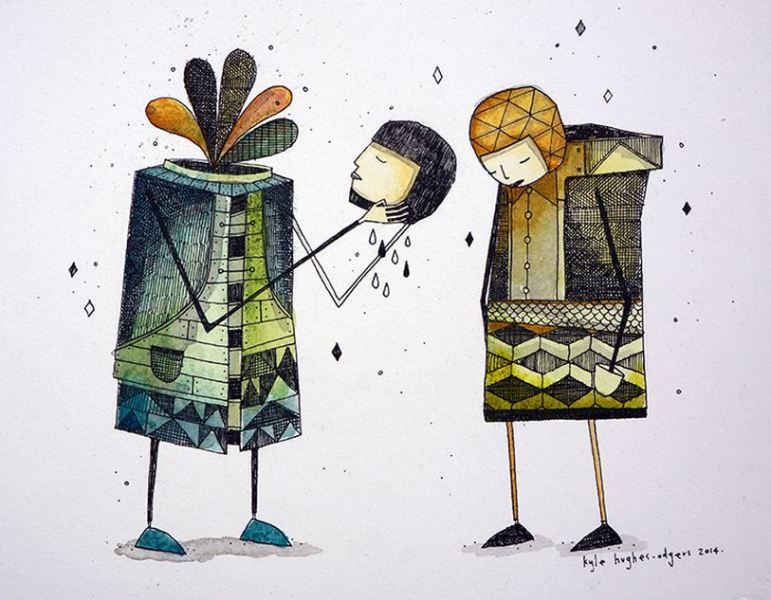 Works Rewarded by Peers
After over a decade of exhibitions all over Australia and overseas, and multiple major public commissions including the ones for Perth International Airport, Murdoch University, DMG Architects stainless steel screen and Mitchell Freeway "The Giants View", Hughes-Odgers's work became officially recognized in the art world which proved the 2013 SCBWI Crystal Kite Award for Australia/New Zealand he shared with Meg Mckinlay, with whom he published the children's book Ten Tiny Things. His latest picture book, On a Small Island, was published in this October by Fremantle Press.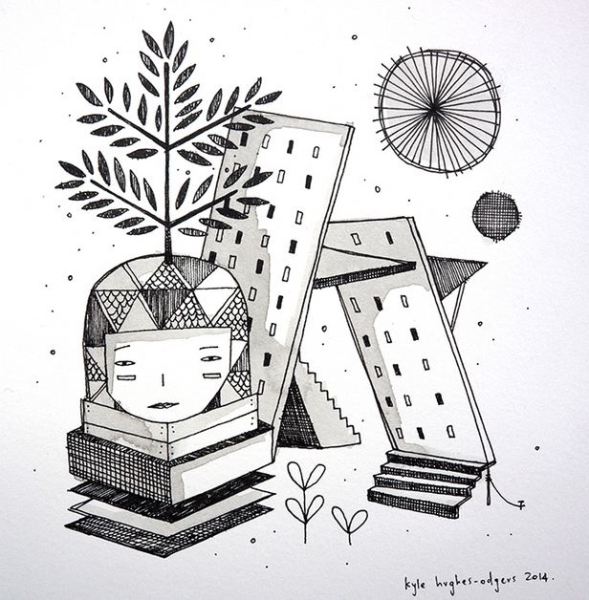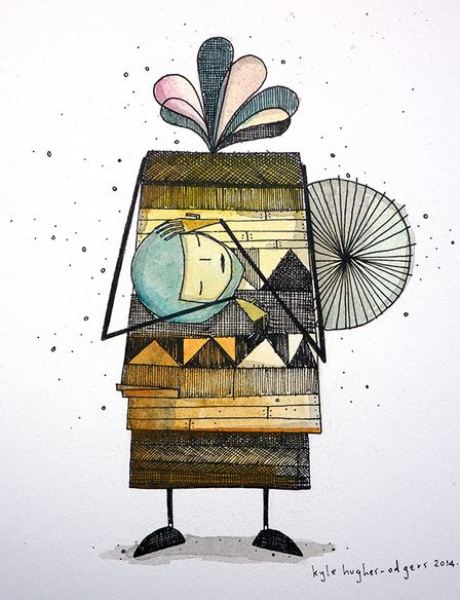 Kyle's Folktale World
Also scheduled for this month is the artist's long expected exhibition "All The Wrong Places" presented by C.A.V.E Gallery in Los Angeles. Kyle's latest series feature 16 new watercolor on paper pieces. Seeing his works live makes a unique experience for the viewers, becoming a visual story-telling event full of ceremony, tradition, repetition and reflection. Kyle's heroes are highly stylized figures living in a unique folktale world. They explore themes of journeys, often symbolizes by ladders and boats. Bottles represent choices, memories and the things we collect along our life's journey. Skewed, stilted buildings, often out of scale to their inhabitants, are connected to each other with lines that represent communication.
All The Wrong Places' opening reception starts on Saturday, October 11, 2014 at C.A.V.E Gallery.