Everyone knows or has read of the struggles of art workers. The profession itself is very unstable, depends on many factors, and talent and hard work are never a secure criterion for success. The United States are often described as "The Promised Land" – a place where dreams come true, a land where a nobody becomes somebody. However, more and more recent studies show that even in the country of great opportunities, there is a significant amount of non-working artists and, what's even more noticeable, a worrying amount of inequalities of sorts. A recent study entitled "Artists Report Back" made by BFAMFAPhD show series of interesting surveys exploring topics of the position of arts graduates and working artists. The report relies on The Census Bureau's 2012 American Community Survey (ACS), which is the largest survey that collects data about artists, surveying roughly 1 out of every 100 persons in the nation.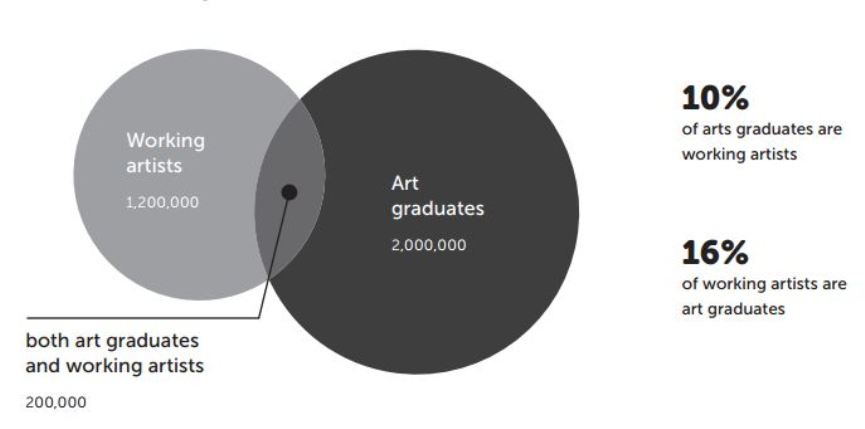 Art Schools Among the Most Expensive
If you thought that a bachelor degree in arts is your ticket to the secure position in art world, you're wrong. The report shows that in the United States, surprisingly, 40 percent of working artists do not have a bachelors degree in any field. Only 16 percent of working artists have art related bachelor degrees. The reason for that are extremely high costs of studying at art schools (7 of the top 10 most expensive institutions of higher education in the United States are art schools). "Arts graduates are likely to graduate with significant student loan debt, which makes working as an artist difficult, if not impossible", the study says.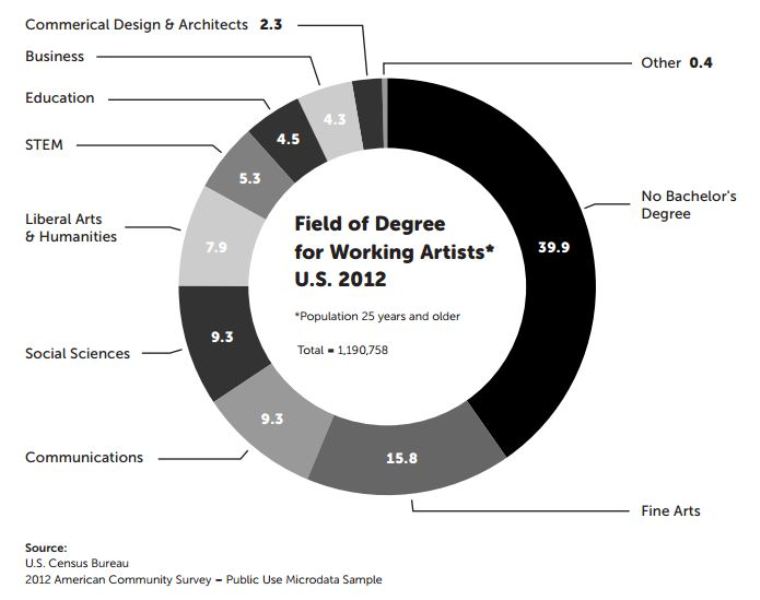 More Money for the Graduates
However, if you do get a job as an artist and you have a bachelors degree, chances are that you'll earn more than the majority of working non-bachelor artists. The study says: "Although there are 1.2 million working artists over the age of 25 in this country, there are only 200,000 working artists with arts related bachelor degrees. The majority of working artists have median earnings of $30,621, but the small percentage of working artists with bachelors degrees in the arts (16 percent) have median earnings of $36,105."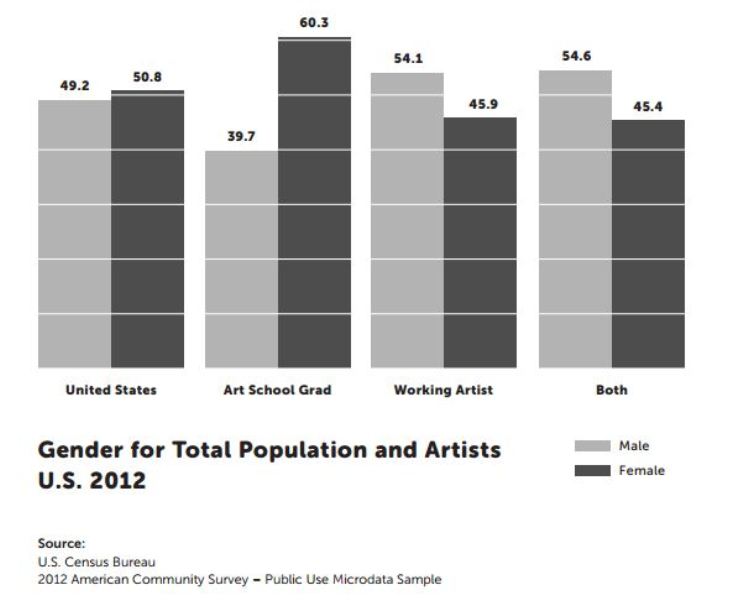 Predominance of White, non-Hispanic Male Working Artists
On top of it all, the study concludes that if you met all the criteria, you're probably white and male. According to the analysis, nearly four out of every five people who make a living in the arts in US country are white. The lack of racial diversity is especially emphasized for those with art school degrees since more than 80 percent of people with undergraduate art school degrees are white, while more than 83 percent of working artists with an art school degree are white. The US population is 63 percent White, non-Hispanic, however, the numbers of these art graduates are 81 percent, which is an obvious inconsistency and a clear sign of a racial predominance. As expected, this continues onto the gender matter as the numbers suggest that females make up 60% of arts graduates but only 46% of all working artists, and of the 200,000 working artists over 25 with an art degree, 55 percent are male.