Well known for supporting young and emerging artists, and being on a community-oriented mission of offering a platform for creative minds to reach a wider audience, Thinkspace Gallery has given a voice to a new crop of urban artists the best of which have, in turn, become a part of its inner circle. Painter Allison Sommers is one such example. Exhibiting at Thinkspace alongside illustrator Ozabu, this is to be Sommers' sixth time with the gallery, and the latter artist's first. One can be sure their work has a lot to offer to the viewer.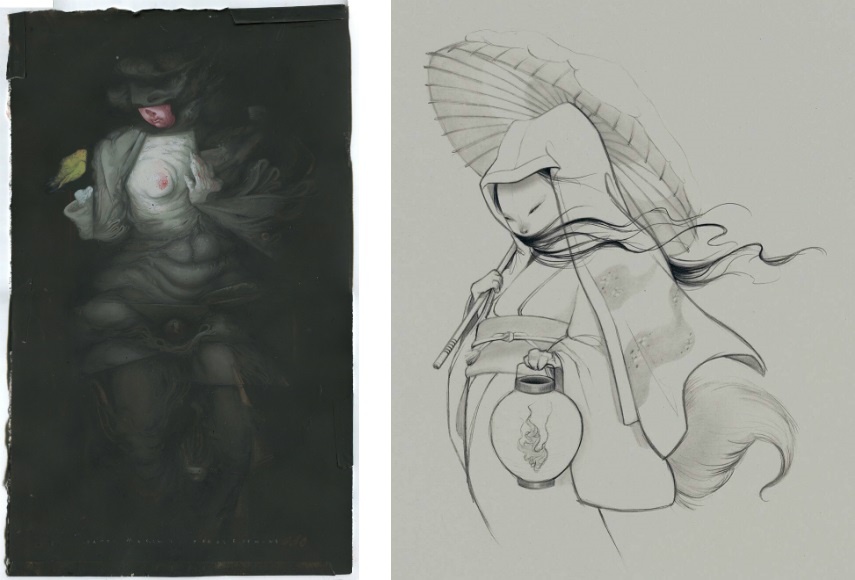 Allison Sommers - Bruxism
American autodidact artist, Allison Sommers dedicates her creative energies to making paintings, drawings on paper or illustration board, sculptures, miniatures, and assemblage in mixed media. She does however work primarily in gouache. Having initially graduated from the University of Virginia with a BA in History and focus on Early Medieval England - 18th, 19th and early 20th century historical and cultural themes also captivated her imagination. Still, art was to eventually become her true calling. Claiming Francis Bacon, George Grosz, and Otto Dix as her influences, but no official academic curriculum to restrict her, she developed a style fully her own. Appearing to be in a state of permanently sustained tension, her creative visions are brought about through frenetic destillation of endless sketching. The twists and turns of this contorted pictoral train of consciousness produce a grotesque, surreal yet alluring world of meat, vegetation, and birds and beasts of various sizes.  This seamless blend of soft and disgusting summons up a nightmarish vision, reminding one of the impermanence of the physical body and mortal failure.
Over the years, Sommers' work has become decreasingly narrative-based in favor of a more organic, interpretative exploration of an inner anxiety-ridden world. Through expressionistic abstraction of the figurative which sometimes verges on the barbaric, her renderings of semi-human bodies and humanoid animals in a state of frenetic grief, present them as if rupturing through the flawed boundries of their outward appearance.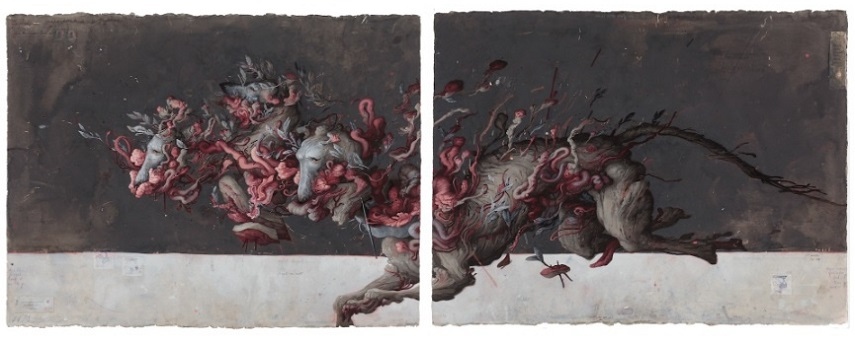 Ozabu - Wander
An artist of great sensibility and nuance, Ozabu creates drawings that are staggeringly detailed, exquisitely stylized yet lifelike. With the pencil of an illustrator and the vision of a poet, aesthetically inspired by the visual culture and mythology of her native Japan, her drawings of a mysteriously beautiful shadow land incorporate animal symbolism and refferences to the natural world. These female portraits appear to suggest an open-ended narrative, a plot beyond the frame. Yet Ozabu prefers to let the work speak for itself. Hoping the viewers will form personal readings of the works themselves, she avoids commenting on her puzzling imagery.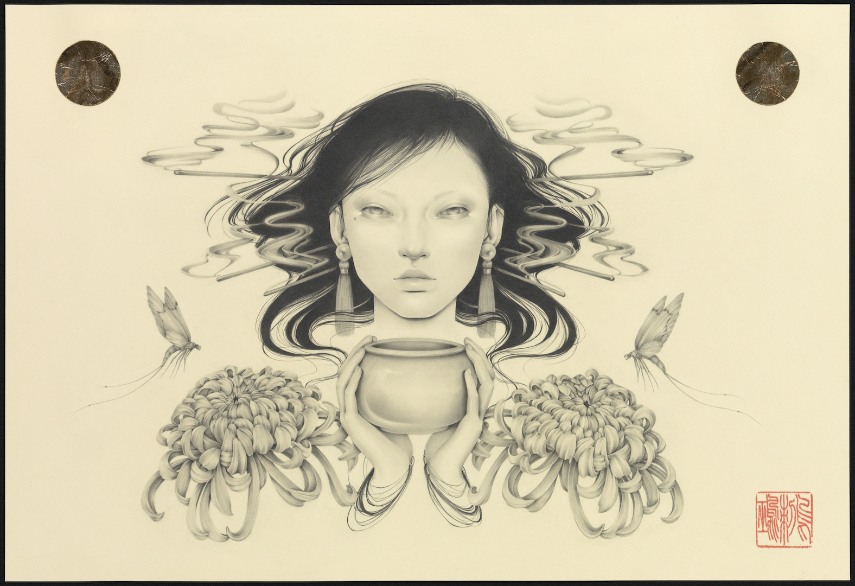 Double Exhibition at Thinkspace Gallery
On Saturday, September 17, from 6 - 9 pm, a reception will mark the opening of the Allison Sommers Bruxism at the main room, the artist's sixth exhibition at the gallery, her most accomplished to date. In the project room, Ozabu's Wander will be her debut at the venue. Both artists will be in attendance. Juxtaposing Sommers' images of grotesque beauty with Ozabu's almost classical pieces, the show will run until October 8, 2016 at Thinkspace Gallery, on 6009 Washington Blvd, Culver City, CA.
Featured images: Allison Sommers - Dogfight, gouache / Neither Fish nor Fowl, gouache ; Ozabu - Mekubase / Tsuibami ; Allison Sommers - Altarpiece IV ; All images courtesy of Thinkspace Gallery.