Michael Haas Gallery is hosting a retrospective exhibition of works by Almut Heise. The careful selection of paintings and works on paper will show the artist's development over four decades. Heise's paintings can be defined as a mixture of photorealism, American pop art, and New Objectivity – the German response to expressionism, dating from the 1920s, that brought the focus back to the objective world rather than the abstract and emotional field preferred by the artists at the time. This exhibition will provide a comprehensive guidance through her style.
Almut Heise: Teaching and Creating Art
Almut Heise was born in 1944, studied in Mainz and Hamburg, and also was a scholarship holder at the London Royal College of Art. She started painting in the sixties, and from 1978 until 2005 she taught at the design faculty of the Fachhochschule in Hamburg, the city where she currently lives and paints. Almut Heise's work also brought her several prizes and acknowledgements. While teaching art for almost three decades, Heise built her personal style as a combination of references and influences. While this exhibition will show her development as a painter, there's a notable characteristic of her body of work: it is consistent. Almut Heise managed to evolve but stay true to herself, and was never taken by the changing trends in visual arts. So while this exhibition will show the changes in her work, it will also display its singularity.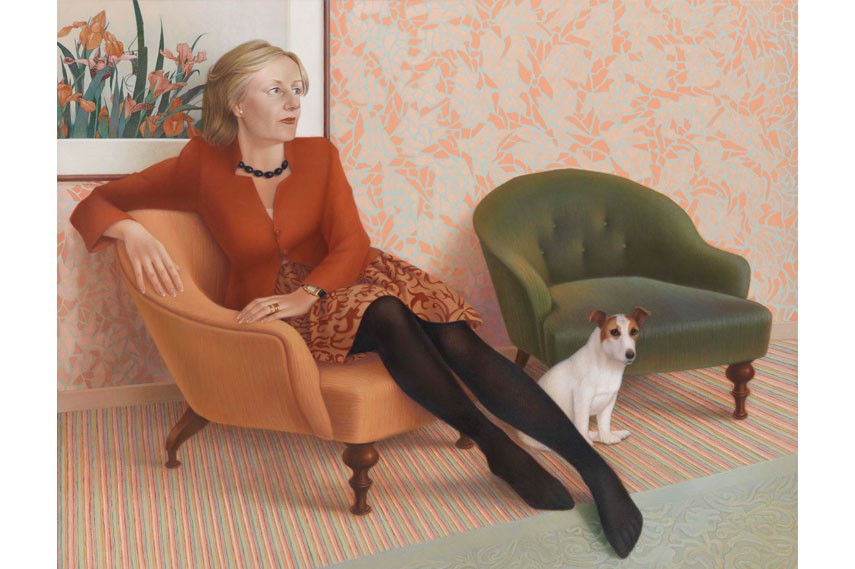 Interios and Portraits that Retain their Distance
Almut Heise's paintings can roughly be divided into interiors and portraits. Her interiors are detailed and elaborate, meticulously constructed. The objects depicted in those paintings – furniture, rugs, lamps, wallpapers and such – look like they're from the fifties. They're painted in a somewhat realistic style – however, they're lifeless. Vibrant in colors, they show rooms without people and spaces that are probably never supposed to be inhabited. Heise's portrait work depicts people using a similar approach. The poses of her subjects are natural but they're painted with a bit of an indifference, and the paintings themselves follow strict pictorial arrangements. Both the Heise's portraits and her interiors bear a reference to the bourgeois world of the West Germany in the fifties.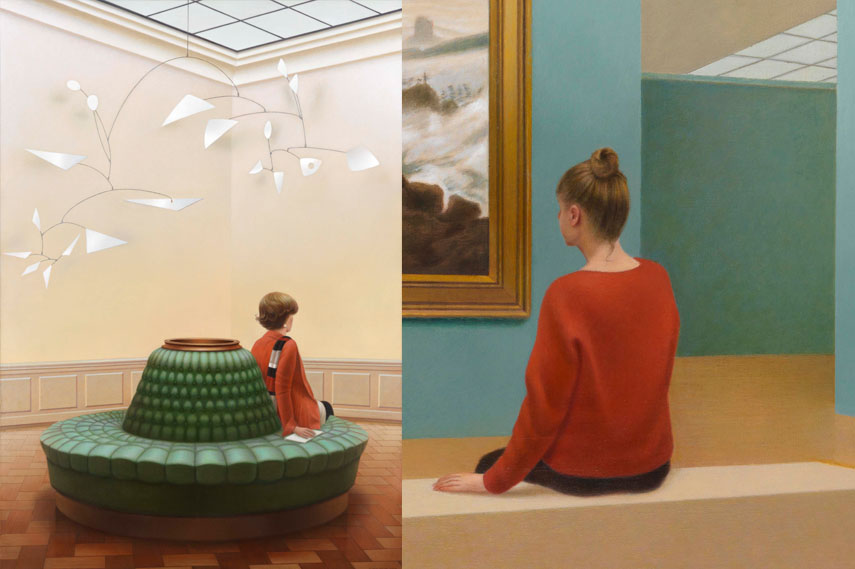 Almut Heise at Michael Haas Gallery, Berlin
The four decades of Almut Heise's painting at a glance will be on view for a month in the capital of Germany. The mixture of styles, as well as historical (and art history) references, make this exhibition a perfect fit for the gallery that shows a great interest in, among others, contemporary German artists. The Almut Heise exhibition opens on Friday, February 26, 2016, at Galerie Michael Haas in Berlin, and will be on display until March 26. The opening ceremony is happening from 6 to 9 p.m. on the first day of the exhibition.
Almut Heise Exhibition Catalog
Featured image: Almut Heise - Museumsszene III, 2014. All images courtesy of Galerie Michael Haas.