Brooklyn-based artist AM DeBrincat brings her lush paintings to 19 Karen Contemporary Artspace for her debut solo exhibition in Australia, Halogen Venus. DeBrincat's distinctive technique seamlessly combines oil painting, digital photography and printmaking into multifaceted, layered paintings. Her work has been exhibited extensively throughout the United States, as well as in Europe, Canada, Mexico and Australia.
AM DeBrincat's series Halogen Venus explores identity in the digital age and reflects contemporary society's obsession with the fabrication and maintenance of digital selves. Digital culture is rapidly transforming people's relationships to themselves and how they present themselves to others.
DeBrincat's mixed-media work reflects the nuanced relationship between a person's online constructed identity and offline life.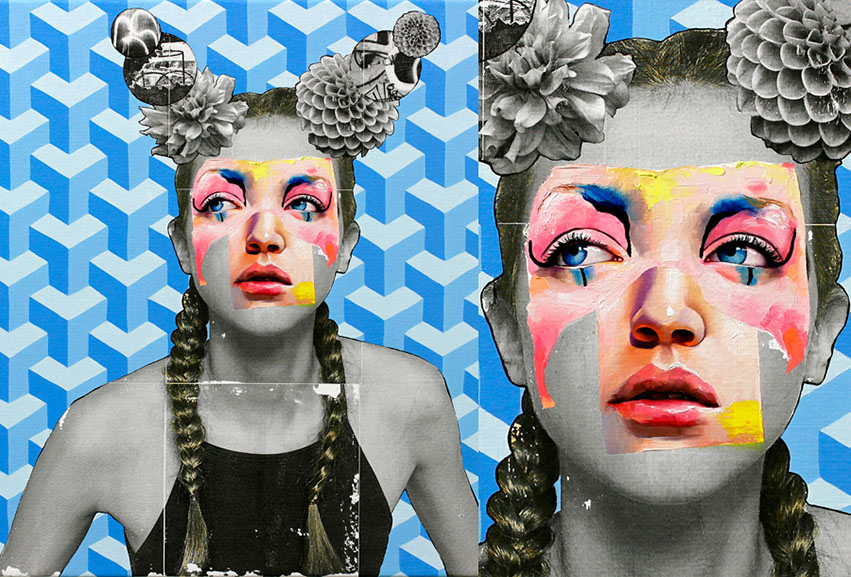 Portrait Painting for the Digital Age
Halogen Venus reinterprets portrait painting for the digital era by combining found digital photo fragments with traditional oil painting techniques to portray women who are built from digital and analog elements. DeBrincat's signature mixed-media technique combines digital photographs, which she transfers to canvas using a printmaking technique called Xerox transfer printing, and integrates into luscious oil paintings.
The artist appropriates photography from disparate archives to create each painting. The digital images she uses are sourced from social media, historical photographs and contemporary advertisements, and each painting can include up to 50 found photographs. Her paintings are portraits of impossible individuals. Although each image begins as a combination of actual photos, the artist creates scenarios that could exist only in the digital realm.
Much like the use of digital filters when creating online personas, DeBrincat completely transforms the printed images through the application of oil paint.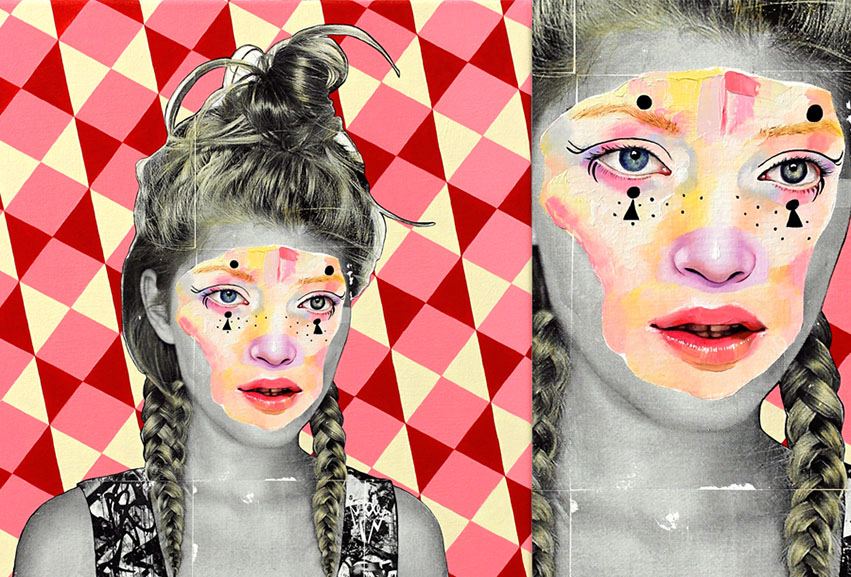 Digital Echoes and Analog Reality
Halogen Venus invites viewers to enter a unique painted world where life online and offline collide in uncanny ways.
The women depicted in this series are living hybrids, not only in technique but in subject matter. Many of the paintings in this series contrast classical references (the use of gold leaf, halo-like imagery and botanical elements) with contemporary iconography (modern fashion, accessories and ice cream cones).
DeBrincat's painting Gazelle depicts a woman looking lazily at the viewer. The figure's features are realistic and the viewer can make out loose strands of hair that frame her face. At the same time she wears rosettes and floral spikes as shoulder pads and has a dark halo surrounding her head. The woman depicted in this painting is at once realistic and mythic.
Her work Limerick has a similar tone: the painting's subject casually sweeps her hair behind her left ear while making direct eye contact with the viewer. Everything about this figure is natural, but she wears dramatic stage makeup and stands against an impossible geometric backdrop.
DeBrincat's paintings represent a complete saturation of the digital echoes that individuals leave behind on the Internet, while also incorporating aspects from their offline lives in order to create a new reality that includes elements from both.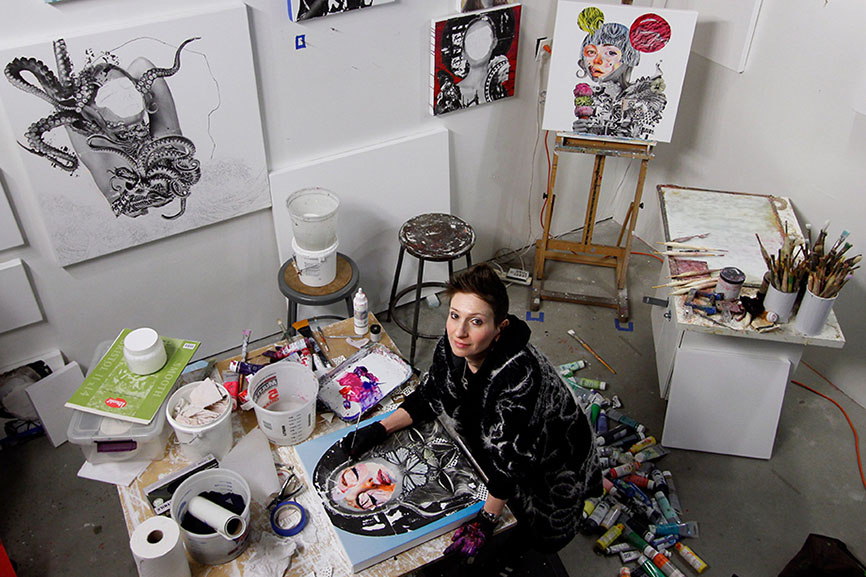 AM DeBrincat at 19 Karen Contemporary Artspace
The concept of identity has been transformed by digital technology and is under pressure as a result of the inherent tension between one's everyday life and one's online persona. AM DeBrincat's work reflects a hybrid identity that blurs the lines between virtual and physical while encompassing both into a hybrid identity.
Halogen Venus proposes that contemporary society has reached a moment in which these two elements are inseparable. Like the figures created from digital and analog media, identity has become hybrid and requires both digital and offline elements to make a whole.
AM DeBrincat's solo show Halogen Venus will be on view at 19 Karen Contemporary Artspace in Mermaid Beach, Queensland, Australia from May 12, 2018 through June 19, 2018.
Written by Sarah Allen Eagen.
Featured images: AM DeBrincat – Poppy Eyes (detail); Gazelle; Dirty Martini (detail); Butterfly Bowtie (detail). All images courtesy the author.