New York City-based mixed media artist AM DeBrincat brings her vibrant work to Galleri Lohme in Malmö, Sweden in her solo exhibition Hello Sunshine. DeBrincat's mixed media paintings are immediately recognizable for their signature blend of digital, black and white photography juxtaposed with colorful oil painting. Her work is shown widely throughout the United States, as well as in group exhibitions in Europe and Australia. This showcase is her debut solo show in Europe.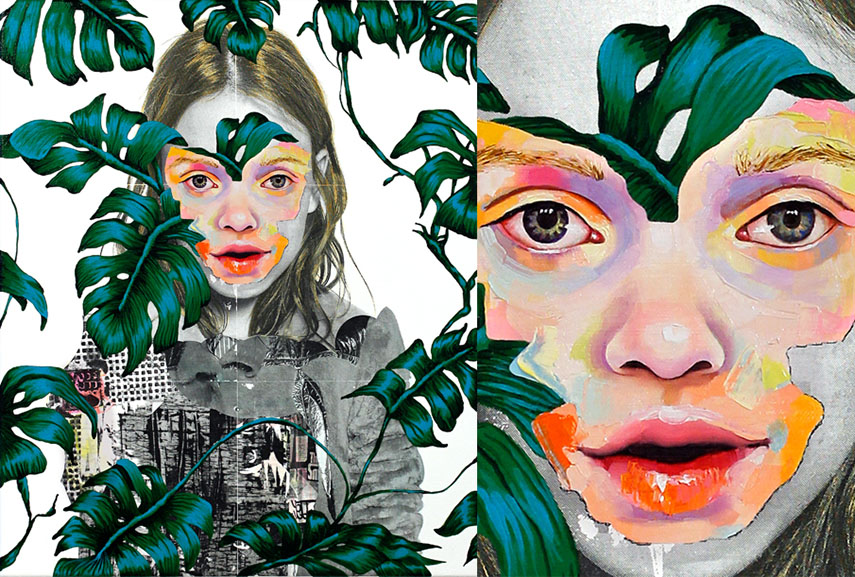 A Digital Daydream
AM DeBrincat's paintings in the exhibition Hello Sunshine invoke the innocent pleasures of childhood - eating ice cream in the sun, cotton candy melting on the tongue, an afternoon spent lounging in a garden. Many of the paintings feature botanical elements, such as leaves and flowers, and suggest the possibility of losing oneself in nature. In the painting entitled Plum Sleep, for example, a figure dressed in fur and bowtie closes her eyes among a cluster of orange poppies. She looks lost in blissful delirium. In the painting Saturday Afternoon, a figure wearing a slightly ragged fur hat with bunny ears stares out at the viewer, seemingly oblivious to the ice cream melting all over her hand. The figures in this Hello Sunshine world seem caught in a sticky web of sunshine, present but blissed out and slightly unreachable.
These paintings suggest a feeling that is all too hard to come by in modern life: losing oneself in the moment and basking in the sun without a care in the world. Perhaps it is possible to experience this for a moment, but then the phone rings or signals an incoming text, and abruptly reality intrudes. Or perhaps the phone is silent, but a thought sneaks in: "I wonder what I'm missing on Instagram?" Digital culture has a way of insinuating itself into even the most relaxing moment. It pulls us back to reality. But is digital life really reality?
This dichotomy between screen life and "real life" - the simple joy of eating melting ice cream in the sun versus the intrusion of the digital - is what AM DeBrincat is constantly exploring in her current body of work. In each painting, she juxtaposes lush oil painting with the coldness of digital photography. This dichotomy between the digital and the painted image is present in every painting in the exhibition Hello Sunshine. This signature juxtaposition is central to her work.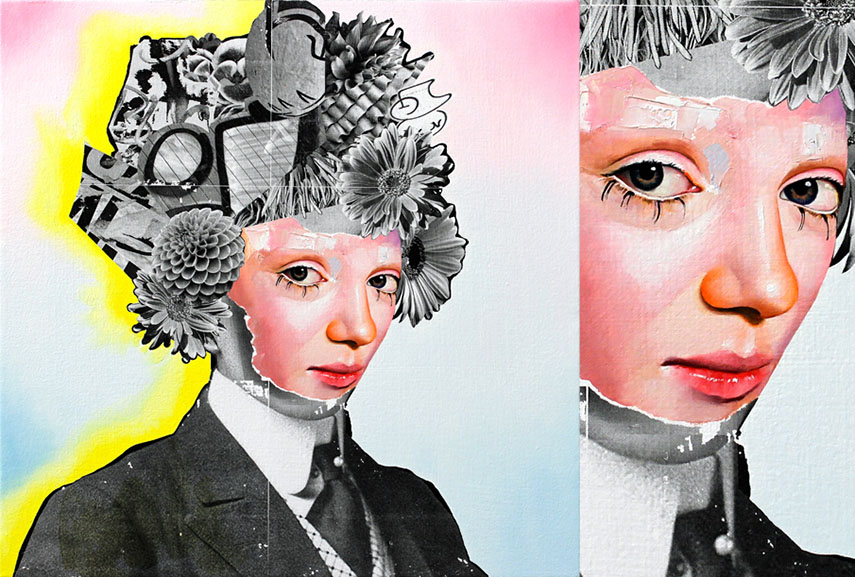 The Organic Versus The Digital
The way AM DeBrincat handles oil paint is lush and sensuous. The painted faces are colorful and as juicy as ripe fruit. On close inspection, one can see the gentle peaks and divots of DeBrincat's palette knife and brush sculpting the oil paint as if it were frosting. Each face suggests a carefully constructed confection.
Yet the painted faces rest within bodies constructed of digital photography. DeBrincat employs digital photography in a way that makes it look cold, colorless, and pixelated. In each painting, she lays sumptuous, warm painting and cold photographs side by side, and emphasizes the harsh contrast between the two.
AM DeBrincat's paintings are battlegrounds where the organic juiciness of oil paint confronts the cool detachment of pixels. On each canvas, the artist contrasts the language of painting with the language of the digital image. Each canvas poses the question, "which of the two languages is real?" A photo used to be proof of reality. But the digital age has transformed everyone into sophisticated consumers of photography. Photos are manipulated all the time, and we have become collectively suspicious of photos. A photo is certainly no longer proof of reality. Is the language of painting real? DeBrincat's delicious, candy-colored chaos of brush strokes coalesce into something we recognize - face after glowing face - but painting ceased to be a credible marker of reality centuries ago. In the digital world, we are left with many images and no visual proof of reality.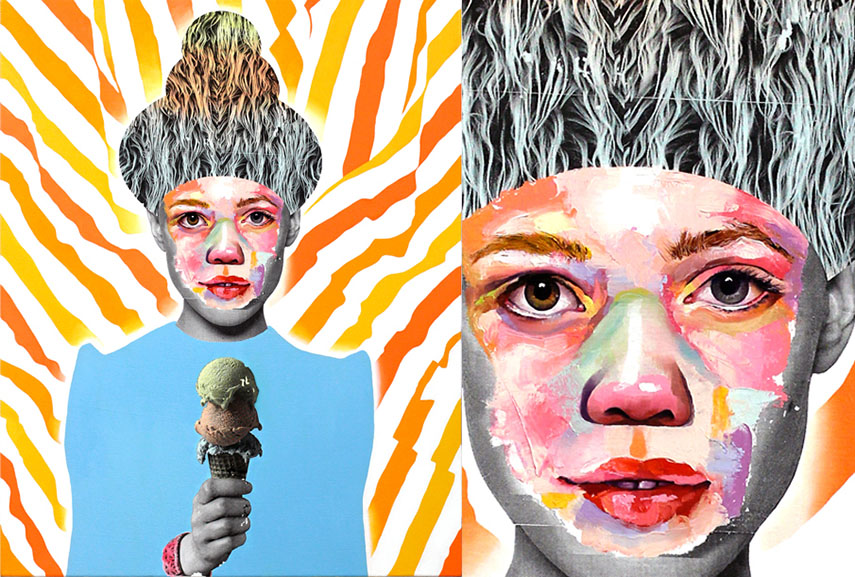 A Delicious, Disturbing Game
AM DeBrincat's work plays an interesting game. What's real - photography or painting? At Galleri Lohme, she poses this question in painting after delicious painting. One comes away with the feeling that neither is real. DeBrincat's work suggests that in contemporary digital culture, where smartphones and screens saturate real life, nothing feels real. Her paintings are gorgeous, but the underlying message is disturbing. Fortunately, if viewers want to, they can get lost in the seduction for a moment. For a fleeting moment, DeBrincat's paintings encourage viewers to just imagine the ice cream melting in their mouths on a warm summer day. And for a fleeting moment, things can feel simple and wonderful again.
AM DeBrincat's solo exhibition Hello Sunshine will be on view at Galleri Lohme in Malmö, Sweden beginning 25 August 2017, with an opening reception from 6 pm until 8 pm. The show will run through 22 September 2017.
Written by Paul Eriksson.
All images courtesy of AM DeBrincat and Galleri Lohme.